By Chris McKhann
Shares of Ariad Pharmaceuticals (NASDAQ:ARIA) are skyrocketing on positive results from one of its cancer drugs, and that has prompted some put selling.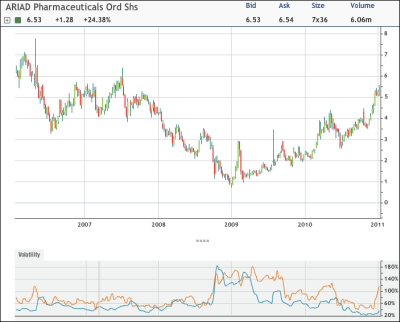 ARIA is up more than 24 percent to $6.53 and after hitting its highest price since May 2006 earlier this morning. The company announced that ridaforolimus, a cancer drug met "the primary endpoint of improved progression-free survival," sending shares up more than 200 percent in the last year and out of the range around $5.25 that it had been stuck in for more than a month.
ARIA isn't a huge option target, with an average daily volume of about 3,000 contracts, but action at the August 4 put strike catches our attention today. We see 5,000 of those puts sold for $0.15 and $0.10 against open interest of 107.
This put selling appears to have been done naked, as we don't see any other related trading in the options or the underlying shares. As such, it would be a bet that ARIA will remain above $4 through that August expiration. Those still short the puts at expiration would be obligated to buy the stock for $4 if it is below that level.
While this is a high probability bet, it is what some call a "nickel strategy." This is because that small credit of $0.15 aken in is the most that the seller can make, while the downside is much larger. In this case if ARIA went to zero, the loss would be $3.85.

Disclosure: No position