Articles on hacking and security are going viral. News outlets such as CNN and Wired have entire sections dedicated to the topic of security. Security has gone mainstream: It is no longer a topic isolated to a few websites for professionals, and Apple (NASDAQ:AAPL) is the least able to cope with this change. As a consumer-centered company, its products have traditionally de-emphasized security over form, features, and design.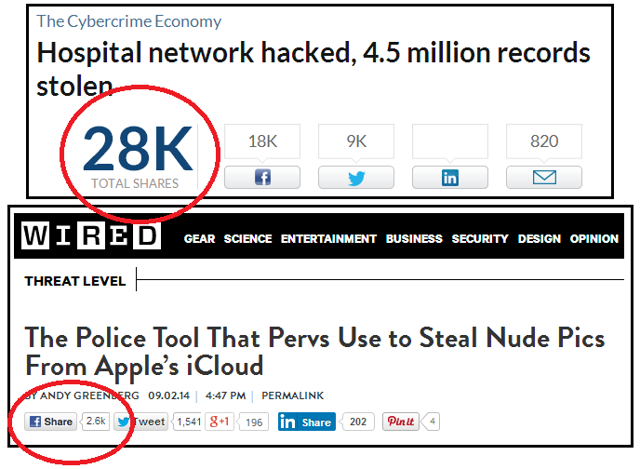 Click to enlarge
Source: CNNMoney and Wired
Apple Should Make a Bid for BlackBerry
One is led to wonder how much Apple pays its PR team and if the money could have been used more effectively to purchase BlackBerry (NASDAQ:BBRY). Considering that $26 B was wiped out of the market cap yesterday, and another $8 B or so in early trading, the Apple PR engine could not keep $36 B from being wiped. This is money that could have been offered to the Waterloo, Ontario firm (not that its shareholders would consider selling for anything less than double that offer). Apple's PR has denied working with the NSA; denied creating an iOS backdoor; and now denied that the iCloud hacking will continue to affect customers. Wired magazine tells us something else:
Apple says the attacks were "very targeted at specific user accounts, not the iCloud or Find my iPhone.
iOS 8 will tie together users' iPhones, iPads, and MacBooks more closely via the cloud.
Elcomsoft Phone Password Breaker can be used to steal more than revealing photos. The leak is continuing despite Apple's PR statement about the targeted nature of the attack.
Anyone on the Anon-IB forum can request data be stolen. The attacks are not limited to photos as entire backups from the iCloud can be accessed.
Security is a topic that is getting louder by the day. The argument has been made that consumers do not care about security. But as we move into BYOD, and work and personal information are to co-exist on one mobile device, new worries are developing.
Back in 2012, the big news was that one in five bosses rejects a job applicant after checking out their profiles on social media sites. Now, consumers will be more worried that their boss will see their salacious photos and conversations. Their boss will probably be more worried that top secret information will become common knowledge. In the BYOD situation, while the device belongs to the employee, IT may have the ability to audit the information passing through the device by using Elcomsoft's tool without informing the employee. Because they can work with backups, the IT department will not be forcing the employee to hand over their device and the employee will not be the wiser. As this is a new area unregulated by legislation forbidding such activities, employees stand vulnerable to getting their information sifted not just by government, but also by their companies. The worry and interest leads to the frequency with which articles on hacking are shared: for example, the CNN article on hospital hacking was shared 28,000 times; Wired's The Police Tool more than 4,500 times; and Wired's follow-up article detailing iOS 8 and the iCloud, over 3,500 times. Hacking is on the increase, and so is the interest. It seems to be a vicious cycle.
Ouch, MobileIron: Caught in the Press
When Apple is under attack and its future is uncertain, its various suppliers and partners are also vulnerable. One of them will be MobileIron (NASDAQ:MOBL). Being one of the smaller players in a fast-growing MDM industry, MobileIron recently IPOed to garner more cash for marketing and business development. In a previous article, More Than 5 Major Weaknesses in MobileIron, I went into great detail regarding the headwinds on this company. One of the topics I did not cover was the truth about MobileIron's status as a "multi-OS" manager: lacking support for BlackBerry device does not make it so.
MobileIron's growth has been the result of a combination of things: the rise of Android and iOS; BlackBerry's woes; and the movement towards BYOD. But gloating over its gains may very well be the mark of its downfall. MobileIron has touted BYOD and BlackBerry Migration but is not prepared for an alternative reality: Apple iPhone Migration.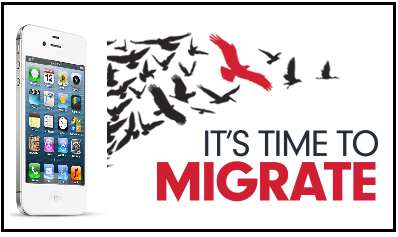 Source: MobileIron and Apple for images; artistic rendering the work of the author.
Under the leadership of John Chen, BlackBerry is a different company. AirWatch and BlackBerry used to be at loggerheads: cases abound of BlackBerry disinviting John Marshall from their expo, and Marshall saying BlackBerry has one foot in the grave. But recently, BlackBerry has a partnership with AirWatch and Citrix to bring BES10 support to other MDMs. There is no mention of an equivalent partnership for MobileIron and Good Technology; and in fact, a quick perusal of MobileIron or Good's website will quickly indicate to one that they're still selling the BlackBerry Migration story. Are they blind to the developing reality?
BlackBerry is regaining market share and churning out more devices. The Z3 has been well received and the Passport is desirable to health care professionals. The Classic has the hardware components and shortcuts enterprise wants. Where will MobileIron be when it cannot support even one BlackBerry device in a corporate network? It would be losing market share to AirWatch, Citrix, and BlackBerry.
Locked Out, Luck Running Out?
We have had net losses each year since our inception and may not achieve or maintain profitability in the future. - MobileIron, Quarterly Earnings Report
Recently, MobileIron has been going up on the basis of the iOS 8 release being a boost for the company. But with iHacked being the mournful tune playing in the background as we move into the iPhone 6 launch, I seriously question whether MobileIron hitched itself to the wrong horse.
As a publicly-traded company, MobileIron is stuck on a cycle of escalating expenses. Marketing, personnel, and legal expenses have been on the rise. Perhaps it should concede that some of its rivals are doing things differently for a reason: To stop trying too hard to sell an unpopular proposition to big enterprises. Rather than trying to paint BlackBerry out of the picture, fostering a partnership with the biggest MDM because their devices are still de rigueur in regulated industries may be wiser.
With hospitals and governments being hacked, and now iCloud too, regulated industries do not have enough reasons to switch off all their BlackBerries. With BlackBerry launching a refresh of their product lines, both hardware and software, and providing free BES upgrades and the EZ-Pass, they are a difficult challenge for a service-based business such as MobileIron.
For smaller or simpler deployments, the switching costs and time are relatively minor compared to traditional enterprise software deployments and a customer may decide not to renew with us and switch to a competitor's offerings. - MobileIron, Form S-1
In their SEC filings, MobileIron admits that large enterprise customers are the prize. Further, their business is under more pressure as customers are choosing subscription over perpetual licensing and this makes them easily swayed by competing offers from other MDMs.
MobileIron has been in a net loss position for all 7 years that they are in business.
While their IPO raised $107.0 million, their accumulated net loss amount is $159.9 million.
In 2013, perpetual and subscription licensing account for 66% and 14% of revenue, respectively.
As of the most recent quarter, perpetual licensing continues to decline while subscription licenses are on the rise. The cost of revenue is on the rise.
After their subscription period, customers are under no obligation to make further purchases or to renew.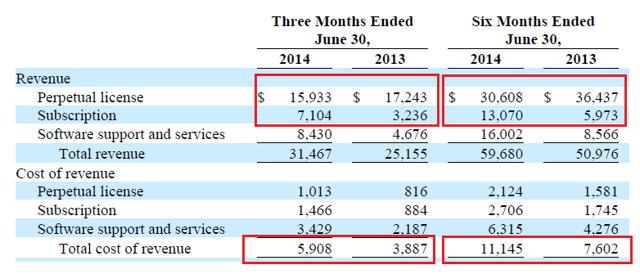 Click to enlarge
Source: MobileIron, Form 10-Q
Given the ongoing security issues at Apple; MobileIron does not support BlackBerry devices; and BlackBerry is offering the EZ-Pass program to get customers onto BES10, then upgrading customers to BES12 for free, MobileIron is facing stiff competition and also a defective partnership situation. Unless they successfully resolve their weakness by partnering with BlackBerry; Apple purchases BlackBerry; or Apple resolves their security issues, at the end of the day, the company that has the most to lose is MobileIron. The Apple cart may be a little thinner, but MobileIron might be wiped out as BlackBerry, VMWare (NYSE:VMW) and Citrix (NASDAQ:CTXS) band together to provide enterprise with the fullest selection of mobile devices and the best-in-class security for the lowest prices.
Disclosure: The author is long BBRY.
The author wrote this article themselves, and it expresses their own opinions. The author is not receiving compensation for it (other than from Seeking Alpha). The author has no business relationship with any company whose stock is mentioned in this article.