By Chris McKhann
Calls are active in National Oilwell Varco (NYSE:NOV) today as shares hit a new two-year high.
Shares of the energy-drilling equipment maker are up 0.13 percent this morning to $69.40, more than double their July lows. The stock traded as high as $69.88 earlier in the session.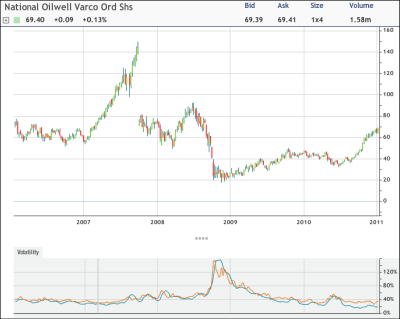 One print dominates today's option activity in NOV, a block of 8,000 August 80 calls traded for $3.15. This volume was 16 times the previous open interest at that strike and more than the average total daily option volume, so it is clearly a new position.
Just 30 seconds after the options changed hands, a block of 225,000 shares of NOV traded for $69. This was a full $0.41 less than trades in the previous and subsequent second, so it is quite clearly selling of the stock.
While it could be hedging by market makers, that is very unlikely because they are usually not willing to give up so much for a position in one trade. That leaves the likelihood that these calls were bought against short stock in a hedged long volatility position. Such a position can profit if shares rise or fall but will lose value through time decay if they are around the short call strike.

Disclosure: No position