By David Russell
Transportation stocks reversed after hitting a key level from 2008, and the bears are looking to ride them lower.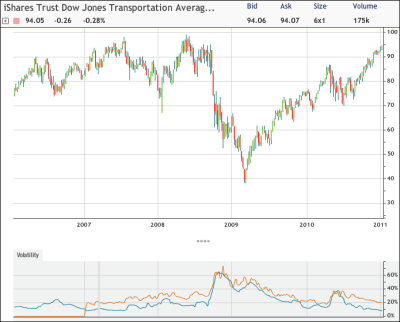 optionMONSTER's Depth Charge tracking system detected the purchase of more than 5,500 March 90 puts on the iShares Dow Jones Transport Average Index (NYSEARCA:IYT) exchange-traded fund. Most of the contracts priced for $2.20 to $2.30, and volume was more than 24 times open interest in the strike.
IYT fell 0.28 percent to $94.05 in morning trading after touching $94.89 early in the session. That's the same level where the fund topped out in September 2008 immediately before crashing along with the rest of the market.
The transport index, whose members include FedEx (NYSE:FDX) and Union Pacific (NYSE:UNP), is often considered a leading indicator for the rest of the stock market. If that association proves correct, today's put buying in the fund could suggest the S&P 500 is near its peak for the time being and may be due for a pullback.
Overall option volume in IYT is 74 times greater than average so far today, with puts outnumbering calls by more than 1,500 to 1.

Disclosure: No position