Just about a year ago, at the end of July 2013, Uralkali (OTC:URALL) announced that it would leave the Belarusian Potash Company, a joint venture with Belarussian partner Belaruskali, in order to pursue a volume-over-price strategy. The industry structure in the potash market is oligopolistic and with Uralkali announcing its exit from the cartel, investors quickly panicked about falling prices in the potash market.
As a result of Uralkali's announcement, shares of potash companies were thrown under the bus and immediately traded at distressed valuations. Potash Corp. of Saskatchewan (NYSE:POT), for instance, a major player in the global potash business, lost 25% of its market capitalization as a result of Uralkali's unsubstantiated supply announcement in a matter of days last year.
I have quite aggressively recommended Potash Corp. after the sell-off last year as well as The Mosaic Company (NYSE:MOS) -- original thesis here and here -- and even suggested, that both companies could return to pre-crisis price levels once the dust in the sector settled.
For instance, at the beginning of February 2014, I have asserted that shares of Potash Corp. will very likely regain their strength as investors will shift their focus away from short-term pricing uncertainty in the potash market and toward the favorable long-term value proposition Potash Corp. makes. I wrote:
Hefty share price declines oftentimes define the beginning of a slow and gradual recovery trend and it was of no real surprise that potash companies rebounded nicely in the second of half of 2013 and the beginning of 2014. Now, share prices of potash firms are correcting once again which I attribute to an overall profit-taking mentality in the marketplace. However, long-term investors can still find a decent bargain in Potash Corp. of Saskatchewan over the next two or three years and I have repeatedly argued that I expect shares of potash firms to climb back to pre-crisis levels (in the case of Potash Corp. this would imply a target price north of $38 per share).
It was quite clear at the time, that investors' actions were completely driven by irrational fear and I also pointed out that a variety of industry CEOs strongly disagreed with the downward revisions of analyst target prices as a result of Uralkali's shift in strategy.
Specifically, I wrote:
The recent market turmoil has the characteristic of indiscriminate panic selling and provides great opportunity for investors/shareholders who want to snatch up shares when they are on sale. There is more than a slight chance that the general investing public exaggerates the implications of Uralkali's announced supply increase. This logic gains weight with reference to the above mentioned statements from K+S, Passport and Potash Corp. While basic economics dictate that increased supply will lead to lower prices, the degree to which profitability will be impacted remains unclear. In addition, potential pricing impacts are openly contested by the firms in the arena. I take the statement from K+S and Passport Potash as confirmation that inside players also disagree with the ensuing hysteric market reaction. As such, I follow Warren Buffett's precise judgment to "be greedy when others are fearful". There is no fundamental reason to believe the industry will go down.
As potash companies appeared to quickly bottom out after panic selling last year, I also recommended a lower-risk alternative to all-in potash firms: K+S (OTCQX:KPLUY), a German potash company with a sizable salt business that helped mitigate concentration risk and which has become my largest position in the fertilizer sector.
Fast forward one year and share prices of potash companies, including K+S have solidly recovered -- as expected. The share price of Potash Corp., for example, actually reached $38 in June and indeed recovered all of its losses sustained during the sector meltdown. A great lesson in contrarian investing it was.
Chart situation
After marking a 52-week High at $38.58 in June, shares of Potash Corp. have consolidated back to the $35 region where they now offer another interesting investment opportunity for long-term minded investors.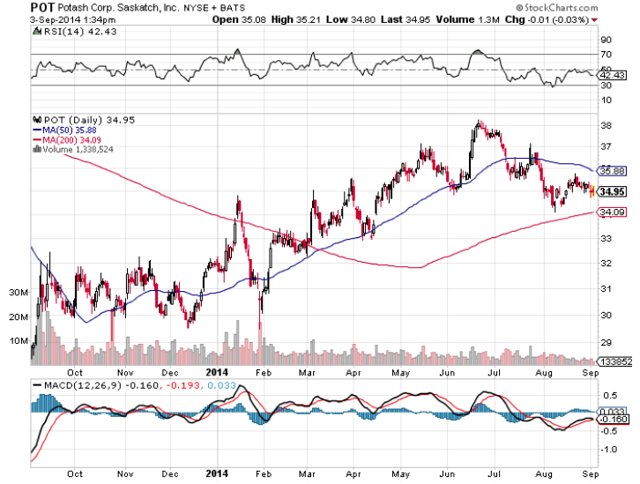 Click to enlarge
(Source: StockCharts.com)
Fundamentals remain intact
Little has changed with respect to my outlook for Potash Corp. and I am reaffirming my positive stance on the company due to solidly intact fundamentals:
Land for agricultural use remains limited.
The world population is growing.
Emerging markets require higher crop yields to feed a fast-growing local population.
These fundamental long-term drivers of Potash Corp.'s business are unlikely to change any time soon. In fact, the company raised its guidance on global potash demand in China and North America for 2014 as part of its second quarter earnings release in July (see below).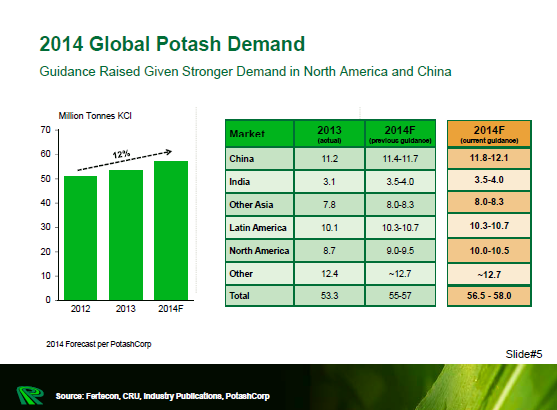 (Source: Potash Corp. Second Quarter Earnings Presentation)
Conclusion
Potash Corp. remains an excellent long-term bet on rising fertilizer demand driven by population growth and increasing pressure on the food supply chain. I think an investment in Potash Corp. is particularly suitable for long-term investors who want to buy an industry leader at a time when pricing uncertainty still exists in the potash market.
Potash Corp. is a textbook contrarian investment example that I believe has further potential to run. If earnings and cash flow continue to improve, which I expect over the medium term, higher share prices and new 52-week Highs are only a question of time. Bullish thesis reiterated: Long.
Disclosure: The author is long POT, KPLUY.
The author wrote this article themselves, and it expresses their own opinions. The author is not receiving compensation for it (other than from Seeking Alpha). The author has no business relationship with any company whose stock is mentioned in this article.
Editor's Note: This article discusses one or more securities that do not trade on a major U.S. exchange. Please be aware of the risks associated with these stocks.