The ubiquitous spread of Facebook (NASDAQ:FB) is unquestionable. With daily active users (DAUs) expanding to 829 million in the most recent quarter (on just its main platform), Facebook has certainly become a social media juggernaut. With the stock soaring over the last couple of years, it leaves investors wondering if there is still opportunity for upside from this level. I have been a bull, and shareholder, since Facebook's lockup period expired in November of 2012. With Facebook's market capitalization encroaching on $200 billion, I continue to have a bullish stance.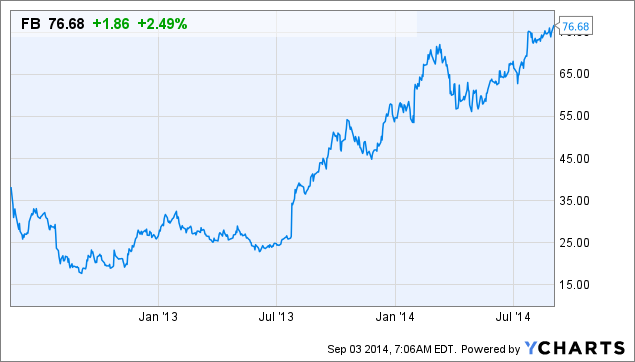 Pricing Power in FB's Court
In the most recent quarter, Facebook was able to beat estimates handily by delivering $2.91 billion in revenue, which represents a 61% y/y increase. Further, it was able to continue its pivot to mobile, increasing its percentage of revenue to 62% of total revenue. In my opinion, outside of the positive earnings numbers, the reason to be sanguine about FB's prospects was the announcement by Sheryl Sandberg that FB boasted a staggering 1.5 million advertisers on the platform. This vast number of advertisers will allow for a higher demand for FB ads and ultimately raise the price of the ads, and improve earnings further. Moreover, an ancillary effect will be that ads will improve in quality so FB will be able to increase the load in the newsfeed without hampering the user's experience too much.
Aside from the main Facebook platform, FB has several other business avenues which could propel growth and help further beat expectations.
Revenue Opportunities in Messenger
Facebook's unbundling of its Messenger Application points to it possibly entering two new industries shortly. With Facebook making unbundling necessary for its users, it has faced outrage, but by pushing forward with the initiative, it is clear FB has a clear plan in mind.
The acquisition of Whatsapp for $19 billion was the first indication that FB was planning on entering messaging. The second development that points toward FB's plan was it seeking approval from the Central Bank of Ireland to send and store payments on its website. This allowance gives FB the ability to compete with the likes of Paypal and Western union, while also giving users the option to store money on the social network to facilitate buying directly from the site.
Next, Facebook announced the purchases of Ascenta (a satellite drone company) and Pryte (a company that gives Facebook the capability to sell short-term internet passes to users). The combination of these acquisitions will lead to the capability of FB to beam internet access to developing countries cheaply through drones in the stratosphere. Facebook will essentially become an internet service provider in developing countries. Further evidence of this initiative comes from Facebook recently introducing the Internet.org app to Africa, which allows users to browse certain applications for free, including Facebook. Users will then be able to purchase further access by using the Pryte technology.
Another possible monetization opportunity with messenger is clear with the consideration that Facebook recently hired David Marcus, the ex-president of Paypal, to lead its efforts in mobile messaging. The payments industry is massive, especially in developing countries. CoinDesk estimates that about $500 billion a year is facilitated across the border as remittances. The average cost to send money is 9%, so the industry generates $45 billion a year. Certainly gaining a portion of that industry would move the needle for Facebook.
Instagram
The purchase price of $1 billion for Instagram seems paltry when you consider that it now boasts over 200 million users and revenue generation is on the horizon. I do not believe that growth forecasts are pricing in the capability of Instagram correctly. Facebook recently launched a rollout of a suite of business tools aimed at brands which offer insights and analytics related to Instagram. The tools will show the business' reach through impressions, engagement and the performance of paid ad campaigns. With advertisers seeing the tremendous ROI of FB's main platform, they will be eager to flock to this novel platform which has incredible user engagement. The pricing power for advertisements will certainly be in Facebook's favor.
Final Remarks
With a market capitalization of close to $200 billion and a P/E ratio of around 80, many have espoused that the price is unsustainable and it has reached its peak. However, with revenue growth of 61% in the most recent quarter, without considering the monetization of Instagram, or any of its messenger applications, I believe Facebook has further upside. Investors should not be dismayed by high multiples, if the growth opportunities warrant them.
Disclosure: The author is long FB.
The author wrote this article themselves, and it expresses their own opinions. The author is not receiving compensation for it (other than from Seeking Alpha). The author has no business relationship with any company whose stock is mentioned in this article.
Additional disclosure: I also own FB leap options.