Aflac Incorporated (NYSE: AFL) has an unusual corporate profile. When the company reports earnings, yen-to-dollar currency exchange has the potential to cause investor confusion. Questions arise on this topic every quarter.
Aflac is based in Columbus, Georgia; yet the company generates 75% of its business in Japan. The balance is centered here in the U.S. Therefore, while most transactions are conducted in Japanese yen, financial statements are prepared in U.S. dollars.
Currency translation can distort 'as-reported' earnings significantly.
Somewhat counter-intuitively, the yen-to-dollar exchange rate doesn't really matter to Aflac.
Let's start by reviewing Aflac management's explanatory language found within every earnings release (boldface is mine for emphasis):
Aflac Japan's yen-denominated income statement is translated from yen into dollars using an average exchange rate for the reporting period, and the balance sheet is translated using the exchange rate at the end of the period. However, except for certain transactions that include the Aflac Japan dollar investment program, the company does not actually convert yen into dollars. As a result, Aflac views foreign currency as a financial reporting issue and not as an economic event for the company or its shareholders.
What.......?
Originally founded as the American Family Life Assurance Company of Columbus, the acronym AFLAC has evolved to become a natural shorthand moniker. Since the Amos brothers created the company in the mid-1950s, expansion plans took the company's fortunes to Japan: its citizens are the world's most insured populace.
Since the corporate headquarters remain in Georgia, SEC regulations require the company to report in one currency: U.S. dollars. Nevertheless, as a practical matter Aflac Japan business stays in Japan, and Aflac U.S. business stays in the U.S.
In 2013, physical Yen-to-Dollar fund transfers represented only 8.4% of total Operating Cash Flow. Much of this exchange was pegged to inter-office corporate management fees and allocated expenses.
So let's break down what this means to investors.
Aflac Financial Reports Hold the Key
When Aflac reports earnings, it does so 3 ways. The first 2 are fairly routine:
As-reported earnings, or in accordance with GAAP accounting.
Operating earnings, a non-GAAP measure that strips out non-core, one-off items. This includes gains and losses from derivatives, hedging and other non-recurring events. Operating earnings are intended to provide investors with a snapshot of the underlying profitability of the business.
However, it's the third earnings report that savvy investors view most carefully:
Effect of Currency on Operating Results
Here's a 6-month summary of that report from the 2014 second quarter earnings release: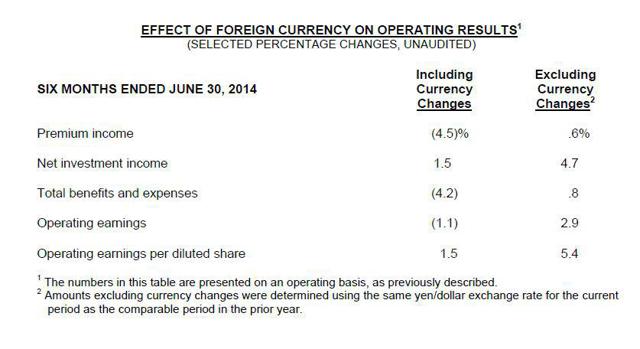 Click to enlarge
Notice how the weakening Japanese yen versus the USD caused Premium income, Total benefits and expense, and Operating earnings to show declines. However, when currency change is excluded, the results turn green. In addition, Net investment income is understated considerably when reported including currency change. Smart investors realize that since the conversion issue is primarily an accounting exercise, the real core earnings action is found via this document.
Let's Sum it Up
First, from the Aflac 2014 second quarter earnings release, the GAAP, or as-reported diluted earnings per share:
Reflecting the weaker yen/dollar exchange rate, total revenues fell 3.4% to $5.8 billion during the second quarter of 2014, compared with $6.0 billion in the second quarter of 2013. Net earnings were $810 million, or $1.78 per diluted share, compared with $889 million, or $1.90 per share, a year ago.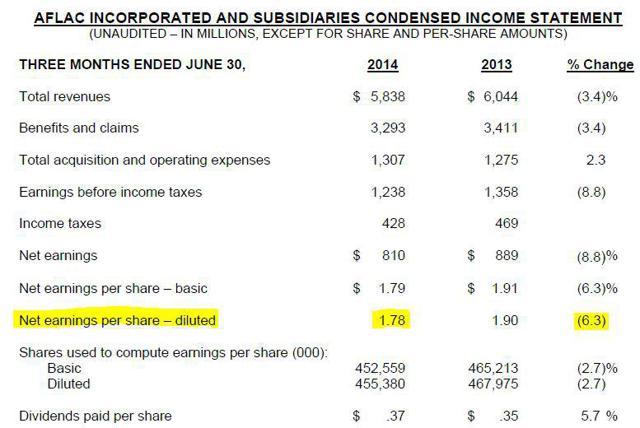 Click to enlarge
Next, here's the 2014 Q2 operating earnings report. It reconciles GAAP earnings to operating earnings: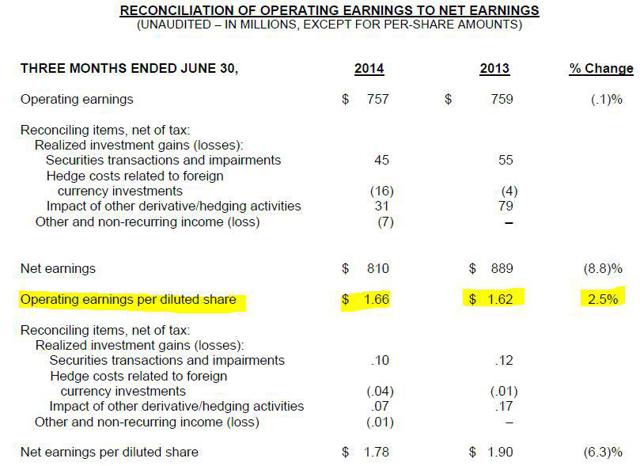 Click to enlarge
At the bottom of the table, note GAAP EPS, or 'Net earnings per diluted share' has decreased YoY 6.3%. However, after stripping out the extra-ordinary and one-time gains/losses, the year-over-year core earnings improved 2.5%.
Then the third report, Effect of Foreign Currency on Operating Results. Aflac management explains EPS without the effect of currency exchange reporting:
The average yen/dollar exchange rate in the second quarter of 2014 was 102.15, or 3.3% weaker than the average rate of 98.76 in the second quarter of 2013. Aflac Japan's growth rates in dollar terms for the second quarter... were suppressed as a result of the weaker yen/dollar exchange rate.
Furthermore, the press release continues,
The weaker yen/dollar exchange rate decreased operating earnings per diluted share by $.03 for the second quarter. Excluding the impact from the weaker yen, operating earnings per diluted share increased 4.3%.
The subsequent table, found later in the report, captures this discussion: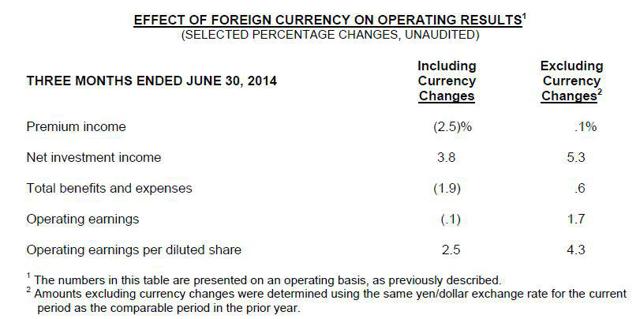 Click to enlarge
But Isn't Yen Conversion Required to Pay Dividends?
No, it isn't. But it is true all Aflac dividends are paid in greenbacks.
Indeed, Japanese Yen to U.S. dollar conversion isn't required to pay cash dividends. Subsidiary Aflac U.S. more than generates enough cash to cover the distributions. In 2013, Aflac U.S. earned over $1 billion, while the total cash dividends were $635 million. Through the first half of 2014, Aflac U.S. booked pre-tax earnings $603 million versus $324 million in dividend payouts. In addition, Aflac U.S. currently holds another $13.1 billion in cash and investments.
No yen repatriation appears necessary to meet cash dividends for the foreseeable future.
Looking at Aflac Valuation Through the Earnings Prism
If you have bought into the concept that operating earnings as adjusted for foreign currency impact is the best yardstick for evaluating EPS and associated valuation, we can now take a look at how the shares stack up.
Here's a table showing AFL operating earnings per share for the past 3 years, plus management's estimate for FY 2014. It DOES NOT make any currency exchange adjustments:
Year-over-Year EPS Percentage Change- Operating Earnings
| | | | | |
| --- | --- | --- | --- | --- |
| | 2011 | 2012 | 2013 | 2014 (est) |
| Op. EPS % | +14.5 | +5.3 | -6.4 | -0.1 |
Without currency exchange adjustments, earnings per diluted share declined last year, and is projected to ease a bit more in 2014.
Now, let's review the numbers after making an allowance for yen-to-dollar exchange rates:
YoY EPS Percentage Change- Currency-Adjusted Op. Earnings
| | | | | |
| --- | --- | --- | --- | --- |
| | 2011 | 2012 | 2013 | 2014 (est) |
| AdjOpEPS% | +8.0 | +5.1 | +5.2 | +3.5 |
While earnings are experiencing a deceleration, it's not nearly as pronounced after adjusting for currency exchange.
Aflac management, some of the best and most experienced in the insurance business, concedes that 2014 will be a lackluster year. A combination of a stale sales structure and weak execution have hampered U.S. growth; slowing agency channels have flattened Japan revenues. The projected YoY 3.5% EPS improvement is towards the low end of the range.
However, strong management adapts and changes; so Aflac isn't standing still. A revamped U.S. sales organization coupled with a new agent compensation system is set to change the status-quo here. In Japan, new sales channels, like Japan Post, are expected to rejuvenate business in that part of the world.
The Shares Appear to Trade Below Fair Value
For all of 2014, Aflac management has forecast midpoint earnings at $6.23 per share. In 2015, Wall Street analysts have forecast 4% growth, or $6.50 diluted EPS.
Over the past 10 years, investors have placed a ~12x normalized, average price / earnings ratio on the shares. Utilizing this historical multiple, a fair value target price between $75 and $78 appears reasonable. Recently, the stock closed at $61, indicating a 22 to 26% uplift. The P/E is now 10x, reflecting near-term earnings worries, concerns about the Japanese economy, and perhaps some misconceptions about the rapidly-weakened JPY.
Notably, Aflac shareholders enjoy a 2.4% yield. The company is one of a select few corporations that has increased the cash dividend for over 30 years. Over the past 5 years, the payout has been raised by 8% annually.
The stock appears to be one of a dwindling number of undervalued securities in today's hot market.
Conclusion
When evaluating the shares, Aflac Incorporated investors should study earnings information with particular care. Despite its U.S. headquarters, the company does 75% of its business in Japan. Currency exchange can have a major impact on EPS, but the company actually doesn't move much cash between Japan and the United States.
Recently, earnings have been decelerating modestly. 2014 is forecast to be low ebb. An improved earnings outlook, buttressed by an historically higher earnings multiple, has the potential to reward patient shareholders with total returns of greater than 20% before the stock reaches fair value.
Please do your own careful due diligence before making any investment. This article is not a recommendation to buy or sell any stock. Good luck with all your 2014 investments.
Disclosure: The author is long AFL.
The author wrote this article themselves, and it expresses their own opinions. The author is not receiving compensation for it (other than from Seeking Alpha). The author has no business relationship with any company whose stock is mentioned in this article.