IBM (NYSE:IBM) is facing a worrying revenue cliff. The company's revenue has declined for eight straight quarters. In the first quarter of the current fiscal year, Big Blue's revenue fell 3.9% to $22.49 billion, a five-year low. The company's net income plunged 21.4% to $2.38 billion while EPS fell 15.4% to $2.29 billion. IBM won a reprieve in the second quarter, however. Although its revenue fell 2% to $24.4 billion, its net income grew 28% to $4.1 billion while diluted EPS improved by 42% to $4.12.
Although the overall picture for IBM looks rather gloomy, there are some compelling reasons to believe the company will effectively pull out of its tailspin sooner than what many people think.
IBM Cloud
IBM's cloud is perhaps its brightest and most promising business. The company reported during its latest earnings call that its cloud revenue had grown 50% year-to-date, while its cloud delivered as a service had reached an annual run rate of $2.4 billion. IBM is now the third largest public cloud vendor after Amazon (NASDAQ:AMZN) and Microsoft (NASDAQ:MSFT).
A lot of that growth is coming from acquisitions. IBM spent about $3.1 billion last year to acquire 10 cloud companies. IBM now owns cloud companies such as SoftLayer, Sterling Commerce, Keneax, Trusteer, DemandTec, and others. SoftLayer sports bare metal capabilities that helps to differentiate it from other cloud vendors. IBM has been using this edge to maintain high cloud prices, and has been keenly avoiding the cloud-as-a-commodity mentality that has taken over the market. IBM only lowered its cloud prices recently.
IBM lowered the price of object storage by 60% to $0.04 per GB, bringing it within the range of AWS. This will help the company to remain competitive in the current environment of blanket cloud price cuts. IBM has been parlaying its niche cloud into enterprise deals. Although the company lost the $600 million CIA deal to AWS last year, it has been winning other cloud deals elsewhere. Big Blue signed a 7-year cloud outsourcing deal with NiSource. The deal will involve IBM implementing a hybrid cloud service for NiSource through SoftLayer.
The overall cloud market is growing at a brisk pace. IBM Market intelligence estimates that the market will reach $200 billion by 2020. Forrester recently raised cloud growth estimates from $191 billion by 2020 to $229 billion.
If IBM's cloud business maintains a CAGR of 30% through 2017, the company's cloud will bring in revenue of $5.3 billion, about 7% of IBM's current revenue.
Big data and analytics
IBM has invested vast amounts of money in big data and analytics. The company has spent more than $24 billion to ramp up its big data and analytics portfolio. As a result, IBM has realized more than 40,000 service engagements. IBM's Business Analytics division revenue grew 7% in the last quarter. IBM expects its big data segment to reach revenue of $20 billion by 2015. Although that goal looks a tad ambitious, it appears to be within the ballpark when you consider that IDC predicts the big data market will grow at a brisk 50% annual clip to reach revenue of $54.3 billion by 2017, up from $16.1 billion currently.
Maintaining a 7% growth through 2017 will see IBM's big data and analytics revenue reach $23 billion, almost 25% of its current revenue.
All Flash Arrays
According to a recent Gartner report, IBM is now the largest vendor of all flash arrays. IBM flash revenue grew 278.1% to reach $164.2 million.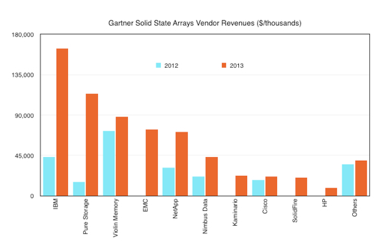 Source: The Register
IBM acquired Texas Memory Systems, a leading flash memory products manufacturer in 2012. It appears as if the acquisition is paying off handsomely.
According to the Gartner report, the solid state arrays (or SSA) market is still in its early stages. The market grew 182.1% in 2013 to reach $667.3 million. IBM managed to dislodge Violin Memory from the number one spot, and now owns 24.6% of this market.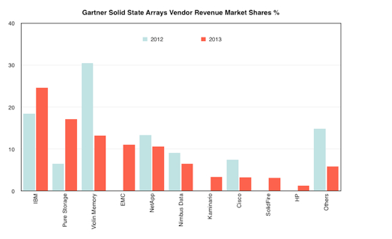 Source: The Register
SSA technology is rapidly gaining acceptance after staying in limbo for many years. The majority of ''Big Storage'' manufacturers used to focus on building hybrids of flash and disk. Some favored caching by using 3%-5% flash and lots of spindles, while others used tiering. The result was products that performed more like disk than flash, but which cost nearly as much as pure flash.
Toward the end of 2012, however, manufacturers started focusing more on pure flash paired with software specifically written for the application. Gartner predicts that the SSA market will grow at a CAGR of 73% through 2017 to reach $3.5 billion by 2017. But this could prove to be a conservative estimate. For instance, when you compare PCIe SSDs with SSAs, you notice that SSAs offer comparable or even better performance yet are considerably cheaper.
Flash Arrays vs. PCIe Flash Cards

Performance

400,000 IOPS
<1ms latency
Flash management executed on dedicated CPUs in array

Up to 500,000 IOPS
100s ms latency
Flash management executed on host CPUs

Cost

$5-10/GB usable
(HA + RAID + dedupe)

$10/GB raw, per server
$20/GB HA (either mirrored in a server or between servers)

High Availability and Serviceability

Active/active clustered HA controllers
Hot-swap flash modules and controllers

 HA via mirroring two cards in a server

 No cross-server HA mode

Software

Dedupe, compression, thin provisioning, VMware integration
RAID, HA, data integrity, snapshots
Flash management

Mirroring
Flash management

Suitable Workloads

All major enterprise applications

Small database applications which can fit in the card, and where high availability is not required, or is handled by the application
Non-persistent database files
Source: Pure Storage
Cost is still a major limiting factor that's slowing mainstream adoption of SSDs in the enterprise.
The second big reason why the SSA market might grow faster than Gartner's prediction is due to their wider applications compared to PCIe SSDs.
IBM managed to grow its flash revenue much faster than the market in fiscal 2014. Given the expertise of Texas Memory in this field, IBM should continue to outpace the market going forward. If the company maintains a CAGR of 120% through 2017, its flash revenue will reach almost $2 billion.
Conclusion
IBM's cloud, big data and analytics and flash segments are all showing a lot of promise. The company's current rate of revenue decline is around $3 billion per year. Growth in these three segments, however, should be able to completely offset the decline in about 3-4 quarters, after which IBM should start seeing positive revenue growth again.
Disclosure: The author is long IBM.
The author wrote this article themselves, and it expresses their own opinions. The author is not receiving compensation for it (other than from Seeking Alpha). The author has no business relationship with any company whose stock is mentioned in this article.