Shanda Games (NASDAQ:GAME) is down around 4% over the last week after Carlyle Group and Fountainvest Partners is pulling out in a plan to buy the company. Other firms pulling out include Perfect World and Primavera Capital.
There's been little to get excited (or unexcited) about since the buyout news. Shares are still up 35% year to date and have traded in a tight range. There was a slight pullback on the news that the buyout group is changing.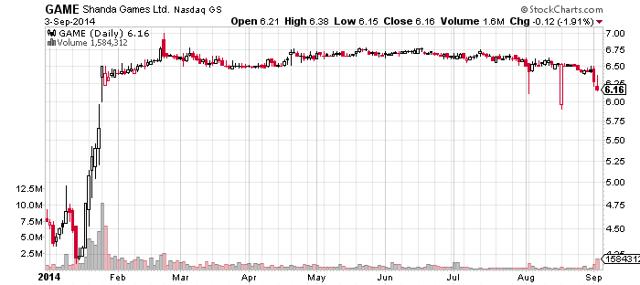 Shanda Interactive is still the biggest owner in Shanda Games, owning over 75% of the company. They are committed to get the deal done, hoping to gain control of more of Shanda Games' strong cash flow. The stock is still up 50% since we first covered it back in October of last year, noting that the company was a buy given its mobile gaming platform. Then, we noted:
Given that Shanda Interactive owns over 75% of Shanda Games, and so the buyout potential is always on the table. Where Shanda Interactive could decide they want all that free cash flow for themselves, and the buyout wouldn't come without a premium.
Question is; is this a buying opportunity or a sign of trouble with the deal? The buyout offer was for $6.90 a share, with the stock trading 11% below this level. We think, with Shanda Interactive's commitment to the deal, that it will still get done. Other members have already jointed the buyout group, including affiliates of Orient Securities Co Ltd, Haitong Securities Co Ltd and Ningxia Zhongyincashmere International Group Co Ltd have since joined the buyout group.
Disclosure: The author has no positions in any stocks mentioned, and no plans to initiate any positions within the next 72 hours.
The author wrote this article themselves, and it expresses their own opinions. The author is not receiving compensation for it (other than from Seeking Alpha). The author has no business relationship with any company whose stock is mentioned in this article.