By Brad Zigler
You might have noticed that the price trajectory for gold and oil have been diverging recently. The disparity has grown so large, in fact, that momentum in the gold/oil ratio has turned down. The ratio's 50-day moving average crossed to the downside of its 200-day moving average—a signal that lower daily values may lay ahead.
The ratio—determined by dividing the per-barrel cost of crude oil by gold's spot price—is a barometer of economic vibrancy. When times are good, the ratio's low, reflecting a relatively robust price—and demand—for crude oil. When fear is pervasive or the economy slumps, the ratio's high, as gold is chased by investors looking for a safe haven.
You can see this pattern played out in the graph below:
Gold/Oil Ratio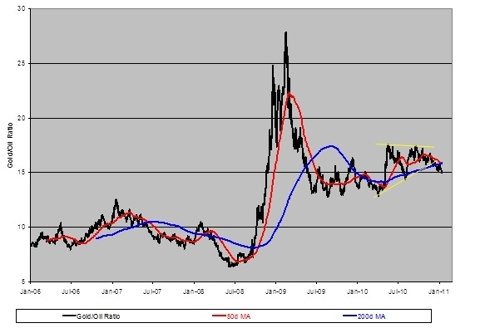 (Click to enlarge)
Leading up to the 2008 market breakdown, the gold/oil multiple dipped to the 6x (6-to-1) level—a significant nadir given its long-term average of 15x. Oil, you'll recall, shot up past $140 a barrel in the summer (meaning an ounce of gold could buy fewer barrels of crude) before the economy tipped into the Great Deleveraging. Oil prices then plunged far faster than gold's. By the time a bottom was scraped in early 2009, an ounce of gold could have bought nearly 28 barrels of crude.
The ratio's since slid downward to hang out on either side of 15x. And now, there's that crossing of the ratio's moving averages.
So what's all this mean?
Well, to a certain extent, the signal seems to indicate that the recovery heralded by a buoyant stock market may have legs. There's a long-standing negative correlation between the gold/oil ratio and domestic equity prices measured by the S&P 500 Composite, so when the ratio heads south, stocks generally rise.
Gold/Oil Ratio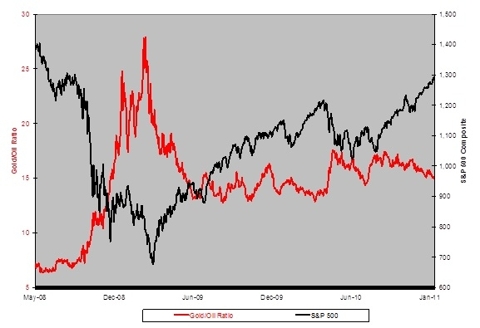 (Click to enlarge)
The gold/oil multiple's now 15x. There's certainly room for slippage of a couple of handles (the multiple's deepest post-crash pivot point was in April 2010), so the 13x level may be a bellwether for equity investors.
Disclosure: None