Amber Road Inc. (NYSE:AMBR) - Sell Recommendation - PT $14.80
The 181-day lockup period initiated with the March 20 IPO of Amber Road Inc. will come to an end on September 17; the conclusion of the lockup period will permit both the firm's pre-IPO shareholders and its executives and directors to sell their shares in the global trade management solutions company.
The firm's share prices will likely decline in response to the millions of shares newly eligible for sale with the expiration of the lockup period.
24.8 Million Shares To Be Unlocked: More than 3X the Number of IPO Shares
The expiration of the lockup period will free some 24.8 million shares of AMBR to be traded publicly, far exceeding the 7.8 million shares made public in the firm's IPO.
The firm's single largest shareholder is Cross Atlantic; other entities holding significant stakes in the company include Goldman Sachs, NJTC Investment Fund, Orix Venture Finance LLC, and Updata partners. (Source)
These shareholders, especially the venture capital firms, may wish to unload some of their shares in AMBR while the temperamental stock is at a relatively high price, as it is now, in order to raise capital for other projects and return capital to investors.
AMBR's executives and directors may be similarly motivated to cash out at least some of their shares in the interest of diversifying their portfolios and reducing their exposure to AMBR's volatile prices.
Evidence That Lockup Expirations Offer Short Opportunities
Professors at the University of Kentucky, University of South Florida, and other academic institutions (Bradley, Jordan, Roten, and Ha-Chin Yi) have published empirical studies finding that, on average, there is an association between lockup expirations and significant negative abnormal returns. The sudden growth of publicly available shares (a potential tripling, per a 2001 NYU study) generally leads to declining share prices. A joint study from Harvard Business School and Duke's Fuqua School of Business indicates that this price drop is 2%. Losses are often concentrated in firms with venture capital (NYSE:VC) backing. In the Journal of Finance (2001), Professors Laura Casares Field and Gordon Hanka find these losses described above to be three times greater in VC-backed firms.
Our own research, analyzing a sample of 242 companies with lockup expirations in 2013 and in the first half of 2014, suggests that the most significant negative returns (-5.5%) occur during the Day (-11, +9) period prior to and following the lockup event (Day 0). These negative returns occur in tech firms that have yet to complete secondary offerings and whose share prices have grown from IPO to Day (-11) from the lockup expiration.
Thus, the lockup expiration event often produces a short opportunity for aggressive investors.
Business Summary: Helping Automate Import and Export Processes
AMBR is a provider of a global trade management (GTM) solution through cloud-based technology. The firm's solution helps to automate import and export processes and to expedite compliant, efficient transportation of goods across international borders.
The firm's solution combines a global supply chain network of freight forwarders, suppliers, customs brokers and transportation carriers with its enterprise-oriented software. The solution integrates Global Knowledge, a library of GTM information that AMBR employs to generate a knowledge base to automate GTM functions. AMBR offers its solution via a SaaS model. The firm acquired the Chinese SaaS GTM solution provider EasyCargo in September 2013 to facilitate transactions in China and to strengthen its presence in the world's largest trading economy.
For additional details, see our prior article on AMBR.
Big Competitors A Challenge For AMBR's "Brother-Act" Management
AMBR competes with providers of similar GTM solutions, some of which have access to greater financial, technical and marketing resources than AMBR. Chief among these are SAP AG (NYSE:SAP) and Oracle Corporation (NASDAQ:ORCL), both of which are global leaders in GTM solutions and are far larger than AMBR. SAP and Oracle also offer a diversity of products that AMBR cannot compete with, making them less vulnerable to fluctuations in the GTM solutions market.
Co-founder James W. Preuninger has served as AMBR's CEO since 2002, and also serves as a member of the board. He previously worked in various positions in sales and marketing with IBM. He holds a Bachelor's degree in Computer Science from Drexel University. His brother, co-founder John W. Preuninger, serves as AMBR's President and COO. He previously worked as a consultant with Monitor Company, and received a Bachelor's degree in Business Administration from Drexel University and a Master's degree in Business Administration from Harvard Business School.
Post-IPO Market Performance: Highly Inconsistent
AMBR's upsized IPO is priced slightly above its expected price range of $10.50 to $12.50 per share at $13 per share, and the stock enjoyed a strong 30.8% first-day pop. The stock has since been highly inconsistent, falling to $12 per share in mid-May before skyrocketing to $17.49 per share in late June. AMBR again fell below its IPO price in August only to bounce back to close at $15.69 per share on September 3.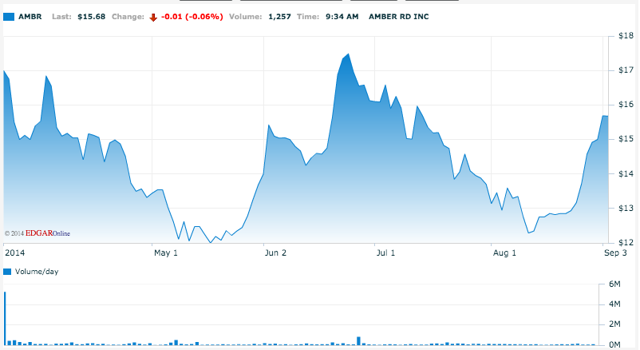 (Nasdaq.com)
Conclusion: A Significant Short Opportunity Ahead
Given AMBR's substantial venture capital backing, as well as its demonstrated volatility on the market, we believe that the stock's price will likely take a significant hit with the conclusion of the lockup period.
While we are impressed with the firm's commitment to creating a global presence, as demonstrated by its acquisition of Chinese firm EasyCargo in 2013, this bright spot will not likely outweigh the impending supply shock on September 17.
AMBR has shown revenue growth in recent years, but its losses have also ballooned, and it isn't clear that AMBR has the chops to compete with its heavyweight competitors in the long term, particularly given the rapidly changing nature of GTM technologies.
We see a significant short opportunity ahead for investors, keen for an aggressive play, on AMBR.
We encourage readers wishing to join the discussion on IPO lockup expirations to click +FOLLOW above the title of this article - and those wishing for the latest updates to click +Get real-time alerts.
Disclosure: The author is short AMBR.
The author wrote this article themselves, and it expresses their own opinions. The author is not receiving compensation for it (other than from Seeking Alpha). The author has no business relationship with any company whose stock is mentioned in this article.