In just five short days, the iShares MSCI Spain (NYSEARCA:EWP) exchange-traded-fund (ETF) has surged 13.2%. Is it too soon to believe that it's a new beginning for the economy?
Spain has proved that it can still raise money, getting solid demand for five-year bonds at an auction last week. Still, questions about the health of Spanish banks persist.
Patrick Allen for CNBC reports that recent stress tests imposed on the Spanish banks mean there are no nasty surprises sitting on balance sheets, according to the vice-president of the Spanish government and finance minister, Elena Salgado.
Another basis for their confidence is the fact that 95% of Spanish banks went through last July's stress tests; other countries subjected 50% of their banks to such tests.
The Economist reports that although Spain's public debt is less than two-thirds of GDP, the fears won't rest. The governor of the Bank of Spain says, however, that perception is worse than reality.

There's one big reason to believe Spanish banks aren't out of the woods yet: unemployment remains above 20%. That's ultimately going to impact consumption activity and lending rates, if it's not already.
Spain's banking sector is 41% of EWP, so its performance and overall health are key to how this ETF weathers the storm. Despite the assurances from the country's leaders, not everyone seems wholly convinced.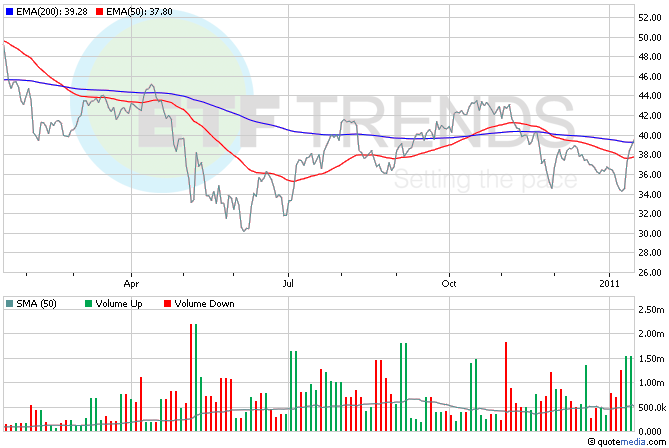 (Click to enlarge)
Disclosure: No position