I would like to share some of my thoughts on Suncor's (NYSE:SU) strategy after hearing the presentation delivered by Suncor's CEO, Steve Williams, at the Barclays Energy Conference. He indirectly gave many encouraging signs after a lackluster Q2 earnings report I wrote about in late-July.
Since Williams took over as Suncor's CEO in mid-2012, the company has made significant progress at improving its operations and the profitability of the company. The key reason relates back to a three-pillar strategic plan Williams crafted shortly after he took over as CEO. The three pillars are Operational Excellence, Capital Discipline and Profitable Growth. Each will be explained in detail below. The combination of these three pillars makes a powerful strategy.
Operational Excellence:
Operational Excellence is needed because the capital intensive nature of the operations. Since capital and maintenance costs are fixed, the ability to operate at a higher utilization rate is crucial.
Suncor has embraced Operational Excellence in various aspects. In its Oil Sands operations, its upgraders can last an additional year before a major turnaround, which implies a higher average utilization rate and higher profits since the upgraders produce higher margin light products.
Also, to increase the intensity of its Oil Sands mines and avoid congestion at its upgraders, Suncor commissioned a hot bitumen facility that will process the bitumen from its in-situ operations and allow the company to ship bitumen directly to market. Therefore, the additional bitumen sales will result in incremental revenue for the company.
Moreover, Williams lowered the costs at its operations in order to mitigate wage inflation. Cash operating cost at its Oil Sands operations has slowly dropped from the high $30s (per barrel) to the low $30s. Williams commented during the conference that it is likely he can push the cost lower beyond the $30 target.
Another cost savings effort is Suncor's approach to designing new facilities and plants. The company completes only one detailed engineering plan and then replicate that plan over and over again to save costs and time. Hence, this approach maximize resources and minimize the time needed to design new facilities for its operations at Lewis, Meadow Creek, Firebag and MacKay River.
Overall, Suncor is adhering to its Operational Excellence philosophy by increasing its utilization rate at its facilities, and decreasing costs. The comment Williams made during the conference regarding the utilization rate is encouraging. There is an increase in the number of days that possess an utilization rate of greater 90%, the company's targeted rate.
Capital Discipline:
One of the most read book among activists and Private Equity executives is The Outsider by William Thorndike. Thorndike made an excellent point that prudent and smart capital allocation decisions can create an enormous amount of value for shareholders.
Suncor's capital allocation strategy has improved significantly since Williams came on as CEO. Williams is focused on delivering the best value with the lowest amount of capital. In the recent quarter, he reduced the 2014 capital budget from $7.8 billion to $6.8 billion. Williams promised that the cuts would not damage Suncor's growth and profitability. Most of cuts are due to the deferral of capital expenditures on new operations (like Meadow Creek and Lewis). The capital is then shifted towards its lower cost debottlenecking projects to enhance its existing operations at MacKay River and Firebag. Suncor only needs to spend $10,000 per flowing barrel in the debottlenecking projects vs. $80,000-$100,000 per flowing barrel for a greenfield project. Thus, the debottlenecking projects are the most economic option for Suncor and the decision to pursue lower cost projects frees up considerable cash to increase the dividend and share buybacks.
The focus on capital discipline has been reflected in ROCE (Return on Capital Employed) ratio. ROCE has been increasing from 10% to 13% and is on target to meet company's targeted 15%.
Capital discipline is also evident in Suncor's dividend and buyback policy. Suncor has increased the dividend by 54% in Q1 2013, 15% in Q4 2013 and by another 22% in the prior quarter. The capital savings allowed Suncor to substantially increase the payout to shareholders.
Share buybacks are also important aspects of Suncor's capital allocation strategy. The company has bought back 10% of its float since late-2011 and remains an active buyer of its shares. I was extremely pleased with Williams' answer to my question during the 2014 AGM on Suncor's buyback strategy. Williams indicated that the company was an "opportunistic" buyer of its shares and only purchase shares when they trade below the company's estimated intrinsic value (conservatively estimated). He also commented that he did not have a preset amount to buy and seek opportunities to buy only when the shares are cheap.
Figure 1 below shows the company's buyback history for the last 12 month. Suncor generally repurchased a preset dollar amount, which is why readers will notice that the company repurchased more shares when the price is cheap and less shares when the price is more expensive. Also, another important observation is that the purchase amount in July and August are much higher than the preceding months, implying management has raised its estimate of Suncor's intrinsic value.
Figure 1: Monthly Repurchase Summary (Trailing 12 Months)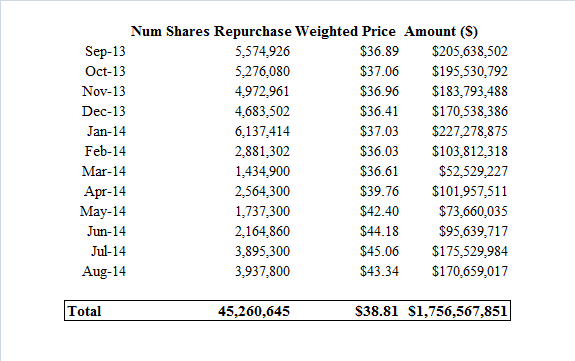 Source: SEDI. Dollar amounts and share price in Canadian dollars.
Profitable Growth:
For those readers who have followed Suncor for a long time, Williams' strategy is a sharp contrast to the prior strategy of "growth for the stake of growth" under the former CEO Rick George. Williams emphasized the need to meet a high hurdle rate (ROCE of at least 15%) for major projects and reduced growth capex on projects that are uneconomic without a high oil price.
Suncor's focus on debottlenecking projects is an example of focusing on growth that will maximize value for shareholders. With 7.7 billion barrels in proven and probable reserves (2P), Suncor doesn't' have to worry about replacing its reserves. In fact, Suncor's 2P reserves actually increased from the prior year's of 6.9 billion barrels (11.5% year-over-year) because some of its resources (23.5 billion barrels in total contingent resources) was converted into reserves. As oil price rises and technology improves, Suncor's reserves will increase as resources convert into reserve. Therefore, the need to develop its reserves and resources in a profitable manner is important. There is no rush to develop the reserves when its existing assets have extremely long lives and produce consistent free cash flow, which is different from shale oil assets that have a high decline rate beyond the first year.
Conclusion:
I am confident Suncor will perform well in the long run. The successful implementation of the business strategy is a paramount reason that makes the company attractive from an investment standpoint. I think Berkshire Hathaway (NYSE:BRK.A)(NYSE:BRK.B) would agree with me give it recently increased its stake in Suncor by 27% in Q2.
To quote Buffett: "If the business does well, the stock will eventually follow." Investors are also being rewarded for their patience with the recent dividend hike. Moreover, Suncor's opportunistic buybacks will slowly increase existing shareholders' claim on the company's earnings and dividends. Too much of a good thing can be wonderful.
Disclosure: The author is long SU.
The author wrote this article themselves, and it expresses their own opinions. The author is not receiving compensation for it (other than from Seeking Alpha). The author has no business relationship with any company whose stock is mentioned in this article.
Additional disclosure: This article is for informational purposes only and does not constitute an offer to buy or sell any securities discussed in the article. The stock mentioned in this article does not represent financial advice. Investors are recommended to conduct further due diligence before committing capital to any investment.