Apple (NASDAQ:AAPL) is often considered to be among the most exciting and high flying stocks in the market, but the reality is that it could be considered among the more "boring" stocks in the S&P 500. In the table below, we calculated the average daily change of S&P 500 stocks over the last year, grouped according to sector. We also calculated the number of trading days since each stock in the S&P 500 has seen a one-day decline of more than 3%.
Over the last year, the average stock in the S&P 500 has had an average one-day change of +/- 1.4% and has gone 56 trading days without a one-day decline of 3% or more. In the Technology sector, which is generally considered among the more volatile sectors, the average stock has had a daily move of 1.5% and has gone 61 trading days without a one-day decline of 3% or more.
So how does AAPL compare? As shown in the table, shares of AAPL are a lot more stable on both fronts. Over the last year, AAPL's average daily move has been a relatively calm 1.24%, and the last time the stock declined more than 3% in a day was 109 trading days ago, back on August 11. While AAPL is getting a lot of headline attention today over Steve Jobs' medical leave, the most notable fact of the whole saga is probably that the stock is down only 2.5% on news that the founder and CEO is taking an indefinite medical leave of absence.
If Apple had any concerns regarding the market's perception over the importance of Steve Jobs on the company's stock price, today's lack of a meaningful sell-off on the news implies that the market has confidence in the company's bullpen.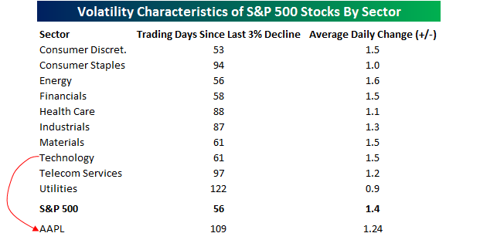 Click to enlarge