The global macro environment is currently volatile. At the time of writing, battle is being waged in some of the most prolific oil production regions in the world - Iraq, Kurdistan, Libya. Additionally, economies are at odds around the world as the United States' economy rebounds while Europe and Japan stagnate. In light of such global turmoil, one would expect oil prices to be shooting through the roof. However, over the past three months, WTI crude oil at Cushing has declined by over 13% in a steep and traumatic downturn.
As the crude market has experienced a rapid downturn, it is important to keep our eyes on what professional money managers are doing. During periods of uncertainty and volatility, a good barometer or sounding board for ideas can be found through sentiment analysis. Sentiment analysis is simply examining the Commitment of Traders' reports provided by the Commodity Futures Trading Commission. Large trading and hedging firms are required by law to submit the firm's total market position in futures and swaps to the CFTC for a weekly publication. This publication serves as an excellent signal for market direction since these traders and hedgers comprise and represent the majority of funds in the market. In the chart below, I have graphed the price of crude oil versus the 1-month change in number of futures contracts held long by speculative traders since 2012.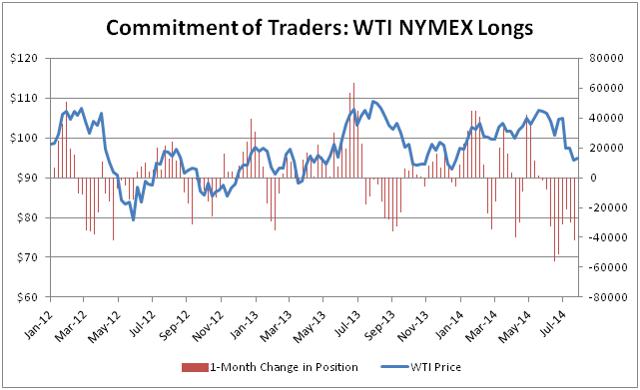 Click to enlarge
Over the last month, traders have decreased their long holdings by over 22,000 contracts. This 8% drop in long holdings represents a decrease of over $2 billion in exposure to the changing price of WTI. What is most significant about this decrease however is that historically, this has only occurred 20 times in the past 3 years. In 14 of these occurrences, price continued to decrease over the next month by an average of around 6%.
I believe that this represents a shorting opportunity in WTI, or The United States Oil ETF, LP (NYSEARCA:USO). The reason for this shorting recommendation is that the money managers are shedding exposure to crude oil in the largest consecutive decrease for the past 3 years. Since June, money managers have decreased their total net exposure by an astounding 100,000 contracts, or over $10 billion. These people are only paid if their predictions about price direction are correct. Doesn't it make sense to follow in their footsteps and trade with the "smart money"? After all, the specific circumstances surrounding the recent decrease in exposure have resulted in a price decline in 70% of all 1-month periods following the reduced exposure. In other words, I believe that crude prices stand a 70% chance of decreasing by 6% or more over the next month with continued downside in subsequent months.
So why are money managers fleeing crude? If you search for this question, you will find dozens of plausible answers. My belief is that money managers are fleeing dollar-denominated commodities in light of the strengthening dollar.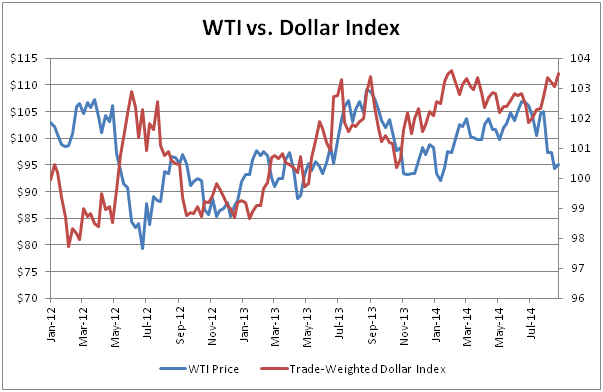 Since 2012, the dollar has steadily increased in most quarters. The trend of the strengthening dollar was accentuated in July of this year as U.S. economic data continued to gain momentum. As the economy strengthens, there will be a greater demand for dollars and dollar-backed assets further increasing the strength of the dollar. This strengthening coincides exactly with the recent downtrend in crude prices. I believe that money managers will continue to pare exposure to WTI as the economy progresses and the odds favor the short side.
Disclosure: The author has no positions in any stocks mentioned, and no plans to initiate any positions within the next 72 hours.
The author wrote this article themselves, and it expresses their own opinions. The author is not receiving compensation for it (other than from Seeking Alpha). The author has no business relationship with any company whose stock is mentioned in this article.