Denny's (NASDAQ:DENN) revenue for the second quarter of 2014 was $114.6 million reflecting a decrease of 1.6% from $116.5 million reported in the same quarter last year. This decline in revenues was mainly due to a reduction in restaurant sales. Denny's restaurant sales were $81.1 million down 2% compared to the figure reported in the same quarter last year. The reduction in Denny's restaurants sales was mainly because of the impact of the previously announced temporary closure for the reconstruction of its highest volume restaurant located in Las Vegas that is expected to re-open in early 2015.
Although the revenues were marginally lower than the figure reported in the same quarter last year the company managed to report an operating income of $14.9 million reflecting an increase of 18.5% from $12.6 million reported in the same quarter last year. Denny's operating expenses were in line with its top line and with the marginal decline in revenues; its operating expenses also went down by 4.13% and again the main reason was the cost of the company restaurants sales which decreased by $1.8 million compared to the figure reported in the same quarter last year. Moving forward, the company's bottom line showed a tremendous improvement and reported a growth of 33.5% or 3 cents per share compared to the figure reported in the same quarter last year. This improvement in earnings per share was also because of the share buyback program of the company. Denny's repurchased 2.3 million shares for $14.9 million in the second quarter of 2014.
Denny's Future Prospects:
Before moving to Denny's future prospects I want to draw your attention towards the historic trend of its earnings. The graph below shows that in the previous four quarters Denny's managed to meet the expectations of NASDAQ analysts. In the most recent quarter of 2014 the company managed to beat analysts' expectations even after the decline in the top line. In regards to Denny's expected growth in its top and bottom lines analysts' expect that by the end of this year the earnings will be almost near $0.36 per share and revenues will be near $464.6 million.


Source: Yahoo Finance
I believe that Denny's will manage to cross these expectations and the reason behind my belief is its rapid expansion of restaurants both in the U.S.A. and outside of the U.S.A. By the end of the second quarter of 2014, Denny's operated 1,693 restaurants, 1,533 of which are franchised and 160 are company operated, which include 102 international restaurants. Denny's is one of the America's biggest family dining chains with a strong international presence. Furthermore, it has signed a deal to open 20 restaurants in Atlanta and 30 restaurants in the Middle East. The best thing about Denny's expansion plans is that its main focus is on franchised rather than company-owned restaurants, which makes its expansion less capital oriented because all of the necessary capital is invested by the franchise owner and Denny's will charge for its royalty and commission.
Competition in Restaurants Chains:
The restaurant industry is extremely competitive with respect to price, service, location, and food quality. There are many restaurants that follow the franchised-based business model. I chose two companies, DineEquity (NYSE:DIN) and Krispy Kreme (NYSE:KKD), for my competitor analysis. Both of these follow the same business model of franchises. First I will compare the sale of company-operated restaurants. The table below shows that Denny's leads the competition with 160 operated restaurants but in revenue per restaurant Krispy Kreme leads with $3.2 million sales. If we compare the revenue per franchise, DineEquity leads the competition with $128,000. However, Denny's revenue per franchise was $88,000 which was significantly more than Krispy Kreme's $51,000. Considering this data, I can say that financially DineEquity is in a better position than the other two restaurant chains but it is not right to comment on the overall performance of the company. For that we should consider other factors as well.

Source: Financial Statements
How Did Denny's maintain the Quality and Goodwill of its Brand?
In the restaurant industry, it is necessary to adhere to the needs and requirements of consumers because if the company stops paying heed to the customers' needs in its menu then customers may stop visiting the restaurant. The other important matter to consider is its regulatory requirements which mainly relates to the quality of food. I admire Denny's practice regarding both of these issues.
Denny's product development team works closely with consumer recommendations, feedback from its franchisees, vendors and operators and integrates the data into their processes. All of the data collected at different levels are considered for menu planning, pricing, promotion and advertising. This means before a new menu item is presented to customers it is carefully tested against consumer expectations, food regulations, financial benefits, and operational execution. Denny's restaurants and franchisees purchase food and non-food products directly from approved vendors. Denny's centralized purchasing helps it to ensure uniform product quality in order to meet product specifications and food handling regulations.
Source: Financial Statement
Denny's Current and Forecasted Price:
Denny's is an Undervalued or Overvalued Stock
Denny's is currently trading at $6.82 and before discussing its expected price I want to shed light on its actual worth in comparison to its competitor and the industry average.

Source: Yahoo Finance
Multipliers
The table above shows that Denny's P/E and PEG ratio is lower than the industry average. However, if we compare its P/E and PEG ratio with its main competitors then it falls in between both competitors DineEquity and Krispy Kreme. Denny's P/S ratio is also lower than both of its competitors, DineEquity and Krispy Kreme, and the industry average. Overall, Denny's multipliers tell us that Denny's stock is clearly undervalued compared to the industry average.
Denny's Stock Price Expected Growth Potential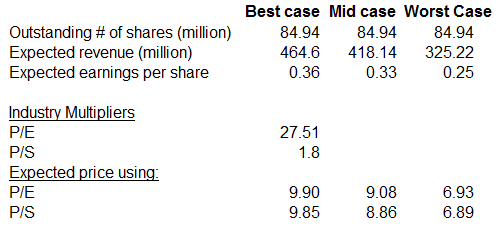 Before discussing Denny's expected stock price in the coming year, I want to mention my expectations regarding its earnings and sales as I will use these two multipliers to calculate its expected price.
(Disclaimer: These projections are partially my assumption, the remaining figures I took from Yahoo Finance)
As you can see in the table above, I drew three cases for its expected price. In the best case scenario the expected stock price is around $9.8 with upside potential of 43% which I believe is too optimistic. In the mid case scenario the stock price's upside potential is 32% which is again too optimistic. Even in the worst case scenario the stock price still has upside potential of 1.6%. This stock is undervalued and if this stock starts trading at fair value the stock is expected to trade at around $8.
Conclusion:
Given the slight improvement in comparable store sales by 1.9% in the second quarter of 2014, analysts were anticipating a reasonable increase by the end of this year in its top and bottom lines.
I do admire Denny's expansion strategy but I believe that to win investors' confidence the company should return some cash to its shareholders in the form of dividends. The company is not distributing any dividends but this was compensated by its capital yield. In the past 12 months Denny's stock reported a gain of around $1.3 per share or a capital yield of 23%.
Furthermore, I believe that this stock is still undervalued compared to its competitors and in the coming year its stock price will increase. Considering the factors mentioned above, I recommend buying this stock.
Disclosure: The author has no positions in any stocks mentioned, and no plans to initiate any positions within the next 72 hours.
The author wrote this article themselves, and it expresses their own opinions. The author is not receiving compensation for it (other than from Seeking Alpha). The author has no business relationship with any company whose stock is mentioned in this article.