We have seen a stabilization in certain commodity prices, but seriously doubt that the tide has turned for the general commodity markets. We get emails all of the time from readers asking if something has bottomed and the usual response is no. It is very uncommon to see a V-shaped correction or reversal, something we discussed when reiterating our bearish call on coal stocks a few years back but many were unwilling to believe. Each big rally off of a short-term bottom led to further losses for those who were buying for long-term purposes, and if we look at the oil market today we think that it is best to be neutral.
The idea of purchasing solid E&P names that have good production growth in liquids production is still appealing, but in the current market we have focused more on the companies that have a large inventory of wells waiting to be tied in to pipeline infrastructure. The idea is to minimize our risk as much as possible and benefit from events we can anticipate (putting the wells into production). This has worked on previous pullbacks during this bull market, continues to work now, so we have decided that we will continue to do more of what has worked moving forward.
Chart of the Day:
The ECB moved strongly today, much more strongly than we anticipated and the euro is falling versus the US dollar. We have fallen through the $1.30/euro level for the first time in a very long time and this continues the trend of weakness in the euro. This should help the exporters in Germany, but it only serves to make the US dollar stronger which is most certainly not good for commodity stocks.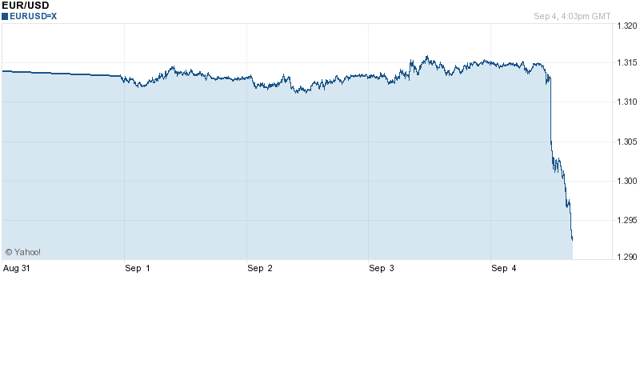 Source: Yahoo Finance
Commodity prices are as follows (at time of submission):
Gold: $1,269.50/ounce, down by $0.80/ounce
Silver: $19.165/ounce, down by $0.024/ounce
Oil: $94.53/barrel, down by $1.01/barrel
RBOB Gas: $2.6182/gallon, down by $0.0018/gallon
Natural Gas: $3.816/MMbtu, down by $0.031/MMbtu
Copper: $3.1475/pound, up by $0.0205/pound
Platinum: $1,410.30/ounce, down by $2.20/ounce
Judge Rules On Gulf Spill
In a blow to BP (NYSE:BP), Transocean (NYSE:RIG) and Halliburton (NYSE:HAL), a federal judge ruled today that the companies were all negligent in the spill that has cost the companies billions already, with BP being found to have been grossly negligent. Judge Carl Barbier's ruling will leave BP to shoulder most of the blame, and thus fines which will follow, and assigned 67% of the fault on BP, 30% to Transocean and 3% to Halliburton.
This could open the door to more than $17 billion in further fines from the EPA, but we do know now that BP plans on appealing the ruling. Fines in the case would be announced next year.
BP shares have rebounded a bit after the company announced that they would be appealing Judge Barbier's ruling.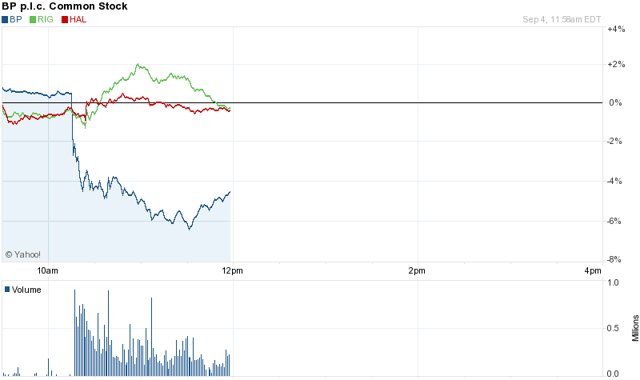 Source: Yahoo Finance
Initially all three companies saw their shares fall, but Transocean and Halliburton shares perked up after investors had a chance to digest the news before giving up gains, but BP shares remain down by roughly 5%.
New East Coast Pipeline
In what should be good news for natural gas producers in the Marcellus and Utica shale plays, Duke Energy (NYSE:DUK) and Dominion Resources (NYSE:D) have announced plans to build a $5 billion pipeline to bring gas from the US Northeast to the Southeast. This will enable Duke and Dominion to keep natural gas prices low as well as increase their power generated via natural gas, something that will help Duke as they aggressively close coal fired power plants and seek to offset those losses.
The pipeline, to be called the Atlantic Coast Pipeline, would span 550-miles and transport up to 1.5 billion cubic feet of natural gas per day. Dominion will construct the pipeline and own 45%, while Duke will own 40% and two other partners will collectively own 15%. While there are no firm dates in place for starting construction and when the project should be completed, it is believed that the pipeline will take two years to build and could be completed as soon as 2018.
Overplaying Their Hand?
We have previously speculated that one way to save the Ukraine was for the US to agree to save Syria's current regime from the ISIS/ISIL onslaught. Russia maintains one of their two allies in the Middle East and the US keeps the Ukraine independent, while also saving a vulnerable Iraq from further attacks. With the latest from the Islamic State, it now appears that they are shifting their focus to Vladimir Putin due to his supplying Syria with weapons which have been used against them.
The thought that this group could make a move on Putin is ridiculous but they may force him to provide help in Syria so as not to incite any new hostilities in areas such as Chechnya and Dagestan.
Disclosure: The author has no positions in any stocks mentioned, and no plans to initiate any positions within the next 72 hours.
The author wrote this article themselves, and it expresses their own opinions. The author is not receiving compensation for it (other than from Seeking Alpha). The author has no business relationship with any company whose stock is mentioned in this article.