This Great Graphic comes from Thomson Reuters. V.Flassen from Reuters Graphics appears to have composed it and Pierre Briancon tweeted it. It shows the major central bank balance sheets since 2007 through the end of August. It is going to change dramatically in the coming months. The Federal Reserve's balance sheet growth will slow dramatically, as QE ends, though some recycling will continue it appears.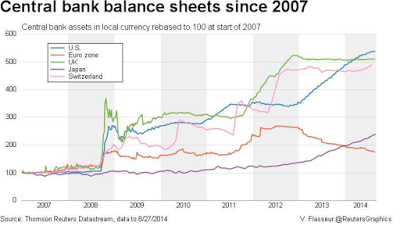 The Bank of Japan's balance sheet will continue to expand at a steady pace. While the BOJ shows no intention to become even more aggressive, it also has signaled that its purchases will continue for some time. The Swiss National Bank's balance sheet has crept up recently, and it may accelerate if it has to defend the Swiss franc cap/euro floor through intervention.
The focus today is on the ECB. Between the TLTROs and the ABS/covered bond purchase scheme, the ECB's balance sheet will reverse its decline. It may take a little while to recognize it as the banks payback the funds borrowed under the older LTRO facility.
Disclosure: The author has no positions in any stocks mentioned, and no plans to initiate any positions within the next 72 hours.
The author wrote this article themselves, and it expresses their own opinions. The author is not receiving compensation for it. The author has no business relationship with any company whose stock is mentioned in this article.