Antibiotic resistance is a problem. There is no question that novel compounds are needed, and Congress has attempted to jump start development of new anti-infectives by passing the GAIN act which went into effect October 1st, 2012. There are many companies working to fill this need, but some of the most interesting compounds belong to a handful of little-known biotechs.
Soligenix (OTCQB:SNGX) is a tiny company with a market capitalization of only ~$40M. It is probably the most obscure of legendary biotech investor Randall J. Kirk's endeavors. Although most Kirk followers have positions in Intrexon (NYSE:XON), Ziopharm (NASDAQ:ZIOP), and maybe Halozyme (NASDAQ:HALO), not many have heard of Soligenix. Kirk owns about 31% of Soligenix common stock according to the 10-K filed on March 26, 2014 (with 5.25% owned by XON).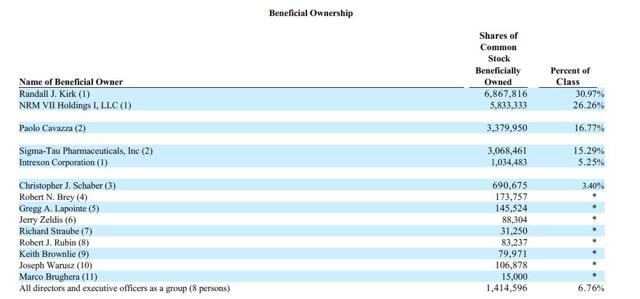 Soligenix has a pretty robust vaccine pipeline, and recently announced that their ricin vaccine passed the most rigorous test it will ever face: a primate challenge study where animals are exposed to 3-5 times the level of lethal ricin toxin. All vaccinated animals survived, all untreated animals died. While the biodefense vaccines being developed by Soligenix have a limited market, the majority of this work is government funded and provides investors with "free" upside. If it translates to revenue down the road, great. If not, the company is not really any worse off than before.
The most interesting compound in the Soligenix pipeline is a 5 amino acid peptide called SGX94. The company is very clear that the compound is not an antibiotic, and this is what makes it unique. It appears that SGX94 mimics a molecule called innate defense regulator 1 (IDR-1) which binds to p62 and modulates downstream signaling. It controls infection and protects tissue by preventing inflammatory damage. This paper delineated the basic biology of the IDR-1/p62 interaction and it's worth noting that the second to last author and co-inventor of SGX94, Oreola Donini, is now VP of Preclinical R&D at Soligenix. The blonde on the right is super impressed by her credentials.
SGX94 has quite a few properties that make it attractive as a human therapeutic. It's a short peptide which means it is unlikely to cause hypersensitivity or an anti-drug immune response. Typically a peptide needs to be at least 7-8 amino acids to be presented on MHC molecules to T cells. At 5 amino acids, SGX94 will be easy to synthesize and should fly under the immune system's radar.
A common problem that often plagues small peptides is extremely short half-life and SGX94 is no exception. SGX94 has a plasma half-life of only 10 minutes. While this would be a huge problem for most drug candidates and would be dealt with by modifying amino acid chemistry or reformulation, in this case it doesn't seem to matter. The impact of SGX94 is evident for days after it has been cleared from circulation. In a methicillin-resistant S. aureus (MRSA) model, Soligenix claims that a single dose of SGX94 injected up to 5 days before pathogen challenge is protective. This pharmacodynamic effect is extremely impressive.
p62 is a critical protein that is involved in many key biological pathways. Modulating the p62 pathway is important in mood disorders, Alzheimer's disease, autophagy, and cancer, just to give a few examples. Therefore having a drug that modulates this pathway could be incredibly valuable. For now, Soligenix is focused on developing SGX94 for patients with oral mucositis (OM), which is a painful ulceration and inflammation that occurs in the mouth, often after radiation therapy. A clear need for this type of therapy was recently demonstrated in this Journal of Clinical Oncology paper which showed that approximately half of patients with advanced squamous cell carcinoma of the head and neck get grade 3 or greater oral mucositis following chemoradiotherapy. Anyone doubting the seriousness of OM can do a Google image search and will quickly understand the pain and difficultly eating which is associated with this condition.
The corporate overview slide deck on the Soligenix website contains SGX94 data from two preclinical models. Below is the data from the radiation-induced mucositis in hamsters, which is the most commonly used model.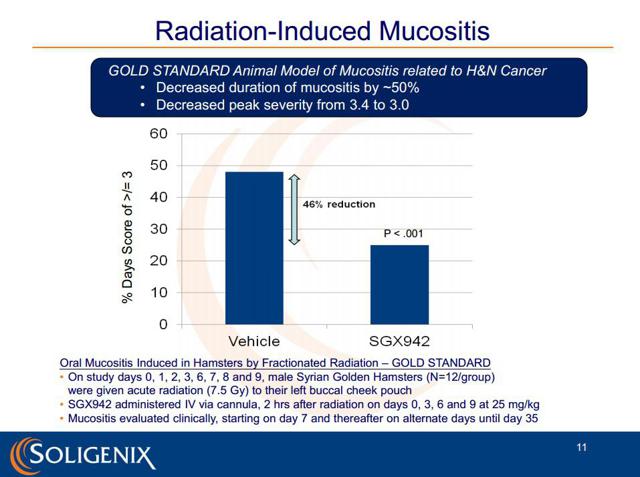 Note that the drug is only given following each dose of radiation with no dosing post-radiation, yet a 46% reduction in duration of OM was observed, along with a slight reduction in the severity. The company also has data for chemo-induced mucositis which looks even more compelling.
Soligenix has also completed a successful phase 1 study with SGX94 in healthy donors, which de-risks the compound in terms of safety. Efficacy data from the phase 2 study is due out before the end of 2014 and could be a significant value driver for the stock since oral mucositis is the largest indication the company is pursuing. With FDA fast track status in hand, it's possible SGX94 could be launched in 2017.
Soligenix is not alone in their quest to develop a therapy for OM. They are facing stiff competition from another compound, brilacidin, which was originally licensed from the University of Pennsylvania by Polymedix, and later acquired by Cellceutix (OTCQB:CTIX) in a bankruptcy sale. Compared to SGX94, brilacidin is more directly antimicrobial, representing a new class of antibiotics called defensin mimetics.
Cellceutix has put forth preclinical data in their investor presentation in the same hamster model used by Soligenix showing a >90% reduction in oral mucositis.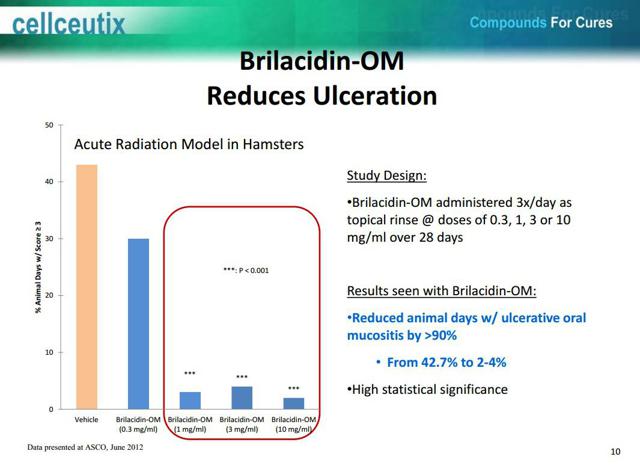 This is quite striking data, but there is one key difference between the SGX94 and brilacidin data that is worth noting. SGX94 dosing occurred only during the radiation treatment. This is further evidence of the unique mechanism of action of SGX94 and lasting pharmacodynamic effect. According to Soligenix, brilacidin shows no efficacy when dosed in this manner. This means that when doing a direct comparison between the two molecules dosed in the same manner, SGX94 wins. However, when utilizing the brilacidin 3X daily rinse throughout the study, the efficacy of brilacidin looks significantly better than SGX94. The difference in dosing schedule makes it difficult to get an accurate assessment of the efficacy of SGX94 relative to brilacidin, but it's likely that both molecules will provide patients suffering from OM with significant relief.
Dosing via mouth wash may initially appear more attractive than dosing SGX94 intravenously. However, if Soligenix follows the dosing schedule they used in preclinical studies, the SGX94 dose could be administered after radiation therapy when the patient is already in a health care setting. This makes it convenient and eliminates concerns about patients adhering to therapy and using the product correctly. The exact dosing schemes for the clinical studies are not clear at this point, but dosing could be a key differentiating factor between SGX94 and brilacidin if both products show similar efficacy.
Soligenix is ahead of Cellceutix in oral mucositis clinical development, with their phase 2 study reading out any day now. As of August 11th, Cellceutix had not submitted their brilacidin OM IND, which means their study will likely start sometime this fall. However, Cellceutix is ahead of Soligenix in the acute bacterial skin and skin structure infection (ABSSSI) indication with phase IIb already completing enrollment. Soligenix has a phase 2 ABSSSI study designed and ready to go but it's not clear what would trigger them to initiate enrollment in the study. Data from Polymedix's Phase IIa brilacidin study was quite encouraging, especially at the highest dose where it outperformed daptomycin (Cubist Pharmaceuticals) in terms of response rates.

Although brilacidin appears to have enormous potential as an anti-infective in many indications, there are several reasons why Cellceutix may not be an attractive investment at this point. First, the market cap is already about 5X larger than Soligenix. This is probably due to the more mature brilacidin ABSSSI data and the fact that Cellceutix is also developing an oncology drug called Kevetrin and a psoriasis drug called Prurisol. While Kevetrin and Prurisol may "add value," they also drain cash, and Prurisol in particular is not an attractive asset.
Prurisol is intended to treat psoriasis, a patient population which will soon benefit from new biologics, such as secukinumab and brodalumab, already shown to be highly effective at treating psoriasis. Furthermore, Prurisol is simply an ester of an old anti-viral drug, abacavir, which is now generic. It's unclear why Cellceutix thinks abacavir will be an effective treatment for psoriasis patients. The company does not seem to understand the mechanism of action, and when the question is asked, they point investors to their efficacy data in a mouse model of psoriasis. This indicates that abacavir was probably discovered as a psoriasis treatment via some type of high throughput screening of chemical libraries, and the mechanism of action in psoriasis is unknown at this point.
In addition, abacavir is known to cause hypersensitivity in patients with certain HLA alleles. This has been described in this Nature paper and by many other scientists to the extent that "abacavir hypersensitivity syndrome" is actually a recognized term. It can be life threatening if the drug is not immediately withdrawn. Cellceutix is aware of this and is screening out any subjects carrying the HLA-B 5701 allele in their phase 1 study. While this is okay in a clinical trial setting, it's is a real problem in a commercial setting. Even though 5701 is relatively rare (1-5% according to allelefrequencies.net), HLA-typing every patient pre-Prurisol therapy is inconvenient and expensive. Factor in the high bar for efficacy which has been set by monoclonal antibodies that block the IL-17 pathway, and Prurisol looks like a dud. If Cellceutix would drop this program and partner Kevetrin, the company would become a much more attractive and streamlined member of the antibiotic resistance triple threat.
Rounding out the top three is another microcap biotech company called Oragenics (NYSEMKT:OGEN). Oragenics, like Soligenix, has a partnership with Intrexon and Mr. Kirk owns about 27% of the common shares. While Soligenix's collaboration with Intrexon is largely going on in the background, the Intrexon collaboration has been a lifeline for Oragenics as it's Probiora franchise of oral probiotics has floundered.
Oragenics' lantibiotic compound, MU1140, shows activity against MRSA, vancomycin resistant enterococcus, and other tough to defeat pathogens. Lantibiotics are not new but until Intrexon came along, no one could figure out how to efficiently manufacture a lantibiotic compound in sufficient quantity and quality to dose humans. For this reason, the progression of MU1140 to the clinic is quite exciting.
Unfortunately the company has not provided much preclinical data and the IND filing is scheduled for mid-2015. This makes Oragenics a less attractive bet than Soligenix or Cellceutix which already have years of clinical experience with their antimicrobial compounds. In addition, the patents on MU1140 expire in only 3 years (see table from Oragenics 10-K below).

It's probably safe to assume that Oragenics will rely on Intrexon's manufacturing expertise to protect MU1140 from competition. Exactly how much protection this will provide is unclear at the moment.
Together Soligenix, Cellceutix, and Oragenics make up the micro cap antibiotic resistance triple threat. While brilacidin seems to have the most robust preclinical and clinical efficacy data and can be easily dosed, SGX94 has some attractive and unique characteristics which differentiate it from other antimicrobial compounds. The appeal of SGX94 is further enhanced by the potential for expansion into many other diseases and the ability of Soligenix to fund it's other programs via non-dilutive government funding. Brilacidin, on the other hand, is impossible to separate from Prurisol, which is a shot on goal made by an old, blind hockey player with no stick. Oragenics remains the wild-card, but who knows, with the backing of Intrexon, perhaps MU1140 is the tortoise that ultimately wins the race against resistance.
Disclosure: The author is long SNGX.
The author wrote this article themselves, and it expresses their own opinions. The author is not receiving compensation for it (other than from Seeking Alpha). The author has no business relationship with any company whose stock is mentioned in this article.
Additional disclosure: I am an employee of Amgen, but the views and opinions expressed in this article are mine alone and not the views and opinions of Amgen.
Editor's Note: This article covers one or more stocks trading at less than $1 per share and/or with less than a $100 million market cap. Please be aware of the risks associated with these stocks.