SandRidge Energy (NYSE:SD) can't seem to catch a break. Just last year Tom Ward, the company's previous CEO and co-founder of Chesapeake Energy (NYSE:CHK) with Aubry McLendon, was ousted by the board of directors in a shakeup not too commonly seen in the oil and gas sector. SandRidge was one of a handful of companies that bet big on the Mississippian Lime and was punished as well results came in short and drillers found much more saltwater than they did oil.
As big companies left the Mississippian Lime, which is a drilling region between Oklahoma and Kansas, SandRidge stayed around to pick up the pieces and keep optimizing its drilling practices. A massive saltwater disposal system helped the company lower operational costs while the company's engineers remained hard at work optimizing well designs and picking the sweet spots.
And just as the market thought that SandRidge might have finally cracked the code of the Mississippian, the chief operational officer, David Lawler, left the company for BP (NYSE:BP). Lawler's departure, along with a few operational hiccups, caused investors to run for the exits, not least because there were fears of another shakeup or that, perhaps, SandRidge could not keep its most capable employees.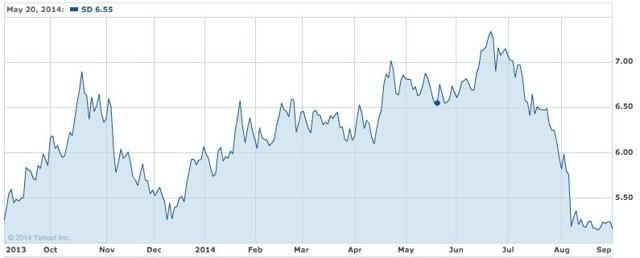 Click to enlarge
Yahoo! Finance, Chart of SandRidge Energy.
Those fears are very much overblown. Lawler left for BP to lead it's onshore, lower 48 business unit. This is, in fact, a very big 'promotion' for David Lawler, and such moves are not uncommon. The phrase that a good company is 'greater than the sum of its employees' may be hard to stomach for a one which just went through a huge shakeup.
However, the company's operational goals are still as on target as they were when Lawler was the company's COO. While Lawler will be very difficult to replace, SandRidge will continue moving in the right direction under the operational leadership of someone else. This article will look at SandRidge's most recent results and also the 'big picture' which so many seem to be ignoring right now.
Lackluster results
SandRidge sold off on the following news: Analysts expected revenue to come in at $391 million in the second quarter, but the company only hit revenue of $374 million. SandRidge missed the mark by 4.3%. In and of itself, I believe the corresponding selloff was a bit of an overreaction. SandRidge gave a couple reasons for this. First was unexpected power outages in Mississippian Lime drilling areas. The other was drilling issues in the Permian Basin on the part of SandRidge Permian Trust (NYSE:PER). Together, both of these issues reduced production by 350 Mboe for the quarter. The weather and power outage issues in the mid-continent shouldn't be there next quarter. It is yet unsure whether the Permian Trust drilling issues will be ongoing.
On track for better days
SandRidge is one of two operators which stayed in the Mississippian Lime while others left. SandRidge scooped up acreage on the cheap from the other departing companies, and SandRidge now has over two million acres in this play alone. The chart below shows how SandRidge is improving well results in this play.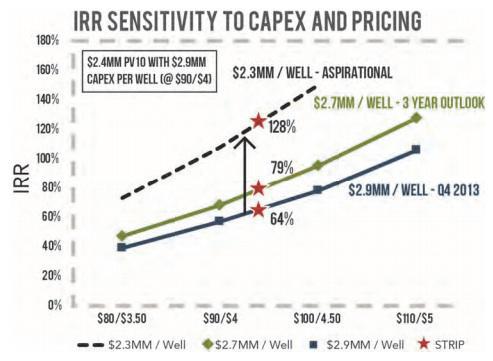 Courtesy of SandRidge Energy Analyst Day 2014.
SandRidge has turned the Mississippian Lime play from a largely uneconomical one into one which provides an average internal rate of return of 64%. While 64% may not be as great as returns in the Eagle Ford or Bakken, this is now quite a profitable geography and it is expected to get better as SandRidge continues to refine results. But how will SandRidge continue to improve the economics in this horizontal drilling play?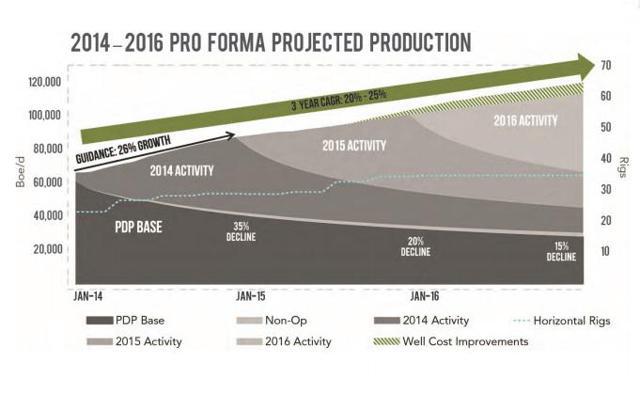 Courtesy of SandRidge Energy Analyst Day 2014.
It's also worth mentioning that while the Mississippian Lime is a horizontal drilling play, it is actually a stacked-layer play and not a shale play per se. In a few years this may work to SandRidge's advantage because decline rates in the Mississippian should be significantly lower than those in the shale today. First-year decline rates on individual wells in the shale are typically around 70%-80%. Here, we can see that SandRidge expects decline rates to drop to around 15% by the end of 2016. This flattening decline rate should allow the company to grow production by between 20% and 25% over the next few years.
Valuation
As a $2.5 billion company growing liquids production by between 20%-25% per year, SandRidge's closer peers include Sanchez Energy (NYSE:SN), Carrizo Oil and Gas (NASDAQ:CRZO) and Halcon Resources (NYSE:HK). All of these companies are growing liquids production by between 20% and 50%. All three of these peers are also mid-cap, independent horizontal drillers. All three of these companies are drilling in areas which typically provide higher returns and higher margins.
However, a few of these companies may have better balance sheets, too. Sanchez, Carrizo and Halcon all have significant operations in the Eagle Ford, where internal rates of return often exceed 100%. Finally, about half of SandRidge's production profile is gas, while the others are a bit more liquids-focused. Therefore, one should expect SandRidge to trade at some discount to the above three. All that said, we can see below that SandRidge is significantly discounted right now.
| | | | | |
| --- | --- | --- | --- | --- |
|   | SandRidge | SN | CRZO | HK |
| Price/Book | 1.51 | 1.72 | 4.5 | 1.73 |
| EV/EBITDA | 5.72 | 9.95 | 11.21 | 9.66 |
Is SandRidge 'undervalued' compared to its peers? By EV/EBITDA Sandridge looks to be significantly undervalued. However, by price to book ratio, Sandridge is only modestly discounted to Sanchez and Halcon.
Risks
Although I've mentioned this in several other articles, it is important to mention the looming over capacity issues in the US oil market because it impacts nearly all high-growth liquids producers, and SandRidge certainly qualifies as one of those right now. Many experts, including midstream crude oil giant Plains All American Pipeline (NYSE:PAA), believe that the U.S. will produce 900,000 more barrels of condensate and light sweet crude than it consumes by 2017. Therefore, this oil must be exported if realized oil prices are to remain where they are today. Unfortunately, there is a 40+ year-old ban on crude oil exports in the US.
There has been moves to get around this ban, particularly with condensate. Pioneer Natural Resources (NYSE:PXD) was recently granted permission to export limited quantities of condensate. many are hoping for similar permits for light sweet crude oil. Much of what SandRidge produces is light, sweet crude, and so SandRidge's fortunes will be linked significantly to whether the crude export ban is either lifted or worked around. At the same time, however, 52% of SandRidge's production in 2013 was dry gas, and so the company may not be as greatly effected as many others will be.
Conclusion
SandRidge is down significantly on minor news. While the investor may be tempted to jump at this 'opportunity,' at 1.51 times book value SandRidge could still be cheaper, especially when considering valuations of the competition. Although the company is priced reasonably right here, a value-minded investor might be tempted to wait until SandRidge trades at more of a discount to faster-growing peers such as Sanchez, Halcon and Carrizo. Still, fears of another 'reshuffle' are unwarranted, and SandRidge remains firmly on pace to grow production and improve returns in the Mississippian Lime, so there is no need to panic.
Disclosure: The author has no positions in any stocks mentioned, and no plans to initiate any positions within the next 72 hours.
The author wrote this article themselves, and it expresses their own opinions. The author is not receiving compensation for it (other than from Seeking Alpha). The author has no business relationship with any company whose stock is mentioned in this article.