On August 26th, the U.S.-Mexico Chamber of Commerce held its "First North American Sustainable Economic Development Summit" in Dallas, Texas. The new energy reforms in Mexico were of utmost interest, and a catalyst for the event. One notable comment by Stephen Molina, the Texas member of the Interstate Oil and Gas Compact Commission, was that Canada, the U.S. and Mexico together are not self-sufficient in energy largely because of politics. If policies were advanced that viewed energy in an economic lens, rather than political one, self-sufficiency would be possible. If energy were to be a focal point that coalesces interests, the North American Free Trade Area (NAFTA) would flourish through a NAFTA-like push for energy.
The reforms recently enacted in Mexico's energy industry are considered ambitious by any standard. Mexico was credited with sticking to its guns on the promises it made. Petroleos Mexicanos, known as Pemex, will end its 76-year state oil monopoly. It was granted rights to all the proved and probable oil reserves it sought for development. Pemex will maintain 83% of the country's 2P reserves and 21% of potential reserves, noted Energy Minister Pedro Joaquin Coldwell.
Mexico's investment in fields will be $50 billion between 2015 and 2018, Coldwell said in the Bloomberg article. The first round of open bidding on untapped Mexico fields is scheduled to be held in the first quarter of 2015. Mexico expects investments of about $32.3 billion in the next five to 10 years in the form of joint ventures. "Important prospective resources remain available for the private sector to invest [in]," said Carlos Capistran, the chief Mexico economist at Bank of America Corp.
The oil and gas moderator Molina on the energy panel suggested that the Mexican government be careful about its royalty take. The oil and gas sector is very sensitive to this competitive factor and ranks it in its deliberations of investment choices. Plus oil and gas investment is global with many opportunities in other locales. Mexico however has location, the available reserves, and political stability on its side as a counterweight to other country investment options. Also favorable to Mexico is that it is essentially the last country to open its oil and gas industry to the private sector. Mexico can learn from the pitfalls of recent later entrants like Venezuela, for example.
"The Mexican government will still own Pemex, but it will operate the firm as a "state productive enterprise," which will have to compete with international energy companies in the Mexican market," notes a Foreign Affairs article of August 17, 2014. Not facing competition until next year, Pemex recently revised its 2014 production estimates downward to 2.35 million b/d (from 2.44 mi/b/d). By 2018, the oil regulator CNH expects Mexico will produce 3 million b/d. Natural gas production is 6 .5 billion cubic feet per day, and Mexico imports gas from the U.S. There is a national content requirement in the hydrocarbons legislation pertaining to leases and contracts of 35% national content by 2025, excluding deepwater.
Energy panelist Santiago Creuheras, Director General for Energy Technology and Innovation, Ministry of Mexico, presented an overview of Mexico's energy reforms. He noted that Mexico may be last, but cannot be considered the least. In addition to the highly-watched oil and gas sector reforms, Mexico is implementing a "special program" for renewable energy.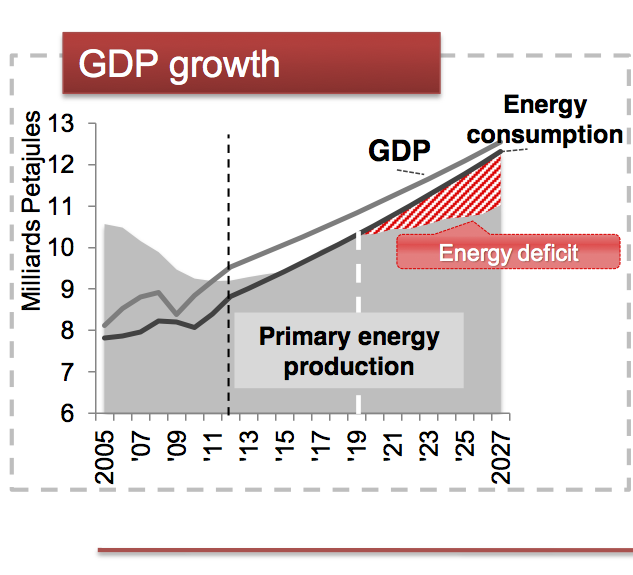 Source: SENER (Secretaría de Energía de México) Presentation
The growth of Mexico's population, urban migration and vehicles growth combine for an energy deficit in Mexico around 2019. The ambitious energy reforms are expected to re-dress this deficit and propel Mexico's economy. Energy sector reforms include: hydrocarbons (exploration and production, refining, petrochemicals, storage and distribution) electricity and renewables, including geothermal. The state-owned Federal Electricity Commission (CFE) will compete with private firms to sell electricity into the grid. The CFE will also have the authority to import and re -export natural gas, as well as to buy and sell it in the domestic market.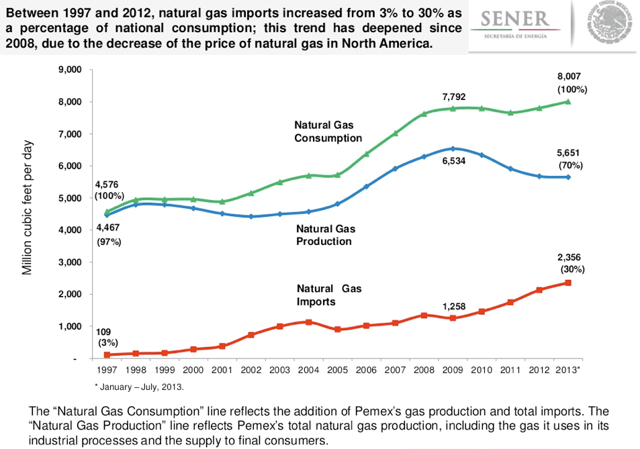 Courtesy of Breaking Energy.
The Mexican government also expects to incentivize low-carbon and low-cost energy. A goal of clean and renewable sources comprising 35% of power generation by 2025 has been set. Mexico may even have a cap-and-trade system for carbon emissions reductions. Crueheras stated that Mexico cares about its environment and will have safeguards and mechanisms to protect it, which are built into the reforms.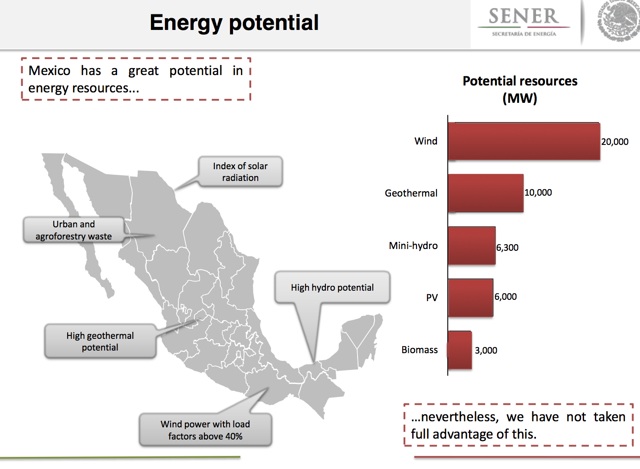 Now comes the implementation. Mexico has a growing middle class that expects more from its elected officials. Luis de la Calle and Luis Rubio, two foremost Mexico experts, titled a recent book, "Mexico: A Middle Class Society: Poor No More, Developed Not Yet." The energy reforms offer Mexico its next best hope for continued growth and development. A robust Mexico bodes well for North America and the connected neighbors to the South. Whereas West-to-East trade routes have been dominating global trade dynamics and pre-occupying the minds of investors and policymakers, more engaged North-to-South trade and economic integration may be catalyzed from energy-related cooperation and investment.
(In the next installment, a few specific investment themes I picked up on in the conference will be fleshed out further.)
Disclosure: The author has no positions in any stocks mentioned, and no plans to initiate any positions within the next 72 hours.
The author wrote this article themselves, and it expresses their own opinions. The author is not receiving compensation for it (other than from Seeking Alpha). The author has no business relationship with any company whose stock is mentioned in this article.