By MG Siegler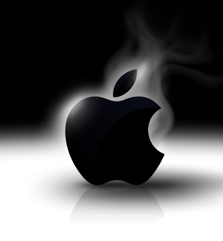 Apple (NASDAQ:AAPL) has had a rough couple of days. Yesterday, CEO Steve Jobs announced a medical leave of absence. As a result, the stock plunged today before rallying back to close down just over 2 percent. But this should cheer everyone up. Apple has just announced their Q1 2011 (their holiday quarter) earnings — and as many anticipated, they're massive.
How massive? Well, coming off its best quarter ever in terms of revenue ($20.34 billion in Q4), Apple was projecting $23 billion in revenue for the quarter. The Street, meanwhile, recognizing that Apple always lowballs these numbers, thought revenue would be more like $24.38 billion. The actual number? $26.74 billion.
Earnings per share had been pegged at $5.38 by the street (well ahead of Apple's $4.80 estimate). The actual number there was $6.43. Net quarterly profit, meanwhile, was $6 billion — well above the record $4.3 billion Apple did last quarter.
In terms of actual products, Apple sold 16.24 million iPhones, a new record for the company. Perhaps more impressively, they sold 7.33 million iPads — over 3 million more than last quarter.