Highpower Technology (NASDAQ:HPJ) is riding the wave of increased rechargeable battery demand and has posted 40%+ growth for its lithium-ion product line over the last two quarters. In my most recent article on HPJ (Chinese EV Battery Market Just Another Bullish Catalyst For Highpower Technology), I neglected to mention another powerful catalyst for the company going forward: electric bikes (E-bikes).
A recent report by Navigant Research forecasts strong growth in the worldwide market for E-bikes. Navigant predicts the large Chinese market was expected to reach 28 million E-bikes in 2013 - 92% of the total world market. Because of its size, Navigant excluded China from the chart below in order to more clearly show the granularity of the other markets.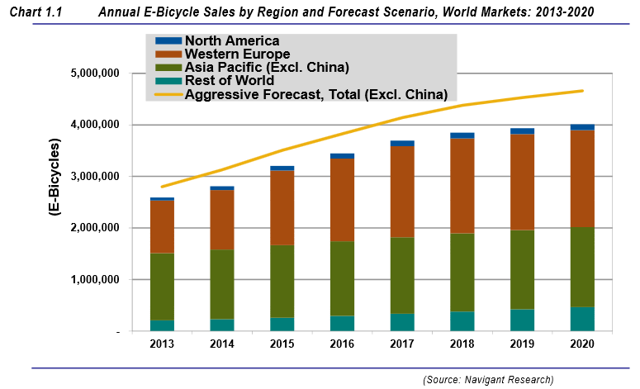 Navigant says the vast majority of E-bikes currently use sealed lead-acid ("SLA") batteries. But this is changing as Li-ion batteries grow in popularity. This represents a huge opportunity for HPJ. The company can use its new state-of-the-art manufacturing facility to ramp up Li-ion battery sales and expand its E-bike battery market share.
Asia Pacific is the largest market for Li-ion battery E-bikes with Chinese sales of 717,000 in 2013 and Japanese sales of 320,000. Western Europe is the second largest market (815,309 sales in 2013) with Germany (323,172) in the lead followed by the Netherlands (157,306). Navigant says the market for Li-ion powered E-bikes is growing at a CAGR of 14.5% and is expected to reach 5.7 million vehicles by 2020.
While Highpower has a web page devoted to electric bikes, I wanted to see how prevalent the company was in the market so I did some Googling. Sure enough, an HPJ product for electric bikes showed up at the top of my search list on Aliexpress.com: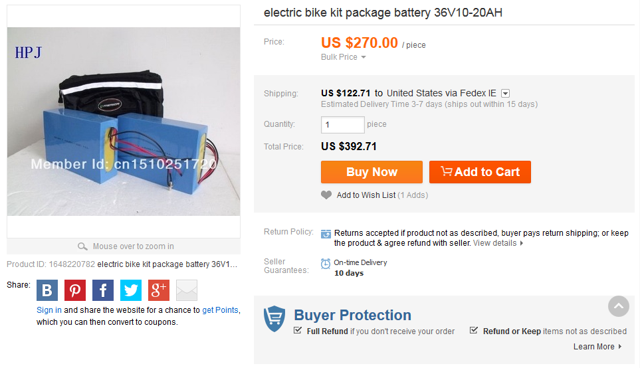 Each of the two lithium batteries shown above has a 36V 10 Amp-hour capacity and is priced at USD $270/piece.
E-bikes are gradually turning to Li-ion batteries to provide longer lifespans at lower weights. Several people Navigant interviewed for its research report said lithium iron phosphate (LiFePO) may be the most E-bike friendly battery technology because of its combination of thermal stability and long life. However, Navigant noted that there is plenty of disagreement over exactly which specific lithium technology is truly best for e-bicycles.
Regardless, Highpower should continue to cash-in on this market with a broad product line offering specifically designed for E-bikes. The graphic below shows a sample of the batteries HPJ makes as well as various battery charging control circuitry products.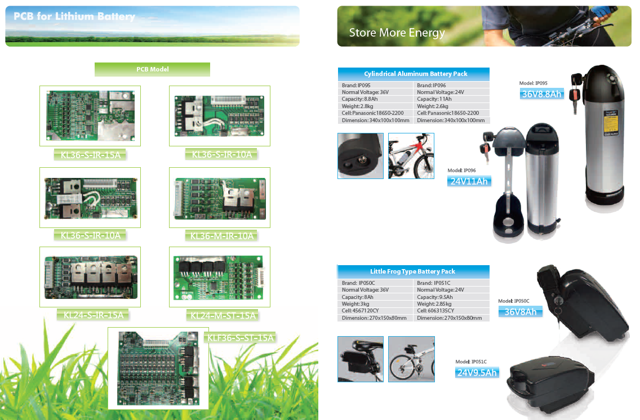 In addition to lithium-ion battery packs and control circuitry, HPJ also offers battery chargers, cylindrical battery packs, hypon battery packs, and Li-polymer battery cells. The company also offers rear carrier battery packs (equipped with safety light) and specialized battery packs. I don't have any information on pricing because I am sure that is quite dependent on the quantities ordered. Note that specialized battery packs equipped with a USB port can also function as a cell phone or mobile device charger: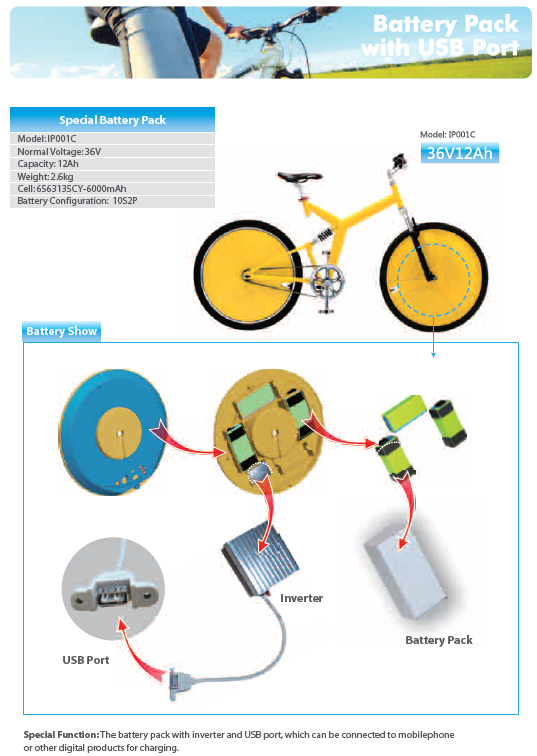 Acer Announcement
Another bullish catalyst for Highpower was the announcement yesterday that HPJ began shipping its 4600 mAh lithium battery for the newly introduced Acer Iconia Tab 8. This is an 8" Android tablet featuring an Intel (NASDAQ:INTC) Atom Z3745 processor, 1920x1200 resolution, and 2GB RAM. It offers consumers high-end features including 7.5 hours of continuous video watch time. The product is now available for purchase at Gome, one of China's largest electronic device chain stores, and should be available in worldwide markets in the coming months.
While Apple (NASDAQ:AAPL) is still King of the Hill in the tablet market, Android tablets have cut the company's share to under 30% as of Q3 last year. Acer is a small but fast growing player in the tablet segment. As customers the world over move away from cable subscriptions and turn to wireless streaming to watch their favorite programming, demand for devices and tablets like the Iconia Tab 8 should grow. Acer is targeting a 12% market share in tablets, and was the first company to release a Windows 8.1 tablet.
According to Gartner, Taiwan based Acer held the #4 spot in worldwide PC shipments in Q4 of 2013 behind Lenovo, HP, and Dell:

And of course all of these PC vendors represent potential customers for HPJ's batteries.
Upside Potential
The topics discussed in this article (E-bikes and the Acer deal) are positive long-term catalysts. However, as of Q2 the company reiterated its 2014 guidance of revenues of between $150-$170 million and net income of between $1.5 million to $3.0 million. The midpoint of the full-year net-income guidance ($2.25 million) infers full-year EPS of ~$0.15/share based on the end of Q2 share count of 15,277,743 fully diluted shares. That said, I would not be surprised if HPJ hits the high-end of guidance, which would equate to ~$0.20/share of net income.
It should be noted the company also gave non-GAAP net income guidance that was considerably higher ($2.5-$4.0 million). The difference is primarily due to anticipated stock based compensation expense as a result of the company's capital offering in April 2014. Note that offering was for 1 million shares of common stock at $5.05 per share and included warrants to purchase an additional 500,000 shares of common stock with an exercise price of $6.33 per share. The shares closed today at $6.79. It will be interesting to see the total share count at the end of Q3 to see if any of the warrants were exercised.
However, in the case of HPJ it is somewhat misleading to look too closely at near-term EPS and PE valuation metrics. It can lead investors to miss the bigger picture. HPJ has been investing heavily in plant, equipment, and personnel to build the new state-of-the-art manufacturing facility and its existing production line. It has also been investing to start-up its battery recycling business, which is recycling both Ni-MH and Li-Ion batteries. As a result, 2013 margins (and EPS) have taken a short-term hit.
Margins at the new facility are currently only ~10% because HJP is still ramping up production and the business needs to absorb all the fixed investment costs in the first year. Yet the company anticipates the Huizhou facility's existing first production line will be fully ramped up by the end of this year. As a result, Henry Sun, the company's CFO, said he expects to "see a lot higher gross margin" in 2015. The combination of full production line capacity utilization, higher sales, and the resulting higher margins is a very positive catalyst for 2015 and beyond.
The Big Picture
The bigger picture is that, despite a near +15% move in the stock on Tuesday, the company's current market cap is still only around $100 million. That is at least 50% lower than this year's estimated revenue. And of course the potential battery market is booming and a multi-billion opportunity.
There would still be less than 16 million shares even if all the warrants are exercised. The bottom line is that the company's market cap is very low in comparison to its growth prospects. And its relatively low share-count, combined with an under $10 stock price mean this stock will continue to be quite volatile. However, I fully expect it to continue on its rising trend line. There simply isn't enough stock available - the price has to go up. The market-cap has to increase to come closer to annual sales and to reflect the outstanding growth prospects.
Summary & Conclusion
In my first article on HPJ in October of last year (Highpower International: Battery Maker Charged Up To Double In 2014), I predicted the stock would double in 2014 from its price of $2.58. The stock has more than accomplished that feat and as I mentioned earlier closed today at $6.79. That is a 163% return in about a year. However, I also mentioned in that article that HPJ had a good chance to be a multi-bagger. On the basis of a plethora of bullish press releases this year, I still believe that to be the case. In addition to today's Acer related press release, just this year we've seen a number of press releases that show how bright the future is for HPJ:
But talk is cheap unless it is followed by results. On that front, HPJ has been growing its Li-Ion battery business at a 40%+ clip by supplying batteries across the entire spectrum of applications: from small mobile devices, to mid-sized batteries for E-bikes and energy backup systems, to large-scale high-capacity batteries for electric vehicles.
While Tesla (NASDAQ:TSLA) is still searching for a place to build its new state-of-the-art lithium-ion battery manufacturing plant, Highpower Technology already has one in operation. And it is in China - the worldwide center of world electronic manufacturing. And HPJ's plant can make batteries across the entire spectrum of demand - from small wearable electronic devices to large-format batteries for EVs.
In short, HPJ has the right products at the right time and can make them with a brand new state-of-the-art manufacturing facility. So, the small investor would make a mistake by taking advantage of the recent rise in the stock to sell his or her stake in the company. If you must lock in some profits, only sell a small portion of your shares (25% at most) and hold the rest. In one year you will thank me. In two years you will buy me a Christmas present (A Go-Pro with an HPJ battery?).
I have an end-of-year price target of $8.40 on HPJ, and as a result of recent news, I am raising my 2015 PT to $12. Even at $8.40 and with all warrants exercised, the market cap of HPJ would still only be less than 1 times expected 2014 full-year revenue. This stock has plenty of room to the upside.
For investors that do not currently own shares, HPJ is a STRONG BUY.
| | |
| --- | --- |
| Market Cap: | 102.20M |
| P/E ("ttm"): | 82.80 |
| EPS ("ttm"): | 0.08 |
| Div & Yield: | N/A (N/A) |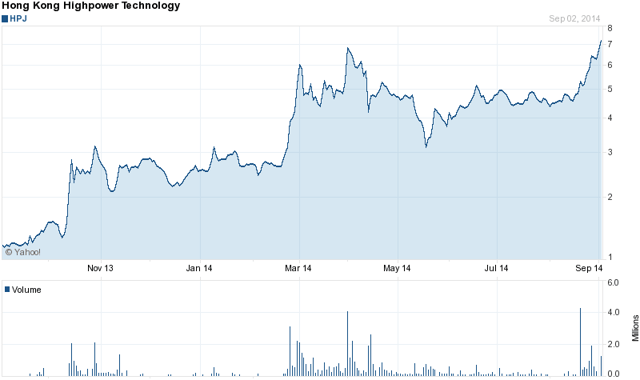 Disclosure: The author is long HPJ.
The author wrote this article themselves, and it expresses their own opinions. The author is not receiving compensation for it (other than from Seeking Alpha). The author has no business relationship with any company whose stock is mentioned in this article.
Additional disclosure: I am an engineer, not a CFA. The information and data presented in this article were obtained from company documents and/or sources believed to be reliable, but have not been independently verified. Therefore, the author cannot guarantee their accuracy. Please do your own research and contact a qualified investment advisor. I am not responsible for investment decisions you make. Thanks for reading and good luck!