Business intelligence software developer Qlik (NASDAQ:QLIK) reported its Q2 2014 financial results at the end of July beating analysts' expectations for revenues and EPS. Qlik reported revenue of $131M, which reflects a 22% year-over-year increase and an 18% quarter-over-quarter increase, and beat both the company's guidance for revenues, in the range of $104M to $108M, and analysts' consensus of $125M. Qlik reaffirmed its revenue guidance for 2014 that remained in the range of $545M to $555M and reaffirmed its EPS (Non-GAAP) guidance in the range of $0.23 to $0.27.
As shown in chart 1 below, Qlik's revenues from maintenance fees and services continued to increase at the quarterly growth rate of 7% and 8% respectively, and they are up 11% and 21%, respectively, quarter-over-quarter. The licenses segment that historically grew 8% quarter-over-quarter in Q2'12 and 15% in Q2'13 increased in Q2'14 to 24% and accounted for slightly more than 50% of Qlik's revenue.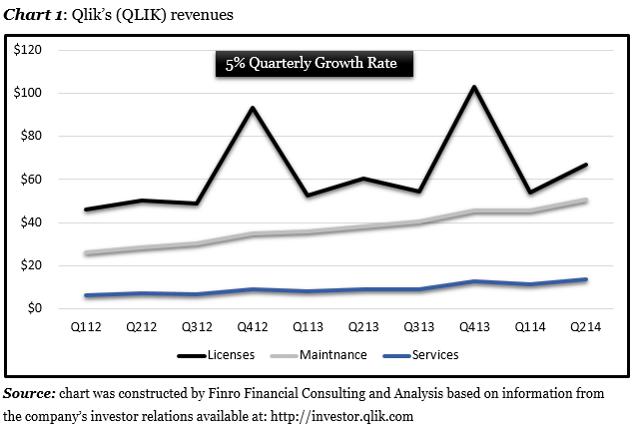 Click to enlarge
Qlik is still losing money, and although the company increases revenues at a quarterly rate of 5%, this increase is offset by a 5% quarterly growth in operating expenses and 8% quarterly growth in the cost of revenues. In Q2'14, total expenses (cost of revenues and operating expenses) accounted for 105% of revenues - that is a 16-percentage-point improvement quarter-over-quarter and 3-percentage-points improvement year-over-year. As shown in chart 2 below, Qlik's revenues have historically correlated with its sales and marketing expenses. After a small decrease in sales and marketing expenses in Q3'13 that drove slightly lower revenues, the company continued to invest in sales and marketing to expand revenues further.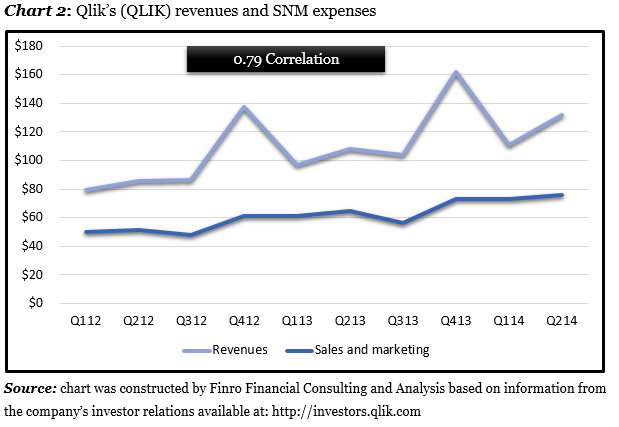 Business Overview
Qlik CEO Lars Björk announced the release of Qlik Sense Desktop, which is available for free download to the public. The launch of Qlik Sense marks the change from a one-product strategy to a two-product strategy. Qlik will have to increase its sales and marketing expenses to support the new strategy and capture substantial market share with Qlik Sense.
The new product is a user-based ("self-service") data visualization tool that is similar to solutions available from rival Tableau (NYSE:DATA). However, Tableau's and Qlik's pricing models are entirely different. Tableau offers personal and professional licenses for desktops or servers that vary from $999 to $1,999 - a free, time-limited trial version is also available. Qlik offers a free desktop version that can be used for personal or business purposes and can be upgraded to the full version for an undisclosed fee. The different pricing model Qlik uses to gain market share from its new data visualization tool might seem attractive to customers that could test the new product and its features for free before committing to a yearly license. For example, existing customers that use Qlik View for guided analytics and Tableau for user-based analytics may use the new tool to replace their Tableau license and receive a full-service package from Qlik. The attractive pricing model will enable these customers to test and experience the product before making the change.
Qlik introduced a new marketing officer and emphasized the importance of sales and marketing as the company moved into two product strategies. The increase in sales and marketing expenses is expected out of that strategy change, and revenues from new licenses are expected in 2015.
Stock Analysis
As shown in chart 3 below, Qlik completed a 37% drop in stock price since September 2013 after disappointing Q3 2013 financial results. After beating both the company's guidance and analysts' expectations for Q2'14 revenues, Qlik's stock soared 13.7% and triggered a trend change for the stock. In its earnings release, Qlik reaffirmed its 2014 full-year revenue guidance that ranges between $545M to $555M, assuming a P/S ratio of 5 that range reflects an end of year price of $31, which is slightly above the current price.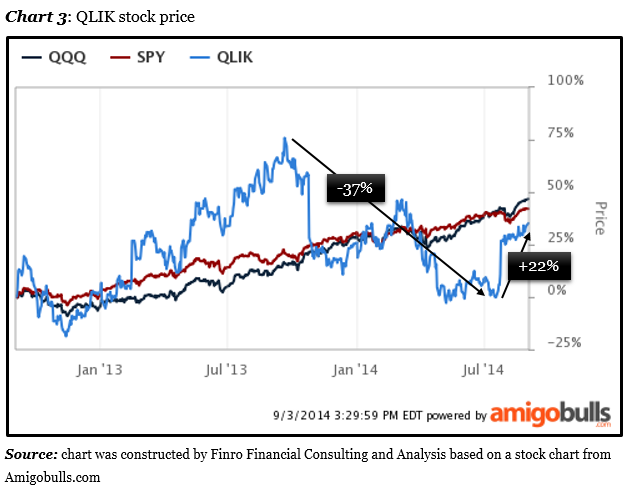 Conclusions
Qlik announced higher revenues and Non-GAAP EPS than the company's outlook and analysts' consensus for Q2'14, which changed the stock trend from a downward trend starting right after the Q3'13 earnings release to an upward trend. Qlik announced a change in business strategy that is targeted to expand its portfolio further and increase revenues in the long term. However, gaining market share from Qlik Sense on Tableau's expense is going to be tough, and the company is trying to tackle that difficulty with a different pricing model from that of Tableau. In light of the trend change in the stock price and switch from a one-product strategy to a two-product strategy, Qlik should be added to investors' watch lists of those interested in adding a big-data small-cap company to their tech portfolio.
Disclosure: The author has no positions in any stocks mentioned, and no plans to initiate any positions within the next 72 hours.
The author wrote this article themselves, and it expresses their own opinions. The author is not receiving compensation for it (other than from Seeking Alpha). The author has no business relationship with any company whose stock is mentioned in this article.
Additional disclosure: Information provided in this article is for informational purposes only and should not be regarded as investment advice or a recommendation regarding any particular security or course of action. This information is the writer's personal opinion about the companies mentioned in the article. Investors should conduct their own due diligence and consult with a registered financial adviser before making any investment decision. Lior Ronen and Finro Financial Consulting and Analysis are not registered financial advisers and shall not have any liability for any damages of any kind whatsoever relating to this material. By accepting this material, you acknowledge, understand and accept the foregoing.