The last few weeks have been yet another roller coaster ride for in the long-running battle between Herbalife (NYSE:HLF) - the multilevel marketing company that markets nutritional supplements and weight loss products - and Bill Ackman, the hedge fund manager who runs Pershing Square.
First, the company registered its largest ever one-day gain after Ackman promised an "end all" presentation, but failed to deliver. A few days later, the company lost 12% in a day when it announced disappointing quarterly results.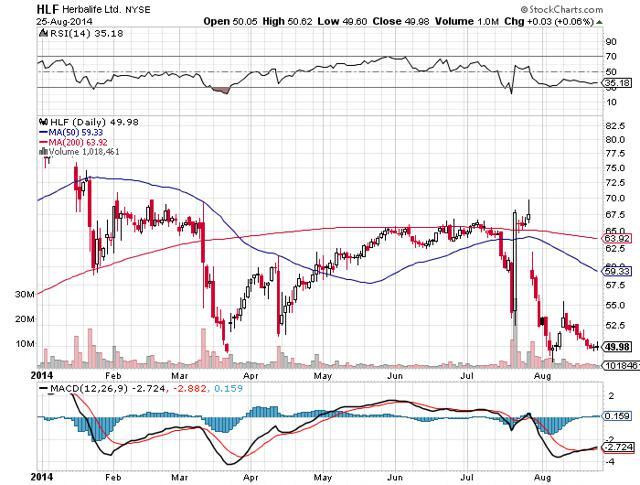 Despite the presentation fiasco, short sellers are taking solace in the fact that the company's sales showed a slight decline in North America and a large decline in Central and South America. Worth noting is that there was growth in China, Europe, Africa and the Middle East.
But coupled with the deceleration of "active sales leaders," the picture doesn't look that great. In February, when active sales leaders had to renew, more than 200,000 of them (not including China) failed to do so, making for a miserably low rate of retention of 51.8%. This loss of growth momentum could have an adverse impact going forward.
A better dive into 2Q
Herbalife's results were no doubt worse than expected, driven by lower sales. But the company also reduced its outlook for 2014. Second quarter EPS was $1.55 per share, which is 1.3% lower than the consensus estimate of $1.57 per share.
But the number was at the higher end of the guidance range provided during 1Q results. The figure was also a 10% increase y/y thanks to the impact of share buybacks.
Net sales grew by more than 7% y/y thanks to a 5% volume growth. This was lower than the company's guidance of 10% to 12% sales growth, and a 7% to 9% volume growth. China showed an impressive performance with volume growth of 38%, and the company generates almost 11% of its revenues from the country.
It repurchased some 9.8 million shares at a cost of $581 million, leaving $233 million still available under its share repurchase program. For the third quarter, the company expects EPS to range between $1.49 and $1.53, compared to $1.41 per share for the same period of the previous year.
The company did revise its full year 2014 guidance, now expecting sales growth of between 8.5% and 10.5% with volume growth of 6% to 8%. However, on the back of growth in China and increased share buybacks, the EPS guidance has been raised to between $6.17 and $6.32.
Ackman versus Herbalife et al.
Ackman swung and missed with this proclaimed "death blow." Shares are still trading right at the same levels they were before Ackman announced his short in 2012. The SEC, FBI and FTC are all investigating Herbalife.
The company has spent over $40 million in dealing with an investigation by the FTC. It notes that these expenses are one-time and will stop once the attacks cease, but they also note they cannot say when this will happen.
Notable Herbalife bull and hedge fund manager John Hempton has conceded (if just a little, and if only for the near-term) that Herbalife could face more pressure in earnings. His reasoning is that the company's exposure to Russia is likely being overlooked, as he noted,
Whilst nobody has said it yet this is almost certainly negative for Herbalife. Herbalife has a business in Russia and to the best of my knowledge has no manufacturing in Russia. Its not huge - Europe, Middle East and Africa is less than a sixth of Herbalife globally - and Russia is likely a very small part of that. However I would be surprised if the EMEA segment did not shrink next quarter.
There's a dog fight of sorts with Herbalife; there's plenty of big name investors on the long-side and numerous others on the short side. The issue I have is, are there better things you could've done with you money? Ackman was shorting Herbalife for over a year before announcing his position. Since the start of 2012, Herbalife shares are down just 3%. If you were on the long, or short, side you'd still underperformed the S&P 500, which posted a 58% gain.
Trading at just 7x forward earnings and a P/E to growth ratio of 0.8, shares look enticing. Of course, none of that would matter if Ackman proves successful.
In reality there were no bears until Ackman brought the issue to the forefront, now Herbalife is one of the most debated stocks on the web. The bears got involved on the premise that Herbalife is a pyramid scheme, and the weakening financials are a welcome sight.
Herbalife bears from circa 2012 are nonexistent. With the exception of maybe Colin Lokey. Colin was urging investors to short Herbalife throughout 2012, a time when no other bears existed. From May to August of 2012, Colin covered Herbalife on SeekingAlpha and in July 2012 noted that a short position could pay off handsomely over the long-term. This comes as there were well over 25 bullish articles on Herbalife in 2012, while Colin posted six articles that continued to question the business model.
Bottom line
If I were forced to take a side, as of now, it would be Ackman's. That's because the ongoing investigations into Herbalife will be a continued overhang for the stock, acting as a ceiling for the stock price. Then there's company specific issues, which includes the softening of sales in China and North America on your side if you're a bear. In April, the company stopped paying dividends in lieu of repurchasing shares, another positive since shorts don't have to pay that dividend.
Disclosure: The author has no positions in any stocks mentioned, and no plans to initiate any positions within the next 72 hours.
The author wrote this article themselves, and it expresses their own opinions. The author is not receiving compensation for it (other than from Seeking Alpha). The author has no business relationship with any company whose stock is mentioned in this article.