Everyone reading this article is most likely guilty of going to CVS (NYSE:CVS), Walgreens (WAG) or even Wal-Mart (NYSE:WMT) looking for pain or allergy relief and settling on the store brand product over the national brand product to save a few dollars. As the largest producer of store brands and generics, there's a good chance the last time you saved money by buying a store brand was due to Perrigo's (NASDAQ:PRGO) huge market presence. Perrigo produces hundreds of knock-off store brand products for everything from store brand Ibuprofen to generic Nicotine Lozenges. The company is the world's largest private label OTC drug manufacturer. Perrigo receives roughly 50-55% of revenue from its store brand consumer healthcare segments, but its biggest catalysts over the next 12 months are in a variety of categories.
Perrigo Catalysts
Increasing TYSABRI Royalties - When Perrigo purchased Elan in 2013, they acquired the royalty rights to a leading multiple sclerosis drug, TYSABRI, which is marketed and distributed by Biogen (NASDAQ:BIIB). Through the past 12 months, the drug has roughly $1.8 billion in world-wide sales with a double-digit growth rate. Through 2Q14, Perrigo has received roughly $146 million in royalties. This only accounts for just over 6 months, since the Elan transaction closed in mid-December 2013. From May 1, 2014 onwards, the royalty payments increased from 12% to 18%. If total sales surpass $2 billion in annual sales, Perrigo is entitled to 25% of all sales above $2 billion.
| | | | | | |
| --- | --- | --- | --- | --- | --- |
| (Perrigo FY numbers) | FY 1Q14 | FY 2Q14 | FY 3Q14 | FY 4Q14 | Total |
| TYSABRI Revenue ($M) | $ 401 | $ 427 | $ 441 | $ 533 | $ 1,802 |
| Perrigo Royalties ($M) | $ -- | $ 7.4 | $ 53.4 | $ 85.9 | $ 146.7 |
| Perrigo Royalty % | -- | 12%* | 12% | 16% |   |
*Partial quarter of royalties received due to timing of Elan acquisition completion.
Even assuming flat sales for TYSABRI, Perrigo would receive $324 million in royalties in FY 2015, an increase of 121%. Taking a modest 10% revenue growth in sales would increase royalties to $356 million in FY15. A full year of received royalties in FY15 and the recent percentage increase will increase total company revenue by roughly 5% in FY15. This is so significant, because the company doesn't have to actively do anything to receive this added revenue stream. Perrigo, just sits back and collects royalties. This steady revenue stream in itself makes the Elan acquisition attractive, but when you factor in the money saved in the tax inversion, it becomes even more attractive.
Decreasing tax rate - There have been no shortages of acquisitions to take advantage of tax inversions over the past 18 months. Perrigo's acquisition of Elan, resulted in the company now being headquartered and taxed out of Ireland. This reduces the FY 2015 tax rate to 17%. Perrigo had an effective tax rate of approximately 27% in FY13 and 25% in FY14. Had Perrigo realized a 17% tax rate in FY14, GAAP EPS would have increased roughly 10% to $1.96/share, up from $1.78/share. While some may argue the ethics of tax inversions, you can't argue with the results. A significant decrease in the effective tax rate returns value immediately to shareholders.
Rx to OTC switch - Perrigo is extremely bullish on the Rx to OTC market. The company believes there is as much as $10 billion in branded pharmaceutical sales potentially switching to over-the-counter products in the next 5 years and as much as $5 billion in the next 3 years. In particular, Nexium 24 Hour was approved by the FDA to be sold OTC at the end of March 2014. Perrigo has made a living of being first to market in the prescription to OTC products. Currently the company has 31 ANDAs (Abbreviated New Drug Application) pending FDA approval, which represent $4.2 billion in branded sales. The company also has 8 additional undisclosed products in the FY15 pipeline that represent $1.2 billion in branded sales. Most recently, Perrigo received approval in July from the FDA for Testosterone gel 1.0% and store brand equivalent to Advil Congestion Relief Tablets. As ObamaCare kicks in and cost containment becomes a top priority, it is likely that Rx to OTC will be viewed favorably by the FDA, because an OTC product is a fraction of the cost of its Rx counter-part.
Consumer Healthcare Pipeline - Perrigo's biggest revenue generator is its consumer healthcare segment. In FY 2015, the company plans to launch over 100 new store brand products that should result in an estimated $235 million in sales. In FY 2014, the company launched approximately 75 new products which resulted in $190 million in sales. The FY 2015 product pipeline has already launched a store brand version of adult & child Delsym Liquid and store brand Mucinex Allergy. Perrigo also plans to launch store brand nasal corticosteroid sprays, flea and tick products, and Claritin 24-Hour Liquid Gel during FY15.
Wildcard Catalysts
The 4 catalysts mentioned above are tangible events that are essentially guaranteed to add value to Perrigo for the foreseeable future. There are 2 other catalysts that are more wildcards that could happen, but ones which investors should avoid being the foundation of an investment strategy.
Perrigo Buyout - With Perrigo's recent tax inversion and effective tax rate of 17% in FY15, Perrigo itself may become an acquisition target. Companies are scrambling to take advantage of tax inversions before Congress acts and make these sorts of acquisitions more difficult. Perrigo is a healthy company with double digit revenue growth, increasing EPS, a clean balance sheet and over $1 billion in operating cash flow projected for FY15. Perrigo also has healthy operating margins and its dominance in store brand products gives the company some revenue protection during weak economic times. However, whether or not Perrigo is a potential buyout candidate is pure speculation. On paper, a larger company, such as Abbvie (NYSE:ABBV), acquiring Perrigo makes sense, but its foundation in reality isn't enough to base an investment on.
Lipitor Rx to OTC - Lipitor is the most successful prescription drug in history, with total global sales over $140 billion. With Pfizer (NYSE:PFE) losing its patent on Lipitor in 2011, the company is pushing to squeeze out additional sales by gaining FDA approval of a Rx to OTC switch for the drug. In the past, the FDA has denied OTC statins because users haven't shown to follow OTC instructions, which could lead to further complications. However, an OTC cholesterol drug would significantly reduce healthcare costs and Pfizer has the muscle and money to fund studies to show customers are capable of taking statin drugs without doctor supervision. Joseph Papa, Perrigo CEO, chairman, and president, is optimistic about statin approval and believes there is around a 60% chance it will gain FDA approval. If approved Perrigo could provide the store brand version to further reduce costs to the end consumer and open up a huge potential revenue generator.
Again, this is speculation and shouldn't be a reason for investment. It's nice to have wildcard catalysts for explosive growth, but relying on them is a gamble. Perrigo's increasing TYSABRI royalties, decreasing tax rate, Rx to OTC switches, and an expanding consumer healthcare product line are real catalysts that will propel the company going forward and not pipe dreams.
FY 2015 Projection
Perrigo is projecting a strong FY 2015 with 7-11% consolidated revenue growth, a 29% operating margin, 13-17% increase in adjusted diluted EPS, 31-37% increase of adjusted net income, and over $1 billion in operating cash flow. The company had significant charges associated with the acquisition and integration of its Elan purchase, which affected FY14 EPS.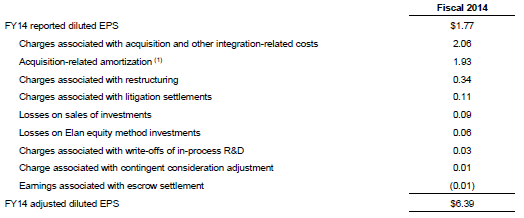 Source: Perrigo FY 2014 Fourth Quarter Presentation
Perrigo is projecting FY15 diluted GAAP EPS at $4.05 - $4.35. This is a 229% - 246% increase in GAAP EPS. This will bring down its official P/E to the mid-thirties. With all the catalysts mentioned above, this target should be easily met and the company is positioned to eclipse expectations over the next several quarters.
Conclusion
Perrigo is perfectly positioned to benefit from a push to reduce healthcare costs in the United States. From its market leading position in store brand consumer healthcare products to its strong position in Rx to OTC, Perrigo has a wide moat across hundreds of healthcare products. The company will benefit from a variety of positive catalysts in FY 2015 that will drive earnings, as well as a couple wildcards which could become game changers for the stock. Its acquisition of Elan has already proven its worth and set up Perrigo to reap the rewards and recoup acquisition costs in a very short timeframe. Because Perrigo receives the majority of its revenue from its store brand products, the company gives investors decent downside protection, because consumers are more likely to buy cheaper products in a weak economy. At current prices around $146/share, Perrigo is selling at a slight discount. The average analyst price target is $168, or 15% above today's price. I believe any entry point below $140, is an excellent position for the long-term.
Disclosure: The author has no positions in any stocks mentioned, and no plans to initiate any positions within the next 72 hours.
The author wrote this article themselves, and it expresses their own opinions. The author is not receiving compensation for it (other than from Seeking Alpha). The author has no business relationship with any company whose stock is mentioned in this article.