This article is going to be focused on 5 companies that have a strong history of raising their dividends and solid yields from their current dividend. Remember that safe is a relative term, all investments have risks. However, retirees can't really expect to live off dividend yields of 1%, so I'm focusing on companies that had yields of at least 3%. For companies that are retaining at least 40% of their earnings, that's fairly solid. The goal is to find companies that are producing dividend income for the investor to live on, and growth so the investor has a hedge against inflation. Yes, an investor could sell their shares if they needed more income, but reducing the equity position feels fairly ominous. I don't like the idea of a shrinking position that creates a deadline for death.
The stats for each company will be included in a small table at the end of the article for any reader that would prefer to skim.
BBL and BHP are the ADR listings for investing in BHP Billiton, which is a giant in the realm of natural resources. It handles exploration, development, and production of natural gas and oil. It mines for coal, copper, silver, lead, and uranium, among other materials. It also sells lead, uranium oxide, copper, and zinc concentrates to smelters. The difference between BBL and BHP is largely one of taxation. There are two kinds of shares, based on the different consumer demands. BBL is targeted more at the retail investor, and BHP is targeted to the larger corporate consumer. BBL pays less in taxes, and is a great fit for a tax-advantaged investor in the US. Meanwhile, BHP pays more in taxes to simplify the process for larger corporations that are more heavily involved with investments in Australia. By paying less in taxes, for consumers that won't face additional taxes, BBL is regularly able to offer a better yield. I expect that relationship to remain steady, because BHP offers tax advantages for large firms. If BHP had a better yield, it would justify a round of arbitrage trading. With a market cap of around $165 billion, that arbitrage opportunity would attract some pretty big sharks to fix it.
Over the last five years BBL's dividends have grown at an annualized rate of 10.6%. The dividend yield of 3.91% should be seen as fairly attractive for a company with a steady history of growing dividends.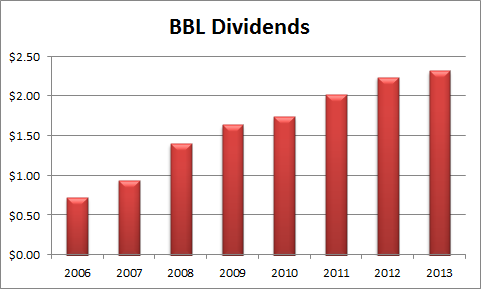 ConocoPhillips (NYSE:COP) is another giant. It is the world's largest independent "exploration and production" company when evaluated on proven reserves and production of liquids and natural gas. In April of 2012, COP completed the separation of its downstream businesses into an independent publicly traded company, Phillips 66 (NYSE:PSX).
The annualized growth rate for COP over the last five years, 13.3%, looks very appealing. The yield, at 3.60%, is nothing to sneeze at either. COP looks pretty solid for investors that want growing dividends.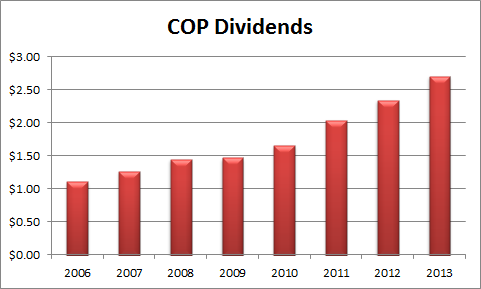 General Mills, Inc. (NYSE:GIS) is a leading global marketer and manufacturer of branded consumer foods sold through retail stores. It also supplies branded and unbranded products to the "food service" and commercial baking industries. Products are manufactured across 16 countries, and marketed in more than a hundred. The company also has a joint venture with Nestle. The venture is operated as Cereal Partners Worldwide.
The dividends are growing at a CAGR of 11.5%, which is pretty good, but the dividend yield is "just" 3.07%. The PE ratio for General Mills is probably the most concerning factor at 18.93, which is much higher than the next company in the same industry.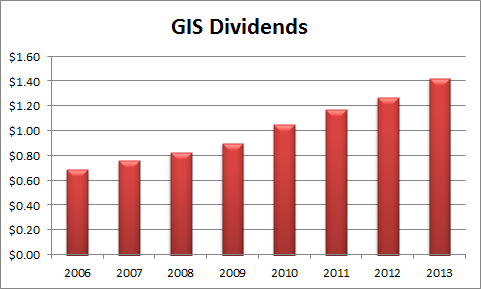 Kellogg Company (NYSE:K) is a competitor of General Mills. The company operates in the North American markets, Europe, Latin America, and the Asia-Pacific region. The company's principal products are ready-to-eat cereals and convenience foods, such as crackers, cookies, savory snacks, toaster pastries, cereal bars, frozen waffles, and fruit-flavored snacks. The products are manufactured by Kellogg in 18 countries, and marketed in more than 180 countries.
The dividends have grown at a CAGR of 6.7%, which is fairly slow relative to the other companies I'm highlighting. Still, dividend yield is similar to GIS at 3.02%, and the company's PE ratio of 12.76 is much more attractive. Given that it has the lowest payout ratio in the group (38.51%), we might see some improvement in the growth rate.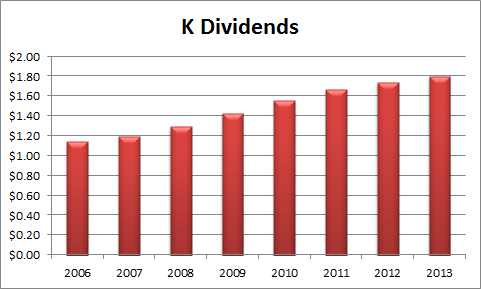 Lockheed Martin (NYSE:LMT) is a global security and aerospace company. It is primarily involved in the research, design, development, manufacture, and integration of advanced technology systems. However, the company also provides a large range of other services, such as: management, information, logistic, technical, engineering, and scientific services. While LMT has both domestic and international customers, 82% of its sales were to the U.S. Government. The largest customer within the government is the DOD (Department of Defense), which comprised 61% of sales.
The dividends have been growing at a whopping annualized 21.2% over the last five years. Even after that growth, the dividend yield is only at 3.06%, with over 50% in the payout ratio. I don't think it'll be able to keep up that CAGR on dividend growth without losing its opportunity to grow earnings, but the yield is still attractive relative to many other options for dividend yield.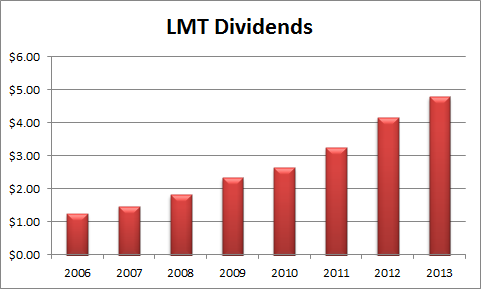 Conclusion
The 5 companies suggested here all have steady increases in their dividends, strong growth rates, reasonable payout ratios, and reasonable P/E levels. Kellogg's low payout ratio gives it an opportunity to grow the company by reinvesting or boost dividends, but the CAGR of dividends is lower for it than for any of the other companies mentioned. Out of these options, I find BBL to be the most attractive. Not simply for the high dividend yield, I like the company's diverse line-up of basic materials exposure and exposure to factors outside of the U.S. I want diversity in my portfolio, and BBL is offering diversity through both geography and the involvement of several basic materials. For any investors that are seeking more international exposure in their portfolio, it may be worth a closer look. A special thanks goes out to David Fish, who maintains a list of dividend champions. Information from his spreadsheet was included in my analysis.

Disclosure: The author has no positions in any stocks mentioned, and no plans to initiate any positions within the next 72 hours.
The author wrote this article themselves, and it expresses their own opinions. The author is not receiving compensation for it (other than from Seeking Alpha). The author has no business relationship with any company whose stock is mentioned in this article.
Additional disclosure: Information in this article represents the opinion of the analyst. All statements are represented as opinions, rather than facts, and should not be construed as advice to buy or sell a security. Ratings of "outperform" and "underperform" reflect the analyst's estimation of a divergence between the market value for a security and the price that would be appropriate given the potential for risks and returns relative to other securities. The analyst does not know your particular objectives for returns or constraints upon investing. All investors are encouraged to do their own research before making any investment decision. Information is regularly obtained from either Yahoo Finance or the SEC database. If either of these sources contained faulty information, it could be incorporated in our analysis. This article also incorporated information as reported in David Fish's CCC tables. The analyst holds a diversified portfolio including mutual funds or index funds which may include a small long exposure to the stock.