The S&P 500 (proxies SPY and IVV) is not in nose-bleed territory, but it is also no longer inexpensive in terms of conventional P/E multiples of operating earnings.
We are not big fans of operating earnings as the basis of valuation, given the reality of the expenses that are excluded from operating earnings, but included in reported earnings.
Because individual companies frequently have expense they chose to ignore in operating earnings, and because an index virtually always has expenses in the aggregate that are ignored, we find relying on operating earnings a bit like giving an offender a second second chance, and then a third second chance and perpetually pretending like the future will not have anymore "unusual" or "non-recurring" expenses.
That aside, much of the investing world makes decisions based on operating earnings, and that in turn drives their behavior, which drives prices. So, it is not wise to ignore multiples of operating earnings. At least know what they are.
Based on past studies and general lore, we think that something like 10 times trailing index operating earnings is a depressed price, 20 times is a ebullient price, and 15 times is a "normal" price. A normal price would be justified when things are OK, not too hot and not too cold. When fear is rampant a 10 multiple might be expected. When rainbows abound, a 20 multiple might be expected.
So where are we now?
Standard and Poor's estimates the S&P 500 index to have a 2010 operating earnings of $83.68 (a trailing number). They project 2011 to have $94.96 operating earnings (a forward number). That is about as 13.5% growth year-over-year.
Based on yesterday's (January 18) closing price of 1295, the index is at about 15.5 times trailing operating earnings, and at about 13.6 times forward operating earnings. That makes the PEG on a 1-year forward basis about 1.0.
Just for comparison, Reuters says the trailing P/E on reported earnings is 21.7 and the four-quarter forward P/E on reported earnings is 18.4 with a PEG ratio of 1.6 on an approximate 11.5% long-term reported earnings growth rate.
If we arbitrarily apply a sequence of multiples to the operating earnings, we can get a feel for where the price of the index might go as the market adds to or subtracts from the P/E multiple.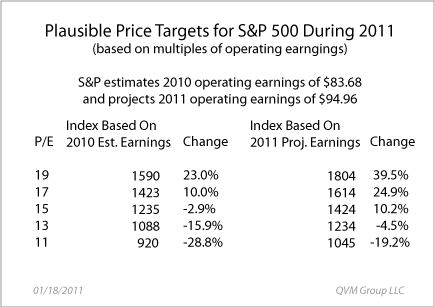 It may be reasonable to see "what if" the multiples were 11, 13, 15, 17 or 19 (all within the 10 to 20 range we see as normal extremes – not extreme extremes, just normal extremes).
A 15 multiple on trailing earnings would generate either a small loss of 2.9%, and on forward earnings would generate a gain of about 10.2%.
Going two multiples to either side would see a loss of 15.9% with a multiple of 13 on trailing earnings, and a gain of 10.0% with a 17 multiple on trailing earnings. The same multiples on forward earnings would create a 4.5% loss or a 24.9% gain.
Moving four multiples away, which would be unlikely we think in either direction, we see a loss of 28.8% or a gain of 23.0% on trailing earnings; and a loss of 19.2% and a gain of 39.5% on forward earnings.
To the extent that the capitalization of operating earnings makes sense, and given the suggestions of a significant drop in the index coming from some analysts, if the Standard and Poor's earnings estimates are good, then any big dip should not stick. That is, of course, barring adverse world events, such as an expanded European debt crisis or hostilities breaking out in an economically strategic region.
See our other recent articles on index valuation for alternate approaches and potentially divergent method indications.
Securities Identified in This Article: SPY, IVV
Holdings Disclosure: As of January 18, 2011 we hold positions in some but not all managed accounts for the following securities mentioned in this article: SPY
Disclaimer: Opinions expressed in this material and our disclosed holdings are as of January 18, 2011. Our opinions and holdings may change as subsequent conditions vary. We do not make any commitment to publish or provide any public notice of future changes to our opinions or changes in our holdings.
This published material is not personal investment advice to any specific person for any particular purpose. Do not take any investment action based solely on the contents of any our published material. We are not responsible for your use of our published materials in making any investment decision, and are not responsible for any losses you incur in taking any investment action. You are fully responsible for any use you make of the content of any published material prepared by us, and for any losses that occur as a result of any investment action taken in reliance upon any published materials prepared by us. Investing involves risk of loss of capital.
All of our published materials are for informational purposes only. More factors than considered in our published materials should be evaluated before taking any investment action. Perform your own investment research before making any investment decision. Consider seeking professional personal investment advice before implementing your portfolio ideas.
We utilize information sources that we believe to be reliable, but do not warrant the accuracy of those sources or our analysis. Past performance is no guarantee of future performance, and there is no guarantee that any forecast will come to pass.
We are a fee-only investment advisor, and are compensated only by our clients. We do not sell securities, and do not receive any form of revenue or incentive from any source other than directly from clients. We are not affiliated with any securities dealer, any fund, any fund sponsor or any company issuer of any security.
Disclaimer for all of our materials anywhere in the public domain.