By Jennifer Coombs
A whole slew of incentives and special financing options helped to fuel a very large 6.4% increase in car and light truck sales during August, enabling the industry to reach a seasonally adjusted annual rate (SAAR) of 17.53 million vehicles. Overall, we note that solid gains occurred in both domestic and foreign-made models, and luxury brands also remained strong. These results are some of the first-reported retail sales numbers out of August and ought to boost expectations for all retail sales as well as other economic data, including jobs and housing given this month's unusual strength.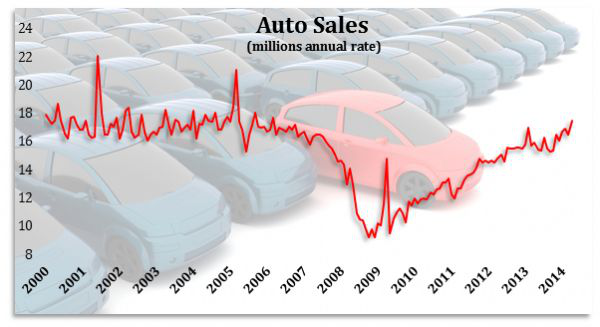 At the top of U.S. auto sales is General Motors (NYSE:GM) which posted total August sales of 272,423 vehicles; actually down 1.2% year-over-year. GM's total sales for the first eight months of 2014 totaled 1.98 million units. Analysts had actually predicted GM to sell 269,000 vehicles in August or a 2.5% decline over last year. GM's CFO noted at a conference last month that the company's better-than-expected performance in the first half of the year ought to lead to a cutback in expectations for the second half and this appears to be the case. Probably the most interesting sub-brand performance was at Chevrolet, which noted that deliveries were down 1.0% year-over-year, but Corvette sales were up a whopping 306.0% over last year - indicating a potential shift in luxury spending among the broader consumer market.
Speaking of luxury brands, the back and forth battle of who will dominate luxury car sales in the U.S. raged on in August, with Mercedes-Benz coming out the narrow victor. The German automaker held the same position for the first eight months of 2014, with a very slim advantage over BMW (BAMXY). However, none of the other luxury manufacturers are even close - which goes to show how strong both Mercedes-Benz and BMW dominate this market. In August, Mercedes-Benz sold 28,958 cars while BMW's sold 27,214 units. Recently, much of the fight between the two companies has been over the lowest end of the market - where the two companies attempt to get buyers who have less than $40,000 to spend. In the end though, this may just give the illusion that the US consumer is feeling wealthier.
The last of the pack, and the consistent underperformer this year, is Volkswagen (OTCPK:VLKAY). The company had the good fortune of finishing near the top of the 2014 American Customer Satisfaction Index (BATS:ACSI) for "Automobile and Light Vehicles," but unfortunately this didn't translate into higher sales for the month. Volkswagen sales dropped 12.2% in August to 35,181 units, and they are off by 13.4% for the first eight months of 2014 to 244,878 units. The ACSI ranked Volkswagen, Toyota (NYSE:TM) and Lexus all very closely valued among consumers, in fact all three scored 84 out of 100 points. Still, they did not finish too far behind the leader though, Mercedes-Benz, which finished with a score of 86.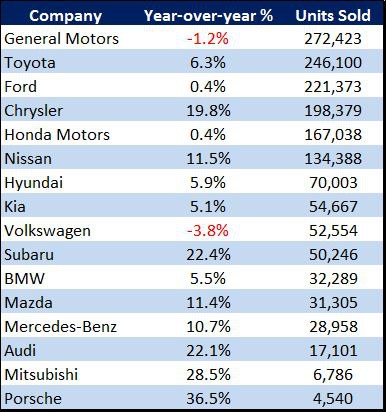 Editor's Note: This article discusses one or more securities that do not trade on a major U.S. exchange. Please be aware of the risks associated with these stocks.