Accuride Corporation (NYSE:ACW) is a leading manufacturer of commercial vehicle products. Accuride supplies many of its products to some of the world's largest truck and bus makers including Paccar, Inc. (NASDAQ:PCAR), Navistar International (NYSE:NAV), and Daimler (OTCPK:DDAIF), which makes trucks under the Freightliner brand. The product line includes: truck bodies, wheels, components and assemblies, chassis parts, and other related items. Accuride has four major business units which includes:
Gunite Corporation, which makes brake drums, disc wheel hubs, spoke wheels, rotors, and slack adjusters.
Accuride Wheels, which offers wheels for trucks, buses, commercial light trucks, and military vehicles.
Imperial Group, which manufactures truck body and chassis parts, including bumpers, battery and tool boxes, bus chassis assemblies, fuel tanks, roofs, fenders, and more.
Brillion Iron Works, which makes castings for heavy and medium-duty trucks, as well as for industrial machinery, and construction equipment.
Accuride has posted losses in recent years, but the company has implemented new programs to streamline operations and reduce expenses. The strategy has been dubbed 'fix and grow' which covers both the goal of fixing profit margin issues as well as growing revenues. The increased focus on these goals already seems to be leading to improved financial results. For the second quarter of 2014, Accuride reported net income of $5.1 million, or 11 cents per share which compares favorably with a loss of just over $5 million in the same period last year. Furthermore, the company raised full-year 2014 estimates for revenues to come in at $675 to $700 million which is an increase of $25 million from previous estimates. Accuride also raised adjusted EBITDA estimates by $10 million, and the new range is between $70 to $80 million.
The trucking industry does appear to be experiencing a turnaround. Truck companies like Paccar have been reporting improved financial results which could mean the industry is finally starting to grow. Second quarter net sales and financial services revenues were $4.57 billion, compared to $4.3 billion in 2013, which represents a 6% increase. If that type of growth continues, it should benefit Accuride since Paccar is one of their largest customers.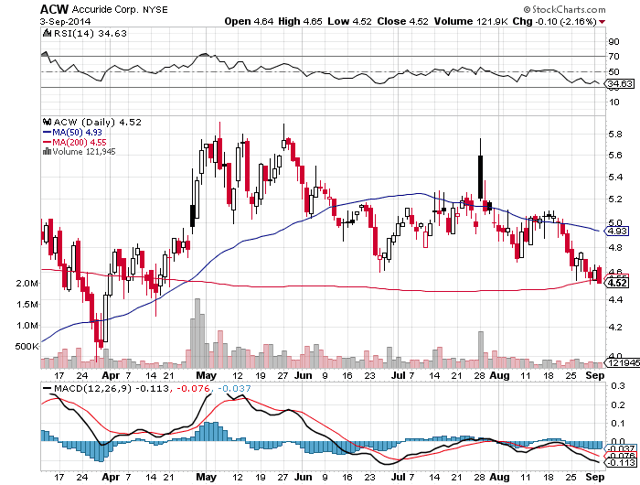 As the chart above shows, Accuride shares have been in a trading range of around $4.50 to $5.80 for the past few months. The stock is now at the lower end of that recent trading range which makes it an even more attractive time to buy.
Potential downside risks appear limited at this time. Accuride has been posting losses in the past, which is a potential downside risk for investors to consider. However, as detailed above, in the most recent quarter it posted a solid profit which could mean this company has turned the corner in terms of profitability. The improved results being reported by companies like Paccar could also be a sign that Accuride now has the wind to its back. Furthermore, with the stock now trading near the 200-day moving average which is $4.55 per share, the potential downside risks could be limited since this is typically a major support level. The 50-day moving average is $4.93 per share which is where the stock could rebound towards in the coming days. That would give investors who buy now at around the $4.55 level, potential gains of about 8% and of course the longer-term upside could be much greater.
A number of analysts see upside potential in Accuride shares and are increasingly bullish on a continued turnaround. Analysts at CRT Capital recently upgraded this stock and gave it a buy rating with a $6 price target. This would suggest significant upside potential of nearly 35%. Zacks Investment Research has a buy rating on this stock. Finally, it's worth noting that George Putnam of the "Turnaround Letter", picked Accuride as a favorite turnaround stock for 2014. The stocks he picked in 2013 rose an average of 90% last year, so his track record at picking turnaround stocks is very impressive.
Here are some key points for Accuride Corp:
Current share price: $4.60
The 52 week range is $3.10 to $5.91
Annual dividend: n/a
Data is sourced from Yahoo Finance. No guarantees or representations
are made. Hawkinvest is not a registered investment advisor and does
not provide specific investment advice. The information is for
informational purposes only. You should always consult a financial
advisor.
Disclosure: The author is long ACW.
The author wrote this article themselves, and it expresses their own opinions. The author is not receiving compensation for it (other than from Seeking Alpha). The author has no business relationship with any company whose stock is mentioned in this article.