Bank of America (NYSE:BAC) has asked U.S. District Judge Jed Rakoff in Manhattan to dismiss a jury verdict that found the bank liable for fraudulent mortgages. The judge imposed a $1.27 billion fine for defective mortgages issued by the bank's Countrywide Financial Corp. division.
The bank's lawyers argued that the October 2013 verdict was not supported by evidence. They said that if the judge was not willing to rule in favor of the evidence he should order a fresh trial. The lawyers' main line of argument was that prosecutors had not provided any reasonable evidence to show Countrywide had been guilty of fraud. Prosecutors had merely argued for the fact that the loans made to Fannie Mae and Freddie Mac were of an inferior quality than the government mortgage giants had expected.
In essence, then, Bank of America's lawyers contended that poor quality loans was a matter of opinion on standards rather than a case for fraud.
A spokeswoman for Mr. Preet Bharara declined to comment, and it is believed that the Manhattan U.S. Attorney office will make an official response on September 18th. The case was brought forward by Bharara in 2012.
The Hustle: Showing Lack of Consideration
The lending process had been nicknamed "hustle" because it pushed through a large number of loans rapidly without giving each loan sufficient consideration.
The term, 'hustle' actually originated from the abbreviation HSSL, which stood for "High Speed Swim Lanes," a lending program begun by Countrywide in 2007, a year before Bank of America acquired it.
Prosecutors argued that the program was a vehicle for deception, because it operated in three highly-suspicious ways:
· First, it focused on quantity over quality.
· Second, it rewarded employees who produced more loans.
· Third, it removed checks and balances that would have assured high loan quality.
In 2013, a jury decided that both Bank of America and Rebecca Mairone, a Countrywide executive, were liable for fraud. Last month, Judge Rakoff fined Bank of America $1.27 billion and Ms. Mairone, $1 million.
At the time of his ruling, Judge Rakoff condemned HSSL as a program for perpetuating a "brazen fraud." He said that he had found "ample" evidence to substantiate the idea that the Hustle program was deliberately designed from the beginning to push defective mortgages.
The Countrywide Financial Fiasco
When Bank of America acquired Countrywide Financial in 2008 at the time of the financial crisis, it looked like a good deal. Bank of America acquired the mortgage lender for $2.5 billion in stock, and it earned then Chairman and CEO of Bank of America Kenneth Lewis a good reputation as a shrewd deal maker.
Later, however, even in the teeth of mounting evidence that the biggest mortgage lender might face bankruptcy because of the inordinate amount of loan defaults and rapidly piling up foreclosures, Mr. Lewis remained optimistic, affirming that Bank of America had become the number one consumer lender because it had acquired Countrywide at an attractive price.
In retrospect, this optimism was considered completely unwarranted and a Bank of America director was quoted in The Wall Street Journal as saying that this was the worst deal the bank had ever made.
What Could An Appeal Mean For BAC Investors?
It is no small coincidence that the motion for reviewing the trial came only a week after Bank of America had finally made a $16.65 billion settlement with the U.S. attorney general's office for allegedly misleading investors into buying toxic mortgage-backed securities.
Since the settlement did not include the Bank of America case before U.S. District Judge Jed Rakoff, Bank of America had enough leeway to ask for an appeal. However, it is unclear why Bank of America considers their new appeal to be significant enough to overturn the previous verdict.
BAC has still paid over $70 billion in settlements and legal fees for the financial crisis-more than double any other mega-bank.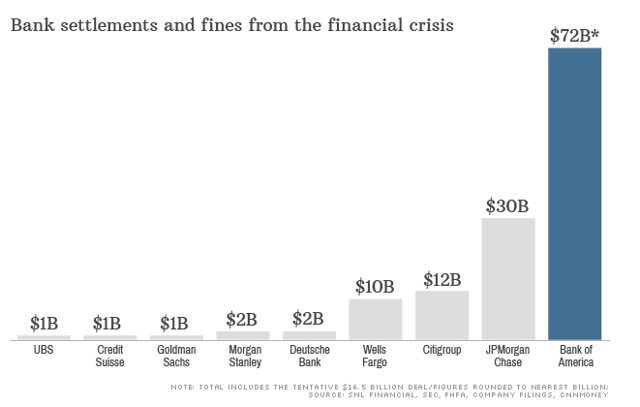 Click to enlarge
(Source)
While BAC stock is still trading relatively low YTD, investors cheered the news of its most recent (supposedly final) settlement with optimism (evidenced by the mid-late August price increase).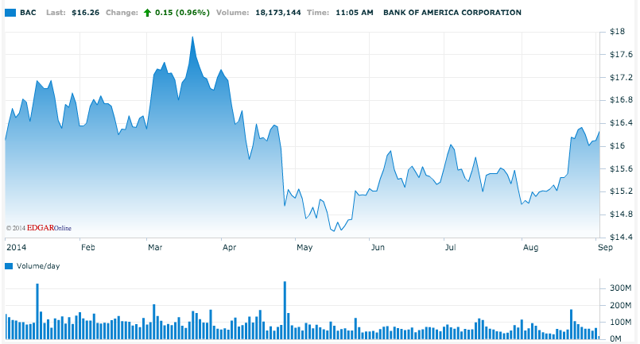 Click to enlarge
(Nasdaq.com)
While generating significant publicity, an appeal will not likely be the reason BAC makes a comeback in late 2014 and into 2015. Rather, it could be a combination of growing global banking earnings, brokerage assets, retail debt and credit card volumes, and additional business segments generating higher return on capital-as we detail in our previous article on the topic.
At present, we reiterate our stance that investors might consider BAC a very deep value play.
We invite readers wishing to join the discussion on Bank of America to click the +FOLLOW button above the title of this article, and those looking for the latest updates to click +Get real-time alerts.
Disclosure: The author has no positions in any stocks mentioned, and no plans to initiate any positions within the next 72 hours.
The author wrote this article themselves, and it expresses their own opinions. The author is not receiving compensation for it (other than from Seeking Alpha). The author has no business relationship with any company whose stock is mentioned in this article.