BlackBerry (NASDAQ:BBRY) stock had a good start to the week, boosted by news of its September 24th soirées in London, Dubai and Toronto. The invitation-only events will feature the official launch of the Passport and probably BlackBerry Blend, the company's new desktop sync and screen casting software. The stock has done well over the past month or so, recovering much of the ground it lost following the irrational decline in the wake of the IBM/Apple partnership news, as I predicted it would here.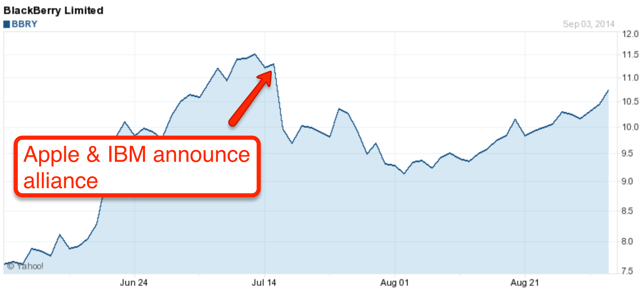 There have been a number of positive catalysts that have helped investors renew their confidence in shares since the "inflection point" of the IBM/Apple tie-up. Just a few include:
Add to this the continual buzz around the Passport, and you have a nice setup leading up to the late September events.
Passport launch timing and locations raise questions
With the exciting events announced, a stock price on the rise, and the company's security credentials burnished by notable security lapses by its competitors at every turn, it would seem everything is looking rosy in the world of BlackBerry, right? Not according to some contributors over at Crackberry.com, who chimed in their two cents on a forum related to the Passport launch parties. Some posters were perturbed that BlackBerry was waiting until the very end of the month, by which time the new iPhone might already be available in some stores. A late September launch might also mean the Passport would not be widely available until late October or early November. A lot of it was folks just moaning and groaning that they had to wait that long to get their very own Passport.
More troubling for some is the lack of a US launch event. While I agree this doesn't send a strong message to US companies (or consumers for that matter) that BlackBerry really cares about the US marketplace, there's a lot of data that goes into making a decision to avoid a US launch, and I certainly don't have half of it. But if a key user of the Passport is the jet-setting financier, trading onscreen with the Passport and making big power moves over fancy power lunches, wouldn't New York City be the best choice to pay homage to this key constituency? Perhaps the company is afraid the US media won't attend or cover a domestic event. Given the intense media interest in the Passport, however, this doesn't add up for me. A blog post or tweet from the company on the topic would help shed some light on the thought process behind the timing of the launch, and the choice of locations.
Some thoughts on pricing
Another Crackberry thread considered the question of pricing for the Passport. In a nutshell, there are two schools of thought. First you have those who believe the Passport should be richly priced ($700+) to accurately reflect the phone's credentials and specs, align with competitor pricing, and appeal to the target buyer - affluent businesspeople who might paradoxically prefer a higher price, as it confirms the Passport as status symbol and keeps it out of the hands of the hoi polloi. This camp also doesn't see the Passport playing a major role in turning around the company, or that it even needs to for that matter. The opposing view is more strategic, arguing that a $499 price would undercut the competition in order to motivate fence sitters and unlock the device's potential to appeal to the masses, sell many millions of devices, and regain lost BlackBerry glory and market share. As much as I'd love to see BlackBerry spread the Passport gospel far and wide, I just don't see this happening, just a gut feel. The company seems intent on targeting doctors and other knowledge workers in specific industries, so I foresee a $699 price tag.
Don't underestimate the massive consumer appeal of the Passport
How much could the Passport appeal to your average consumer using an iPhone or Samsung? Quite a bit, if you ask UK retailer Carphone Warehouse, which invested heavily in a high production quality pre-release video of the Passport targeting your everyday user.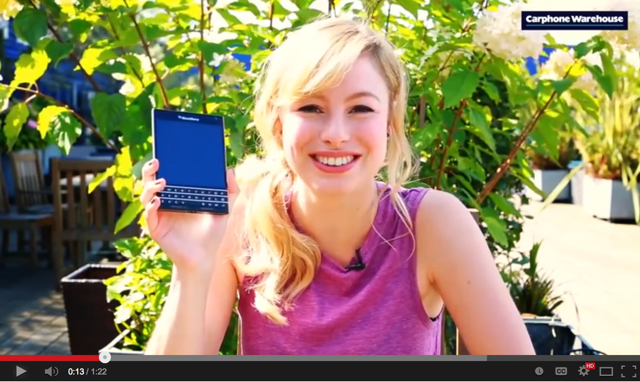 But as I mention above, my gut tells me that BlackBerry isn't going to be advertising the Passport in mainstream print and television in the US as they are the Z3 in Indonesia. BlackBerry may feel abandoned by the US consumer, but its previous marketing efforts - and the superior efforts by the competition - had something to do with this. It would be a terrible shame not to educate rank and file US phone buyers about the Passport, especially since your average AT&T and Verizon retail store employee would benefit from this same awareness, which would further drive sales.
At $699 and targeted directly at corporate/industry buyers, I can see the Passport contributing 2-3 million units globally in the first year to Chen's 10 million handset "quota." Add to that the Z3, the Classic, Z10, Z30 and successor model sales, and you have a very reasonable path to 10 million. But at $599 and with consumer-directed marketing, the Passport could sell a lot more units. How many more, I really don't know. It just becomes a spreadsheet calculation at that point - $100 in retained margin and SG&A savings vs. selling a lot more phones (and regaining more share).
The Bottom Line
BlackBerry's late September launch, lack of a US event, and relatively few Passport-related blog posts and other "teasers" suggest a very targeted, industry-focused launch and a $699 price point or higher. While this could end up being a missed opportunity, I don't see it fatal to BlackBerry's turnaround or Chen's ability to hit 10M phones per year.
BlackBerry enthusiasts - both existing users and those who have since reluctantly defected to Samsung or Apple - are really excited by the Passport, and there is certainly a tendency to "over romanticize" the phone and pin all of BlackBerry's future hopes on its commercial success. But let's not forget that the Passport will be only one part of one piece of BlackBerry's business moving forward.
My short-term BBRY price target of $15 by end of the year is supported here, and I still see $30-40 within the next 18-24 months.
Please do your own due diligence prior to investing. This article contains my opinions only, which should not form the basis of an investment decision.
Disclosure: The author is long BBRY.
The author wrote this article themselves, and it expresses their own opinions. The author is not receiving compensation for it (other than from Seeking Alpha). The author has no business relationship with any company whose stock is mentioned in this article.