Instagram (NASDAQ:FB) just released its Hyperlapse feature, which uses the gyroscopes inside of a smartphone to help with image stabilization, so users can create time lapse videos in a really professional looking way, without all the expensive equipment that photographers use.
According to Instagram:
Traditionally, time lapse videos depend on holding your phone or camera still while you film. Hyperlapse from Instagram features built-in stabilization technology that lets you create moving, handheld time lapses that result in a cinematic look, quality and feel - a feat that has previously only been possible with expensive equipment. We designed Hyperlapse to be as simple as possible. You don't need an account to create a hyper lapse. Instead, you open up straight to the camera. Tap once to begin recording and tap again to stop.
Instagram continues to gain relevance among mobile applications
The good news is that this new feature will appeal to the younger age demographic, which will keep Instagram relevant even as other video apps like Vine and YouTube gain respectable mind share among teens.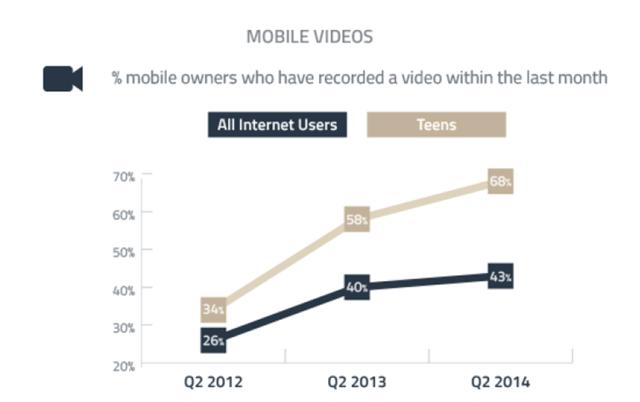 Source: Global Web Index
68% of teenagers have recorded a video in the past month, and in the prior three-year period, the trend in video content creation has increased. Not so surprisingly, Instagram's largest demographic is the teenage demographic, so if anything the hyper lapse feature works well with its demographic.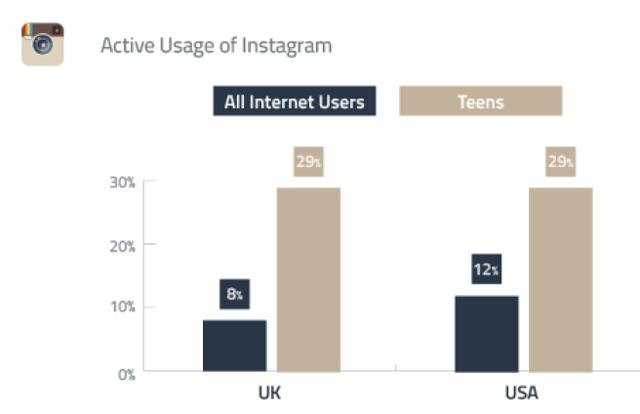 Source: Global Web Index
While Instagram does appeal to a broad base of users, it has become the application that people under 18 tend to gravitate to. Facebook remains the most dominant social network in terms of volume, and while Facebook the app has had retention issues with teens, Instagram will continue to pick up the slack.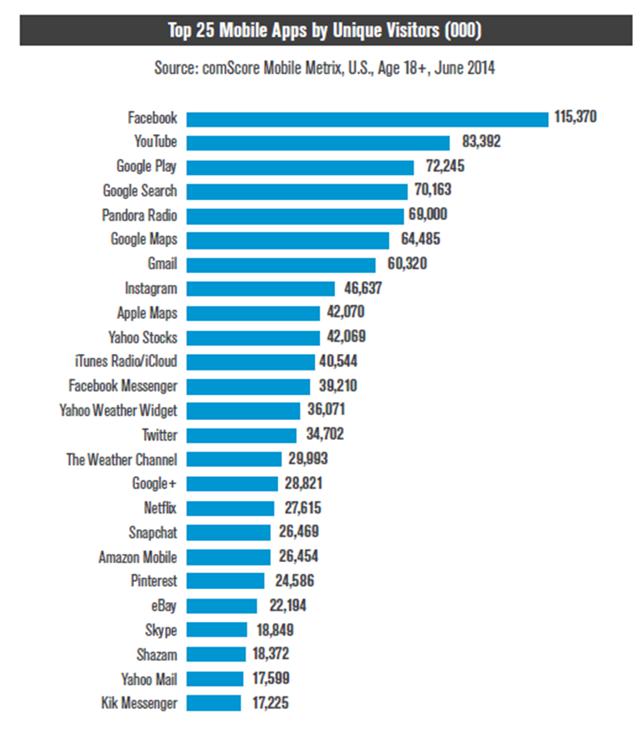 Source: comScore MobiLens
At the present moment, Facebook is ranked 1st in terms of unique visitors, and Instagram is ranked 8th among mobile apps. However, what makes Instagram and Facebook unique is in the monetization potential of both applications. Unlike search, Facebook and Instagram display ads can reach a targeted base of users, and in a video format, which has much higher cost per impressions than just standard search placement ads.
Among the top ten apps, three other applications are relatively easy to monetize, which are YouTube, Google Play and Google Search. Google (NASDAQ:GOOG) (NASDAQ:GOOGL) also has an impressive portfolio of mobile apps, which keeps the company relevant to its users, advertisers and shareholders.
However, the differentiator between Google and Facebook is that Google's portfolio of applications is not socially oriented. In a sense, YouTube is Google's most social application. However, when looking at the sheer number of gamer channels, and the lack of social interaction between friends watching and sharing videos and it becomes pretty obvious that YouTube is more of a media company than a social network.
Because the Play Store comes by default, and it earns a percentage of all app sales and game purchases, it's Google's most valuable mobile property. In a sense, the Android Play Store depends on Facebook's app install ads to drive app downloads, which is why the two tend to bounce off of each other with unique synergies.
Conclusion
Instagram is well positioned, and the continued additions to its core product will keep it relevant among all the major applications. Furthermore, Facebook is the most dominant application in terms of unique user engagement and it's unlikely that this will change anytime soon. Facebook and Instagram have the most potential when it comes to an ad-model, as they share a database of useful demographic data.
However, Google also is well positioned in the mobile space through YouTube, Search and Play Store. The three mobile app properties have transitioned very successfully to the application web, and it's likely that they will continue to attract eyeballs, therefore ad dollars in the foreseeable future. Furthermore, the Play Store will grow into a more significant contributor to revenues as the global installed base of smartphones increases and consumers become more open to buying virtual software, content and services.
Disclosure: The author has no positions in any stocks mentioned, and no plans to initiate any positions within the next 72 hours.
The author wrote this article themselves, and it expresses their own opinions. The author is not receiving compensation for it (other than from Seeking Alpha). The author has no business relationship with any company whose stock is mentioned in this article.