Given the remarkable strength of equity markets in just the first two weeks of 2011, I thought it would be interesting to run a screen on my list of over 800 ETFs/ETNs to find which areas of the investable landscape have performed strongest. It is worth performing such analysis to get a sense of where price action is at its heaviest and to help identify possible breakout themes.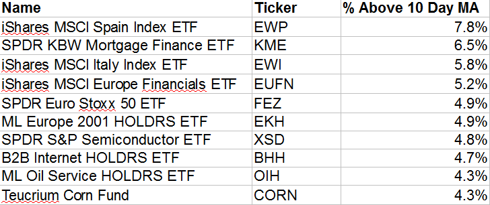 The message is overwhelmingly clear (click to enlarge). Despite continued concerns about Europe, and ever-rising CDS spreads, the majority of ETFs which are furthest away from their respective 10 day moving averages (2 trading weeks) are exposed to Europe. The Spain ETF (NYSEARCA:EWP) off the low it hit on the 10th of this month is up over 16% as of this writing. Much of the strength is because of Banco Santander (STD), a significant holding of the ETF. Given how poorly the EWP ETF performed in 2010, it should come as no surprise to see such a surge of strength in the country's equity markets (mean reversion).
The MSCI Europe Financials ETF (NASDAQ:EUFN) has performed quite strongly this year, sovereign debt issues aside. Interestingly, as I've noted in previous articles, the Financial sector in the U.S. (as proxied by either the KME or XLF ETFs) is outperforming alongside foreign Financials, indicating a global wave of strength is occurring in bank-related stocks. This leadership for now does appear entrenched.
Besides Financials, Semiconductors (NYSEARCA:XSD) and Oil Services (NYSEARCA:OIH) appear to be continuing their strength, but not to the same extent as broader Europe. Note that should the Euro begin to sustainably rally here, European ETFs which are unhedged to currency movements could perform even better because of the extra return generated from being long the underlying currency.

Disclosure: The author, Pension Partners, LLC, and/or its clients may hold positions in securities mentioned in this article at time of writing.