The Jolly Green Giant?
One of the rewarding things about investing is finding a solid play that may be overlooked by others due to past struggles that have been overcome, a diamond in the rough as it were. We're not sure if we have found one here, but it has the appearance of damaged goods that fell off a truck and bounced around a bit before settling down. If the contents aren't permanently damaged, it may be worth more than some think.
Pinnacle West Capital Corp. (NYSE: PNW), the utility holding company serving Arizona, has been leading the charge in adapting to the new realities of the solar age. A financial wreck half a dozen years ago, it has made a spectacular but quiet comeback. Let's take a look at PNW and see if it has improved enough to deserve your attention.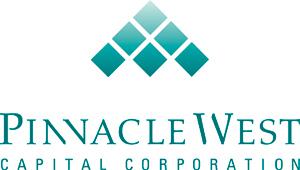 PNW's Fundamentals
Let's make PNW's acquaintance with a look at its financial record since the last recession.
Pinnacle West Capital Fiscal Year Financials
| | | | | | | |
| --- | --- | --- | --- | --- | --- | --- |
| Fiscal Year | Revenue | Net Income | Shares | Earnings/Share | Divs/Share | Payout Ratio |
| 2007 | $2,918.2 | $307.1 | 100.8 | $3.05 | $2.10 | 0.69 |
| 2008 | $3,127.4 | $242.1 | 101.0 | $2.40 | $2.10 | 0.88 |
| 2009 | $3,149.2 | $ 53.6 | 101.2 | $0.67 | $2.10 | 3.13 |
| 2010 | $3,180.7 | $370.2 | 107.1 | $3.27 | $2.10 | 0.64 |
| 2011 | $3,237.2 | $366.9 | 109.9 | $3.09 | $2.10 | 0.68 |
| 2012 | $3,301.8 | $413.2 | 109.5 | $3.45 | $2.12 | 0.77 |
| 2013 | $3,454.6 | $440.0 | 110.8 | $3.66 | $2.20 | 0.61 |
Source: Pinnacle West Annual Reports. All amounts in 000000s except per share data.
A look at the fiscal year numbers tells us a lot:
Overall revenue has advanced steadily;
Net income took a huge hit during the recession, but has bounced back in strong fashion;
Earnings per share also suffered in 2009, but since have regained their strength;
Dividends per share were unchanged from early 2006 until late 2012;
The payout ratio had one very weak year, but that was a recession year when some companies eliminated the dividend altogether, otherwise the dividend has been sustainable.
There's no question that PNW had a particularly rough time in 2009. Despite its troubles, though, it maintained its dividend. Many dividend growth investors will write off a dividend payer that doesn't always increase its dividend, but we're not quite so picky. In fact, some get angry if a single year goes by without an increase, so those long six years must have frustrated a lot of dividend investors. PNW certainly isn't going to make any of those "never missed a year of increases" lists, and there is no question that some investors will never forgive the company and never even consider investing in it again.
That the company maintained its dividend despite the tough year of 2009 tells us the company is committed to the dividend. That, to us as an investor, is a net positive.
Sometimes, though, it is better to hop back on board a train as it begins to roll out of the station rather than watch it leave without you. You won't get to your destination by standing on the platform.
A look at the company's annual cash flow patterns should shed some further light on how management views the dividend, and why they finally resumed raising it after all those years.
Pinnacle West Annual Cash Flows
| | | | | | |
| --- | --- | --- | --- | --- | --- |
| Fiscal Year | Net Cash | Cap Ex | FCF | FCF/Share | Div-share/FCF-share Ratio |
| 2007 | $ 658.0 | $ 960.4 | $(302.4) | $(3.00) | - |
| 2008 | $ 848.1 | $ 935.6 | $(122.0) | $(1.21) | - |
| 2009 | $1,067.3 | $ 764.6 | $ 266.5 | $ 2.64 | 0.80 |
| 2010 | $ 750.5 | $ 750.5 | $ 0.0 | $ 0.00 | - |
| 2011 | $1,125.6 | $ 884.4 | $ 241.2 | $ 2.19 | 0.96 |
| 2012 | $1,171.1 | $ 889.6 | $ 281.5 | $ 2.57 | 0.82 |
| 2013 | $1,153.3 | $1,016.3 | $ 137.0 | $ 1.24 | 1.77 |
Source: Pinnacle West Annual Reports. All amounts in 000000s except per share data.
The cash flow data does shed some light on what was going on behind the scenes:
Net Cash from operating activities had a bumpy ride from 2007-2010, but since then has recovered so that in 2013 it was 54% higher than in fiscal 2010;
Capital expenditures have overall been stable, though they took a dip during the recession period;
Free cash flow and free cash flow per share actually went negative for a spell, but appears to have recovered;
The company has had difficulty paying for the dividend out of its free cash flow, sometimes fully covering it, sometimes not.
It seems clear from looking at the cash flow and payout ratio numbers why PNW did not raise the dividend for all of those years: the company was bleeding cash and at some points perhaps was even considering cutting the dividend altogether. That it didn't and maintained the dividend despite negative cash flow is to management's credit for having the foresight not to turn a rough patch into a permanent stain on the company's image. It's one thing to not raise a dividend, which happens and sometimes is necessary, but many investors would never forgive complete elimination.
Looking at the figures, the payout ratio for 2013 was the lowest during the entire span. That suggests that the company has regained its footing, and it is a heartening sign. The lower the payout ratio, the more leeway the company has to maintain and raise the dividend.
However, on the flip side, the company does not have a good track record of covering the dividend with its free cash flow. Capital expenditures were high in 2013; that is probably related to the company's forays into solar power that we discuss below. That investment would have high up-front costs and a long-term payout, which may be why the company is not worried about its free cash flow covering the dividend in the short run. We will take a look at the company's long-term debt to make sure that it is not loading up on debt in order to pay the dividend, which would be a major red flag.
Let's move in for a closer look by examining the most recent earnings report, for the company's fiscal second quarter ending on 30 June, in comparison with previous comparable periods.
Pinnacle West Quarterly Cash Flows
| | | | | | |
| --- | --- | --- | --- | --- | --- |
| Fiscal Year | Revenues | Net Income | Earnings/share | Div/share | Long-term Debt |
| 2009 | $812,510 | $ 68,195 | $0.68 | $0.525 | $3,527,987 |
| 2010 | $802,795 | $114,797 | $1.07 | $0.525 | $3,326,524 |
| 2011 | $799,799 | $ 86,685 | $0.79 | $0.525 | $2,761,695 |
| 2012 | $878,576 | $122,345 | $1.11 | $0.525 | $3,371,412 |
| 2013 | $915,822 | $139,598 | $1.18 | $0.545 | $2,820,172 |
| 2014 | $906,264 | $141,384 | $1.19 | $0.5675 | $2,999,513 |
Source: Pinnacle West Quarterly Reports. All amounts in 000s except per share data.
The picture is a little clearer when examining the second quarter reports:
Revenues have grown 12% since the recession and 14% when we cherry-pick the 2010-2013 period;
Net Income has more than doubled since the trough year of 2009;
Earnings per share are up 75% over the period;
Dividends are growing again;
Long-term debt has been cut by 15%.
Whereas PNW was struggling with a high debt load and falling earnings just a handful of years ago, now the picture is completely different. What is emerging is a picture of a recovering company that is back on its feet but perhaps not quite out of the woods yet, and that is a situation that typically presents opportunity.
Valuation
Recovering stock or not, we're not interested in PNW unless it is still marked down by the market. Dividend payers that kept increasing their dividends despite the recession are abundant, and we want a little extra for our beneficence in buying this stock after all it has been through.
According to Morningstar, PNW's price/earnings ratio ttm is currently 15.6 versus an industry average of 19.9 and overall S&P 500 ratio just under 20. PNW's Operating Margin ttm is 24.1% versus its peers' average of 17.6, Net Margin is 11.6% versus the industry average of 7.9, and the Debt/Equity ratio is a quite reasonable 0.7 versus the industry average of 1.0.
On the flip side, PNW's price/sales ratio is 1.8 versus the industry average of 1.4, whereas price/book is 1.5 versus the average of 1.4. While not ideal, these figures don't throw up a red flag. The price/book ratio is not bad at all at 1.5, especially for a company that has been around for a long time and no doubt carries a lot of old assets on its books at prices well below current replacement value.
The dividend yield currently is slightly over 4%. While not at the top of the utility yield list, PNW stock is well above the middle of the pack.
PNW technically is reliant upon its primary subsidiary, APS, for the funds to pay its dividend. PNW basically gets all of its cash from APS. That is not uncommon in the industry, and that continued payment does not appear to be in jeopardy. As stated in its SEC filing:
"An existing ACC order requires APS to maintain a common equity ratio of at least 40%. As defined in the ACC order, the common equity ratio is total shareholder equity divided by the sum of total shareholder equity and long-term debt, including current maturities of long-term debt. At June 30, 2014, APS was in compliance with this common equity ratio requirement. Its total shareholder equity was approximately $4.3 billion, and total capitalization was approximately $7.5 billion. APS would be prohibited from paying dividends if the payment would reduce its total shareholder equity below approximately $3.0 billion, assuming APS's total capitalization remains the same."
In addition, PNW spells out exactly what determines the dividend:
"Pinnacle West's primary cash needs are for dividends to our shareholders and principal and interest payments on our indebtedness. The level of our common stock dividends and future dividend growth will be dependent on declaration by our Board of Directors and based on a number of factors, including our financial condition, payout ratio, free cash flow and other factors."
Overall, value does look good, as we were hoping, and debt has been trending lower. PNW may not be the steal of the century, but the multiple hasn't fully recovered yet to the industry average, and that may present the opportunity for which we were looking.
Outlook
Last quarter, PNW reported consolidated net income attributable to common shareholders of $132.5 million, or $1.19 per diluted share of common stock. This compared with earnings of $131.2 million, or $1.18 per share in the same 2013 period. The company said that earnings were negatively impacted by a few cents by the unseasonably mild weather. The results beat the Zacks estimate.
As guidance, the company stated the following:
"For 2014, the Company continues to expect its on-going consolidated earnings will be in the range of $3.60 to $3.75 per diluted share. Longer-term, the Company's goal is to achieve a consolidated earned return on average common equity of at least 9.5 percent annually through 2015."
Should the company achieve the top end of its goal, $3.75, and have a typical recent payout ratio of 65%, that would imply an annual dividend around $2.44. That in turn would lead to a yield, at a stock price of $56, of about 4.4%. It seems reasonable to expect the stock price to move slightly higher if such a dividend increase is announced.
Analysts are moderately bullish on the stock, with a consensus price target of $59.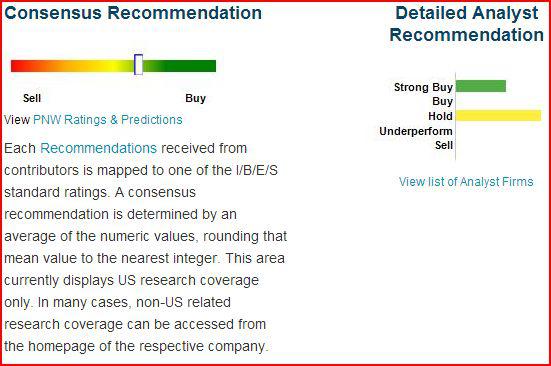 Source: Nasdaq.com
Insider trading has tended slightly toward the buy side over the past year.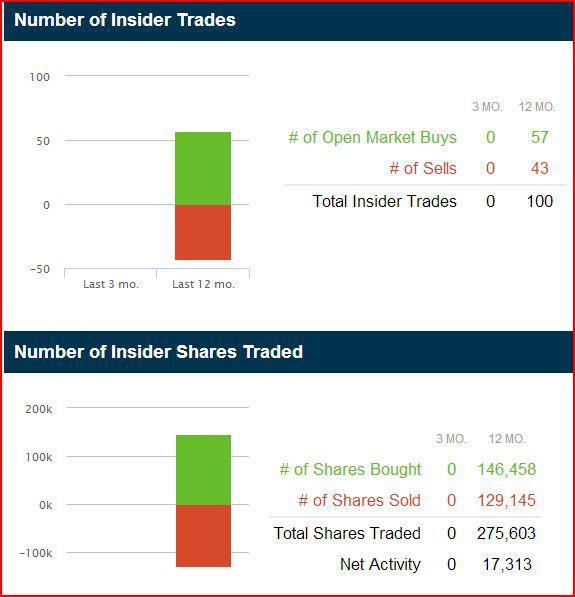 Source: Nasdaq.com
Technically, PNW stock has been trading sideways in an extended bull flag since May 2013. Arguably, it has formed an inverse head and shoulders within that pattern. Both patterns tend to resolve to the upside, but can be of indeterminate length.
Looking Further Ahead: Solar Power
Arizona is an area of steady growth. During the conference call, the company noted that the housing recovery in the state has been a little slower than they expected, but the economy is growing steadily regardless:
"As shown on the upper right, vacancy rates for industrial space reflected some sizeable new developments which just recently come on line. Both trends are indicative of the steady job growth the Metro Phoenix area and Arizona have been experiencing for the last three years. Arizona has added jobs year-over-year at around a very steady 2% since the end of 2011 as seen on the lower right hand side."
This has translated into higher customer demand for power:
"Reflecting the steady improvement in economic conditions, APS's customer base grew 1.4% compared with the second quarter last year. We expect that this growth rate will gradually accelerate in response of the economic growth trends I just discussed."
Solar energy has proven quite attractive in Arizona, and it has become a major issue for PNW. While Arizona is second to California in total installed solar capacity, it leads the nation in per capita capacity.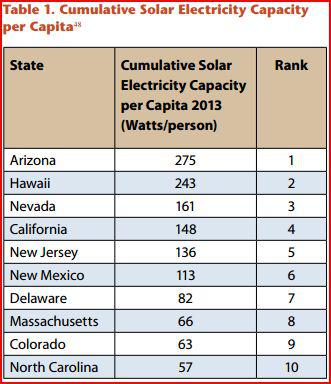 Source: Lighting the Way
Some react to the impact of solar energy as representing a threat to utilities. That has been the case in Hawaii, at least. However, PNW and APS, which serve nearly 1.2 million customers in 11 of the 15 counties in Arizo

na, have turned that argument on its head. In a 2014 study by the Solar Electric Power Association (SEPA), APS ranked highly in several categories, including:
new solar installed in 2013;
new solar installed in 2013 per customer;
overall solar capacity; and
overall solar capacity per customer.
Former Governor Janet Napolitano famously said that Arizona could become the "Saudi Arabia of solar energy," and PNW, through its APS subsidiary, is the one that could make that happen. It has taken some measures to help make solar power sustain its operations rather than disrupt them.
For instance, in late 2013 APS was successful in receiving permission from Arizona regulators to charge a fee to homeowners who install solar panels on their roofs. The fee equals $0.70 per kilowatt, which is below what APS had sought, but a first of its kind in the nation. APS also has slashed its cash payments for customer-provided solar power due to the high rate of panel installation. In addition, many think that APS is behind the Arizona Department of Revenue's decision to charge homeowners property taxes on their leased panels.
In addition, PNW has advanced some aggressive proposals to take more control over the solar market itself:
"In April, we proposed to continue our successful program of building community scale solar with a new plant at our Redhawk facility. On July, we presented the Commission with the second option that would be an APS owned residential rooftop solar program in partnership with local Arizona solar installers. 20 megawatts is equivalent of about 3,000 home installations. This proposal would provide a new avenue for customers who may not want to or be able to purchase or lease solar panels from third-parties, so that they too can benefit from rooftop solar installations."
Customers who allow the utility to install the panels on their roofs would receive a monthly $30 electricity credit for 20 years. It is a very enticing prospective offer, but the proposal still has to be approved by the regulators (which should be some time this year). Understandably, private solar panel installers are not thrilled by the prospect of utility competition.
So, not only is APS deriving revenue from homeowners who already have solar panels installed, it also intends to put its own panels on other homeowners' roofs. Solar advocates are giving the company high marks for its solar power efforts, ranking PNW as the top utility for increasing its energy efficiency. Ironically, now that everyone recognizes the advantages of solar power, the economics of photovoltaic modules may be turning slightly negative, but APS still finds the economics attractive.
APS has run solar energy plants since 1997, so presumably it knows what it is doing in that field. The company is spending $1 billion on solar plants around the state. If that is a gamble, it is a gamble based upon years of experience and not wishful thinking.
The point is that PNW and APS are using solar to their own advantage and adapting to the new solar age, and transforming what many perceive to be a threat to utilities' very existence into a benefit for themselves. The fact that many assume that utilities cannot manage the rise of solar power to their own advantage, when PNW and its APS subsidiary are working hard to prove the opposite, may provide opportunity for the aggressive investor. And that could be good for all PNW shareholders in the long run.
Conclusion
Pinnacle West Capital has a shaky financial history that only recently has sorted itself out and turned positive. There are aspects to the company that are sure to turn off some investors: the fact that it has nuclear plants at Palo Verde which will be costly to shut down some day, though they have licenses through 2045; its aggressive efforts to channel solar power to its benefit rather than to its detriment, which some interpret to be anti-solar energy or anti-ratepayer; the six long years when it did not raise its dividend. None of those factors are going to change, so anyone investing in PNW has to take them into account and weigh their importance.
PNW is not a slam-dunk investment. Investing in it requires a touch of faith that its huge solar investments will bear fruit. As we saw above, they have high up-front costs which required large capital expenditures, with the payout coming over time. If the solar projects do cut the company's expenses after all of its capital spending, that should help earnings in the out years. Nothing in life is assured.
For the open-minded income investor, though, PNW could represent a great pick-up. It finally is growing its dividend again - with a likely increase next quarter - and leads the nation in figuring out how utilities will survive in the inevitable age of solar power. The state itself is growing and thriving. I went over the general case for utilities in this environment separately, with the caveat that utilities are best used as a portion of a diversified portfolio. Pinnacle West's valuation is quite reasonable, no doubt as an influence of its past struggles. Aggressive dividend hunters should find that PNW represents a good value.
Disclosure: The author has no positions in any stocks mentioned, and no plans to initiate any positions within the next 72 hours.
The author wrote this article themselves, and it expresses their own opinions. The author is not receiving compensation for it (other than from Seeking Alpha). The author has no business relationship with any company whose stock is mentioned in this article.