As the old adage goes smoke before fire; historically a sharp plunge in shipping prices would be the smoke warning investors of an approaching global economic slowdown, but this time it's not the case. The Baltic Exchanges Baltic Dry Index (BDI) has collapsed falling nearly 34% since the start of December, and nearly 66% since its 2010 peak in May. So why is it different this time and, unless you are overweight shipping stocks, more or less irrelevant?
The answer lies in the size of the shipping fleet. When times for the sector were good shipping companies ordered an armada of new vessels, which aren't built overnight. Many of these new orders began coming online in late 2009 with the rate of growth speeding up steadily throughout 2010. According to Lloyd's Register Fairplay, the size of the global bulk fleet in terms of dead weight tons has jumped 26%, since the end of 2007—a good year for shippers when the BDI was over 6 times above its current level.
The bottom line here is that the supply of ships has far outweighed the demand for cargoes, not because the global economy is sinking, but because ship owners became, in retrospect, irrationally optimistic resulting in a surge of new vessel orders. Ship owners once received on average nearly a quarter million dollars a day for capsize vessels; now they get less than $10,000.
Periods of strength in 2009 and 2010 as well as potentially large fees to cancel orders probably caused fewer of these new ships to be canceled than otherwise would have been expected considering global economic conditions. Nevertheless, with the order book still 300% above its 2006 level the supply glut of ships will likely remain an issue throughout at least the remainder of the year as an increasing number of ships fight gradually increasing cargos.
Looking outside of the BDI, commodity prices have strongly rebounded. While this may partially be due to the Fed's quantitative easing, the fact is that in December, 20 of the 23 global PMI indices I regularly tracked posted results above 50, with 15 of the 23 showing stronger expansion in December than in November. Despite the slack in shipping prices the global manufacturing sector appears healthy, and until the supply glut of ships can be worked out, the BDI as an important economic indicator will remain mute.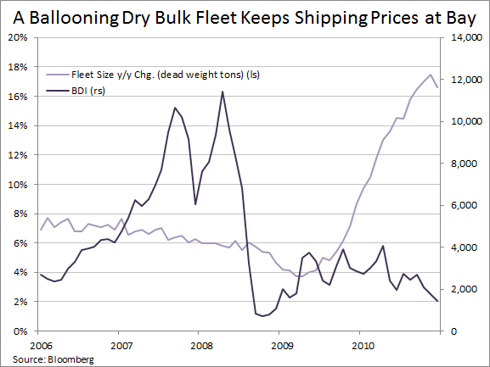 Click to enlarge


Disclosure: I have no positions in any stocks mentioned, and no plans to initiate any positions within the next 72 hours.