After reporting sales results for the month of August on September4, shares of Rite Aid (NYSE:RAD), the country's third-largest standalone drugstore chain, saw its shares edge down about 1% in afternoon trading. According to its press release, the retailer's revenue rose 3.7% to $2.52 billion from the $2.43 billion management reported the same month last year.
The biggest contributor to this increase was Rite Aid's pharmacy comparable sales, which jumped 5.2% year-over-year. This came in spite of the introduction of additional generic drugs which, historically speaking, result in lower revenue but higher margins, for which Rite Aid saw some downward pressure. The increase in pharmacy activity during the month helped push pharmacy count at comparable stores up about 3.7% for the month. Meanwhile, front-end comparable sales inched up about 1.1%, which indicates that most of the company's growth is taking place not in its non-core products but in its core products instead.
| | | |
| --- | --- | --- |
| | Month of August | 13-Week Change |
| Sales Growth | +3.7% | +4.1% |
| Aggregate Comparable Sales Growth | +3.9% | +3.7% |
| Pharmacy Comparable Sales Growth | +5.2% | +5.6% |
| Front-End Comparable Sales Growth | +1.1% | +1.1% |
For the quarter, sales at the drugstore chain roughly mirrored the business's monthly sales results. For the 13-week period ending in Aug., management reported a 4.1% rise in comparable store sales, led by a 5.6% improvement in pharmacy comparable sales and followed up with a 1.1% improvement in front-end results. As a result of this growth, total revenue for the business rose almost 3.8% from $6.25 billion to $6.49 billion.
In recent years, growth hasn't really been much of the value proposition of investing in shares of Rite Aid. Over the past five fiscal years, for instance, revenue in the drugstore chain has dropped almost 1% from $25.7 billion to $25.5 billion as slightly higher comparable store sales were more than offset by a decrease in store count. The real picture has centered around investing in the company's margin improvement. During this same five-year timeframe, Rite Aid's net income has risen from a loss of $506.7 million to a gain of $249.4 million as management rid itself of underperforming locations, benefited from an industry-wide shift toward generic drugs, and placed a great emphasis on improving its margins.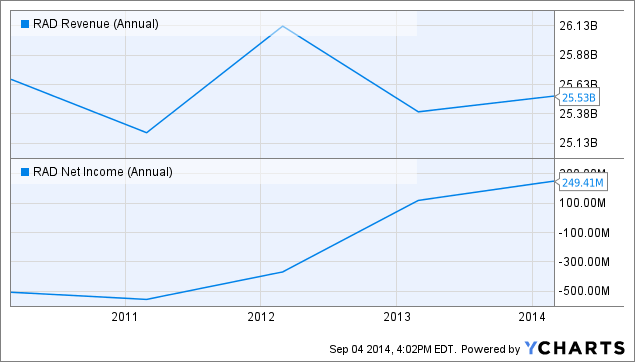 RAD Revenue (Annual) data by YCharts
Moving forward, it will be interesting to see what transpires with Rite Aid. If management can continue to improve and/or cut its underperforming locations while keeping other costs down, the business's forward P/E of almost 17.6 could make it an interesting (but not value) play. Unfortunately, it's impossible to tell if this trend can continue, but with the IMS Institute anticipating global generic drug sales growing by up to 66% from $260.6 million in 2012 to $432 million in 2017, the business has a lot of potential for patient investors.
Disclosure: The author has no positions in any stocks mentioned, and no plans to initiate any positions within the next 72 hours.
The author wrote this article themselves, and it expresses their own opinions. The author is not receiving compensation for it (other than from Seeking Alpha). The author has no business relationship with any company whose stock is mentioned in this article.