Favorable Price Trends
Ryder System (NYSE:R) is benefiting from favorable price trends, which bodes well for the company and the stock going forward. This will have a positive impact on the company's revenue and earnings. The company experienced a 15% increase in sales of used tractors and a 16% increase for used trucks for Q2. Tractor pricing increased 9%, while truck pricing increased 4%. The company is forecasting a rental price increase of 5% for the full year. These positive trends show that the demand for Ryder's used tractors/trucks and for its rentals is increasing. I think that the increased demand is due both to the improving economy and Ryder's effective ability to provide its customers with the vehicles and services that they are demanding. This will allow the company's revenue and earnings to increase, thus driving the stock higher.
New Contracts
In August, Ryder landed a fleet management contract with the leading wine & spirits distributor in the United States, Southern Wine and Spirits of America. The deal will allow Ryder to service Southern Wine's heavy duty fleet of 2,200 tractors, trucks, and trailers. The service includes inspections, repairs, proactive parts replacement, emergency roadside assistance, and online maintenance activity tracking. The deal gives Southern Wine 24/7 access to Ryder's over 5,000 skilled technicians and 700 service facilities across the U.S. The great thing about Ryder's services is that it goes beyond just repair. Ryder also provides key information to customers such as maintenance costs, what assets should be kept, and how to select optimal equipment. Therefore, Ryder helps customers maintain their fleets and helps them make better decisions. This should lead to more contracts for Ryder as other companies look to improve their operations and lower costs.
Ryder also just partnered with Anheuser-Busch (NYSE:BUD) to replace 66 of the beer-maker's Houston diesel tractor fleet with Compressed Natural Gas (CNG) powered engines. This deal will help Anheuser-Busch reduce its impact on the environment and reduce the company's costs. The advanced engine technology will allow the fleet to reduce carbon dioxide emissions by an expected 2,000 tons per year. Of course, Ryder will benefit from the deal in the form of increased revenue. I think that Ryder will also benefit as more companies look to convert to CNG to reduce costs and to lessen their impact on the environment. I think that Ryder will be a key go-to company for this need.
Stock is Undervalued
Ryder is currently trading at 14.2X next year's expected EPS of $6.51. This is below the Rental/Leasing Services industry's forward PE of 15.4. It is also below the S&P 500's forward PE of 16.7. Ryder has a low price to sales ratio of just 0.75, while the industry is valued higher with a ratio of 1.81. Furthermore, Ryder is trading with a low EV/EBITDA ratio of 6.24. Competitors Con-Way (NYSE:CNW) and Amerco (NASDAQ:UHAL) are valued higher with EV/EBITDA ratios of 7.1 and 7.3 respectively. With Ryder's valuation lower than its industry and the S&P 500, I think that the stock will outperform over the next year.
The Risks
Ryder is spending more in capital expenditures than it has in operating cash flow. The result of this has been four years in a row of negative free cash flow. This in turn leads to increased debt, especially when the company pays a dividend of 1.7%. The reason for the high CapEx spending is due to the high cost of vehicles and planned investments in commercial rental and lease fleets. This year, Ryder is spending $40 million in CapEx for the purchase of its headquarters facility. Ryder is expecting to spend $1.66 billion in CapEx for 2014. The good news is that this is less than the $2.14 billion that the company spent last year. The other good news is that Ryder has a high ROE of about 15%. So, the company gets a good return for its shareholders' dollars. Ryder has been able to turn its CapEx into growth. The company increased earnings at an average of 29% annually for the past five years. Nevertheless, the increasing debt is something to keep an eye on.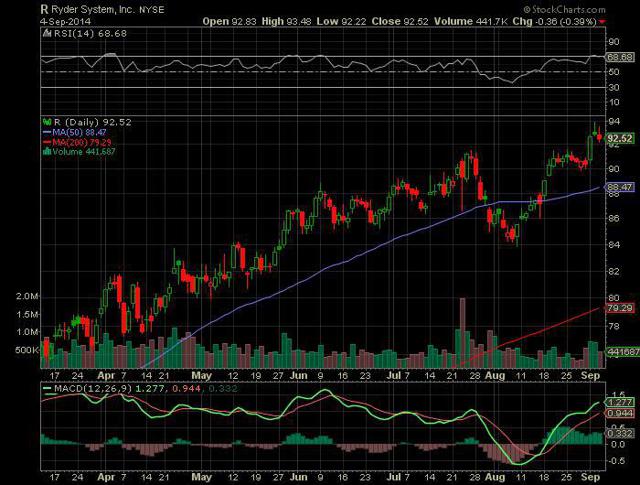 Overall, the Future Looks Bright
Analysts are expecting 14.5% EPS growth for 2014 and 16.5% EPS growth for 2015. With the stock's valuation edge and above average future expected growth, I think that the stock will outperform its industry and the S&P 500 for at least the next year. The demand for the company's products and services is likely to increase as the economy continues to grow and as other companies look to lower their costs with Ryder's CNG and other cost-saving products/services. Given Ryder's attractive valuation and strong expected earnings growth, I think it is reasonable for the stock to rise approximately in proportion to its EPS growth. This should allow the stock to rise from about $92.50 to $108 over the next year.
Disclosure: The author has no positions in any stocks mentioned, and no plans to initiate any positions within the next 72 hours.
The author wrote this article themselves, and it expresses their own opinions. The author is not receiving compensation for it (other than from Seeking Alpha). The author has no business relationship with any company whose stock is mentioned in this article.