I listen to a lot of conference calls for oil and gas producers and there is one thing that never ceases to amaze me. The situation I'm talking about arises when I listen to conference calls of energy producers that have a share price that is heavily discounted because of an overleveraged balance sheet.
In these instances, it is usually quite clear that the share price does not reflect the true value of the assets that the company in question owns. The reason for the discount is the company having more debt than the market likes.
On those calls, it seems that almost without fail there will be a retail shareholder that calls in and urges the company to take advantage of the bargain share price by repurchasing shares.
On paper that certainly looks like a good idea as it will appear on a per share basis that repurchasing shares would be very accretive on a per share basis.
In reality, of course, an overleveraged company that starts repurchasing its shares is like a person being stuck in a deep hole and continuing to dig because he wants to find more gold. If he never gets out of the hole, that gold isn't going to be of any use.
In most cases on these calls, management is polite and agrees that their shares are unfairly valued, but they never actually follow through and repurchase any. These guys know their main priority is trying to fix their balance sheet first and foremost.
That is why I was surprised to read that SandRidge Energy (NYSE:SD) is planning to repurchase $200 million worth of stock:
OKLAHOMA CITY, Sept. 4, 2014 /PRNewswire/ -SandRidge Energy, Inc. (SD) today announced that its board of directors approved a program to repurchase up to $200 million of the company's common stock. Under the program's terms, shares may be repurchased on the open market, through privately negotiated transactions such as block trades, or by other means as determined by SandRidge 's management and in accordance with the requirements of the Securities and Exchange Commission. The timing and actual number of shares repurchased will depend on a variety of factors including price, corporate and regulatory requirements, and other conditions. There is no fixed termination date for this repurchase program, and the repurchase program may be suspended or discontinued at any time. Payment for shares repurchased under the program will be funded using the company's working capital.
SandRidge shares collapsed during the financial crisis of 2008 and have never really recovered.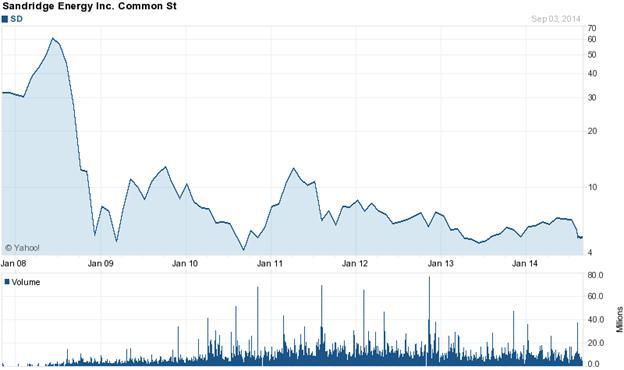 This share repurchase announcement might actually be a case of SandRidge listening to a shareholder who suggested it during the last conference call.
But this time it isn't a retail investor who doesn't fully understand the situation; it is hedge fund legend Lee Cooperman of Omega Advisors.
On the last SandRidge conference call Cooperman had the following to say:
"At the Analyst Day if I recall correctly, you expressed your view that you thought the NAV (net asset value) of the Company was something between 9 and 15 and The stock price is currently trending I guess a little bit over 5.

I'm just curious with the stock selling at less than half of what you think the NAV, how do you and the Board think about stock repurchase as an alternative to drilling lots of wells? Or maybe having a mixture of a program of creating value for the shareholders assuming you're right on NAV, buy buying stock back at half of NAV, as opposed to just drilling up all the money?"
On the call SandRidge management confirmed that they were interested in deploying its capital into the best risk adjusted return opportunities, but didn't really indicate much of an interest in repurchasing stock.
I don't know what happened behind the scenes, but Cooperman whose fund owns almost 10% of SandRidge may be the reason that the repurchase was announced.
But Is This Really A Prudent Move?
I don't own shares of SandRidge. I'm not really comfortable with the assets that the company owns because of negative surprises that they have had with production in the past. However, I don't doubt that those assets could be worth a lot more than what the current share price suggests.
What I do wonder about is whether a share buyback, especially $200 million worth, is a smart move given the balance sheet that SandRidge sports and the spending it needs to do.
As at June 30, 2014 the net debt on SandRidge's balance sheet looked like this:
Cash - $918 million
Receivables - $333 million
Payables - ($631 million)
Long Term Debt - ($3,195) million
That results in net debt of $2.58 billion.
Additionally, SandRidge has $765 million of preferred stock that carries a blended dividend rate of 7.2% which requires $55 million of cash payments every year.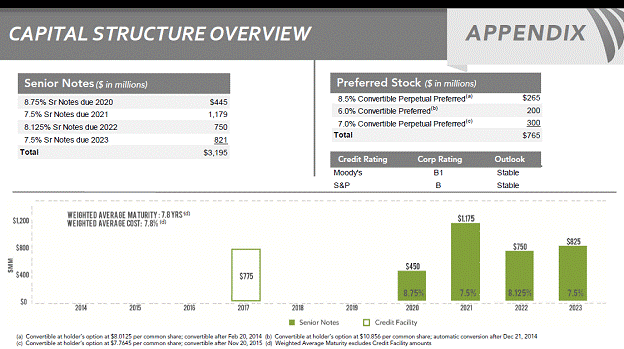 To support those obligations, SandRidge's EBITDA for the first half of 2014 looks like this:
| | |
| --- | --- |
| Net Loss From Operations | ($23,475,000) |
| Add backs | |
| Depreciation and Depletion | $212,452,000 |
| Depreciation and Amortization | $30,933,000 |
| Accretion of asset retirement obligations | $6,811,000 |
| Impairment | $167,912,000 |
| Loss on Derivatives | $127,783,000 |
| | |
| EBITDA | $522,416,000 |
| | |
| Interest expense on debt | ($123,906,000) |
| Preferred share dividends | ($27,763,000) |
| | |
| After Interest Expense | $370,747,000 |
After paying its required interest and dividends, SandRidge is generating about $740 million annually based on the first half of this year. That is the cash that SandRidge has available to spend on drilling, infrastructure, dividends, share buybacks or whatever.
Up in Canada we call that funds flow from operations, and companies with a ratio of debt to funds flow of more than 2 times are considered heavily leveraged.
With $2.58 billion in net debt and $740 million of funds flow from operations, SandRidge has a ratio of 3.48 times (and that excludes the preferred shares). At that level (in Canada at least) most investors wouldn't touch the company with a 10 foot pole.
I think the Canadian market is far too averse to leverage, because used intelligently, with a lot liquidity, leverage can be very rewarding. My point though is that SandRidge has a pretty aggressive balance sheet.
A balance sheet that is only going to deteriorate in the near term.
The 2014 capital spending plan for SandRidge is a whopping $1.475 billion or twice the cash the company generates.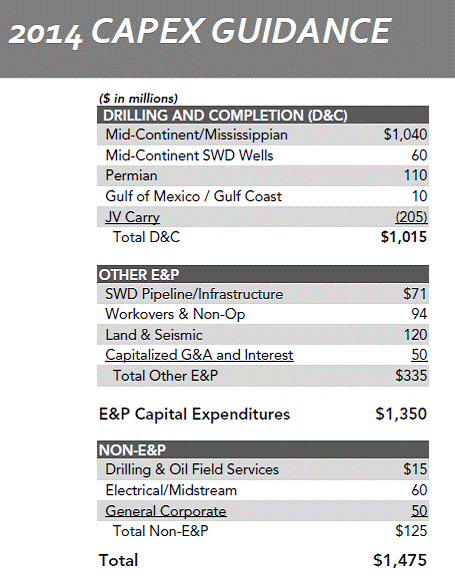 Source of image: SandRidge August Corporate Presentation
Outspending funds flow from operations by $700 million is not going to help the balance sheet.
Again, I'm not opposed to debt, but it is hard to figure how this company has $200 million that it can spare for share repurchases.
Perhaps this buyback announcement is just a message that it thinks shares are cheap and the company won't actually execute on it. I feel pretty strongly that SandRidge repurchasing shares is a good idea on paper only.
Note: Images and data are sourced from either SandRidge's most recent corporate presentation or its June 2014 10Q
Disclosure: The author has no positions in any stocks mentioned, and no plans to initiate any positions within the next 72 hours.
The author wrote this article themselves, and it expresses their own opinions. The author is not receiving compensation for it (other than from Seeking Alpha). The author has no business relationship with any company whose stock is mentioned in this article.