It is time for a competitor update to my coverage of Baidu (NASDAQ:BIDU) before the earnings release next week. A lot has happened since my last article, and I'm hoping to sift through what is material and what has simply been posturing. Items of interest have ranged from a flare up between Google (NASDAQ:GOOG) and the Chinese government to the birth of a strange Baidu blog last week targeting Western, English speaking internet users. Most of these things are immaterial to the fundamental valuation of Baidu, but some of them are more noteworthy, including the full implementation of the Phoenix nest platform and an arrangement with Rakuten. First, though, let's take a quick look at what is so appealing about Baidu in the first place.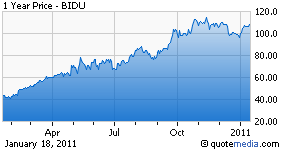 A quick review of BIDU will show that their explosive growth in revenue over the past decade has been paced only by the equally intense growth of their multiples, stock price and market cap. Baidu has as much as 73% of search revenue in China, is a favorite of the state and should be in an even better position to grow than before. Their multiples however, are what many analysts have had qualms with up to this point. Their mid thirties times trailing revenue are unheard of in history for a company that has turned out to be a good investment. The unpredictable Chinese government also provides some investors with sovereign risk woes. Most of the time, these kinds of multiple valuations prove to be red flags.
In the case of BIDU, however, I believe their prominence in what Google calls the "heart of the internet" combined with the protective nature of the Chinese government lends itself to a special type of valuation. While their multiples are high, I believe their stock price will go even higher. Let's take a look at their rivals to see if anything material has changed about the competitive landscape.
Competitor Review:
Tencent (OTCPK:TCEHY): Tencent has the best shot to be a long term competitor for Baidu. They have paid CNY 400 million over the past few years to build a search engine from scratch and possess the entrepreneurial engineers and managers to create a product worth searching on. They already have QQ, the most popular instant messenger platform in China with over 600 million users and a social media platform in pengyou.com. Tencent is also looking to unveil a mobile operating system, which would conceivably bundle their messaging service with the OS, and provide an opportunity to capitalize on the growing mobile search share. The move to internet search, however, is not an entirely natural one. Many analysts think that China does not want to rely entirely on one company for search, so Tencent may be a natural option. However, their recent deal with Groupon could put them in the crosshairs of Alibaba for e-commerce and threaten their status as a favorite of the state.
Alibaba (OTC:ALBCF): Taobao.com is the leading e-commerce site in China, accountable for over 80% of online purchases in China in 2009. Alibaba is also very cozy with the Chinese government. In many instances, their leading estimates of Chinese exports are relied upon more heavily than Bureau of Statistics data. That being said, Baidu is only an infant in the e-commerce realm, with most of their dominance reliant on search revenue. Baidu's recent deal with Japanese company Rakuten notwithstanding, Baidu is not in Alibaba's crosshairs… yet. Should Baidu become a direct threat to the B2B core of Alibaba, the gloves will most certainly come off. Jack Ma, the CEO of Alibaba is one of China's most savvy businessmen and has shown he can shrug off rivals before.
Sohu (NASDAQ:SOHU): There have been rumors that BIDU would purchase Sohu over the past few months, although there has never been much truth behind them. The purchase could make sense for Baidu on some level and they definitely could afford such a foray into acquisitions with their $1 billion in cash and short term investments. The question would be, why? Right now, Sogou.com doesn't really provide a technological advancement to challenge Baidu in the search realm. The purchase would just pad their dominant market share. The only other advantage would be using high multiple shares of BIDU for the purchase of SOHU, which has a significantly lower relative valuation.
Google (GOOG): Google recently chose to reenter the Chinese market through the booming export sector. Mostly, their efforts will be focused on Chinese companies that want access to their dominant market share in the United States. However, gradually they hope to move back into the search realm. China has been leaning towards some more liberal movements, and should they decide to forgive Google, they will be ready to pounce. For now though, expect a few more years of declines in market share as Baidu and Co. try to eat up whatever customers Google had earlier this year.
China Mobile (NYSE:CHL)/Xinhua News Agency: This partnership recently unveiled Mapworld, which is the state's equivalent to Google Earth. This offering, like many others, has been censored by the Chinese government and is not nearly as comprehensive as Google Earth. Still, it marks a shift in strategy that has been running through many sovereign nations to transfer citizen data into a private, state controlled cloud. The venture into search that I mentioned in my previous article seems to have yielded little news. Since Xinhua is run by the state, I expect them to provide very little direct threat to Baidu in the near term.
Baidu News:
Phoenix nest platform: They have fully implemented their Phoenix nest platform and hope to make continued improvements to search functions and contextual site features as they optimize this new technology. Robin Li, CEO of Baidu said that the Phoenix nest platform would allow BIDU to:

Continue to improve monetization and provide new value-added tools to help customers optimize account management and improve ROI.

The platform is definitely not fully optimized, and should allow for better utilization of space on the page for relevant features and revenue generating results.
Open application platform: BIDU realized that over 30% of their searches were for applications and not just information and have introduced an open application platform. Li said this latest technological foray allows Baidu to

... intelligently embed not only useful information, but also a wide range of applications such as web-based games, ebooks and popular software that are directly and dynamically accessible in our search results.

From initial reviews, both users and developers seem happy with the results.
Rakuten partnership: Their partnership with Rakuten represents a foray into the e-commerce realm, and while initially small, it will be a good test for their capabilities in this sphere. The ambitious partnership unveiled their site, which plans to be the largest B2B2C online mall in China, in late 2010. The site right now only has a few thousand registered merchants, but with Taobao.com increasing their rates for merchants, there may be an opportunity for Baidu and Rakuten to undercut their largest competitor.
Browser research: It has long been rumored that Baidu may be experimenting with creating a browser much in the vein of Google Chrome. This would allow them to gather more data and provide more relevant search results, along with promoting brand recognition. These are just rumors as of right now, but the rumors suggest that Baidu has planned to put more than CNY 5 billion into the development of this browser.
Expansion into other media: Baidu has also continued to improve their online communities to reach out to their younger users through music and other medias. With the incredible success of the Youku (NYSE:YOKU) IPO, they are looking into a gradual expansion into video as well. Finally, a $100 million investment in SINA (think Chinese Twitter) shows their acknowledgement of the power of social media.
Western blog: Their new blog, beat.baidu.com was recently unveiled. It targets Western English speaking users, although there is no English version of Baidu available. Furthermore, Baidu has stated that they are not looking to enter the United States market anytime soon. So, this blog could have a variety of purposes. The most reasonable would be to educate English speaking marketers looking to advertise in China, but without much knowledge of the country or language. The subjects on the blog thus far have seemed more like The National Enquirer than Bloomberg, however, so I'm not sure if they're hitting the mark.
Conclusions:

The competitive landscape for Baidu has remained markedly positive despite the fact that Google has officially reentered the market. Their technologies seem to be outpacing their direct competitors and they have made some wise investments in social media. SINA has 80 million users and will double those by the end of 2011. This could represent a potentially powerful partnership should they move in that direction. Furthermore, while Tencent represents a powerful potential rival, the sheer growth of the Chinese market combined with Baidu's prominence should make this an afterthought for the next 2-3 years. The fact is, BIDU is king of Chinese search and will continue to be over the short term.
Next week (1/25/2011), I will examine the Q4 2010 earnings release and update my valuation for BIDU.


Disclosure: I have no positions in any stocks mentioned, and no plans to initiate any positions within the next 72 hours.