By Todd Shriber & Tom Lydon
With 10-year Treasury yields tumbling this year, real estate investment trusts (REITs) and the relevant exchange traded funds have once again been a premier destination for income investors.
Only four ETFs have gained more assets than the $3.7 billion added by the Vanguard REIT ETF (NYSEArca: VNQ). Inflows to the iShares U.S. Real Estate ETF (NYSEArca: IYR) and the SPDR Dow Jones REIT ETF (NYSEArca: RWR) are nothing to scoff at either, checking in at about $1.1 billion combined.
International REIT ETFs are also gaining favor with investors and the SPDR Dow Jones International Real Estate ETF (NYSEArca: RWX) is helping to lead that charge.
No property ETF attracted more than the $304 million allocated to RWX last month as those new inflows sent the ETF's shares outstanding total to a record, reports Hui-yong Yu for Bloomberg.
With property values looking frothy in the U.S., some investors are looking to international markets for more compelling values. Despite the absence of large discounts compared to some U.S. markets, property investors enjoy the familiarity and easy-to-navigate legal structures in developed markets, such as Australia and the U.K., according to Bloomberg.
Those markets combine for nearly 28% of RWX's weight, an important consideration when acknowledging international REITs are as sensitive to interest rate changes as their U.S. counterparts. There is some encouraging news on the interest rate front for RWX.
On Monday, the Reserve Bank of Australia left interest rates unchanged at a record low of 2.5% while recent meeting minutes from the Bank of England indicate a U.K. rate hike may be further off than previously expected.
Rates in Japan and the Eurozone are low and expected to remain that way. It is entirely possible the Federal Reserve raises rates before the European Central Bank or the Bank of Japan. RWX allocates 21.1% to Japan, making it the ETF's largest country weight. Six Eurozone nations combine for about 14% of the ETF's weight.
RWX, which charges 0.59% a year, is home to 133 stocks and sports a P/E ratio of 20.7 with a price-to-book ratio of 1.18, according to State Street data. RWX's dividend yield of 4.32% is nearly 90 basis points above the rival Vanguard Global ex-U.S. Real Estate ETF (NYSEArca: VNQI).
Over the past year, RWX is up 20.2% compared to an average gain of 16.5% for VNQI and the iShares International Developed Real Estate ETF (NasdaqGM: IFGL).
SPDR Dow Jones International Real Estate ETF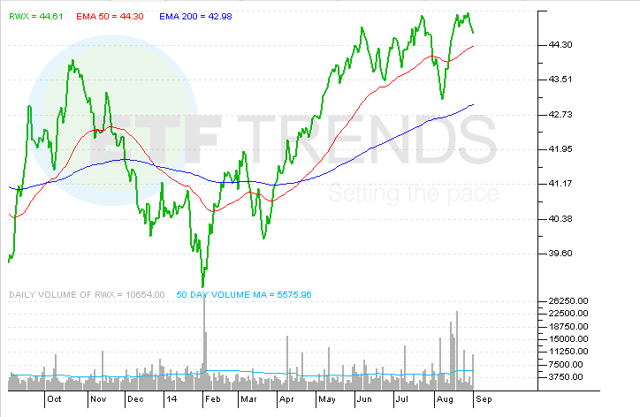 Disclosure: The author has no positions in any stocks mentioned, and no plans to initiate any positions within the next 72 hours.
The author wrote this article themselves, and it expresses their own opinions. The author is not receiving compensation for it. The author has no business relationship with any company whose stock is mentioned in this article.