On August 28, 2014, fellow Seeking Alpha contributor Adam Aloisi showcased how Realty Income Corporation (NYSE:O) has been a volatile stock in the article "Realty Income: A Textbook Study Of Opportunity Cost And Patient Income Investing."
The massive price swings in Realty Income over the course of 2013, as well as the corresponding dividend yields, are quite dramatic. In Mr. Aloisi's study, he noted:
"On May 21, 2013, shares of Realty Income traded at a high of $55.25, a roughly 4% yield point. On December 5, 2013, shares exchanged hands at $36.58, a roughly 6% yield point. In a span of 6 months, this little old, conservatively-managed REIT dropped 34%, with its yield spiking 50%. Today at $45, shares trade almost smack dab in the middle of that range, at a yield of 5%.
Based on these facts, Aloisi suggests that investors should watch the price of Realty Income, as well as other "not so cheap REITs" carefully. Regarding Realty Income, he states:
"While buying Realty Income at $44.50 may not represent over-eagerness, I'm not sure it represents a good risk-adjusted purchase."
While his thesis that "patience is an investment virtue" is very correct, those looking for exposure into the volatile, yet conservatively-managed A+ REIT Realty Income are missing two important pieces of the puzzle here: the value of dollar-cost averaging and the premium or discount Realty Income presents in its current stock price.
Dollar-Cost Averaging
Dollar-cost averaging is part of investing 101, which according to Wikipedia is "an investment strategy for reducing the impact of volatility on large purchases of financial assets such as equities."
Aloisi notes that investors who bought the company stock near the peak last year at ~$55/share would not be very happy versus investors who picked the stock up on the cheap at ~$36.
A continuation of his study would first include the impact of dollar-cost averaging with Realty Income.
In this new study, let there be two investors that have decided to buy into Realty Income over the course of 2013, Investor A and Investor B. Investor A averages in monthly and Investor B averages in quarterly. Each has $60k to invest.
In this scenario, Investor A buys $5k per each month on the 1st day of trading for each month over the year. Investor B buys in at $15k per quarter on the first day of trading each quarter, which will save him the cost and time of eight trades. For this study, each investor buys in at the closing price of that particular day and each trade costs $8.95. The trading costs are determined using the discount-trading firm Charles Schwab's U.S.-listed equity transaction fees (NYSE:SCHW) as a baseline cost.
Assuming no interest on cash held on the sidelines (which was basically true in 2013), here are the results:
Realty Income DCA Results
 
Investor A
Investor B
Shares Owned
1,411.84
1,342.58
Cumulative Cost Basis
$42.42
$44.66
Total Return 2013
-0.93%
-5.34%
Total Return (2013 - 8/29/14)
11.34%
6.34%
Total Trading Fees
$107.40
$35.80
Total Div./Month (current)
$258.37
$245.69
August 2014 Closing Share Price
$44.72
$44.72
Stock Only Return
5.42%
0.13%
Based on the August 2014 closing price of Realty Income of $44.72 per share, both Investor A and Investor B had a cost basis below current value. Also, both investors have earned a year of dividends, which increased each time cash was deployed to buy more shares.
Investor B has a higher cost basis however, as his quarterly-interval averaging gave him more risk to share price swings. For example, the first day of trading in Q2 2013 showcased a closing price of $50.97.
Investor B however did have a higher (pre-tax) total return in 2013 as well as 2013 to YTD 2014 (using August 2014 last day of trading as a proxy). This is due to quarterly purchases increasing the share count quicker than Investor A's monthly purchases, which increased the total dividend income in both time frames.
Investor A has more shares than Investor B however, such that if both investors either A) sold their respective total position today or B) held for the long term, Investor A will make more money.
While Investor A won this time (monthly dollar-cost averaging), Investor B's strategy could clearly win if the quarterly stock pricing was lower than subsequent months in the same quarter.
The importance of this is to showcase how monthly dollar-cost averaging reduces investor risk, as a more "stable" aggregate company cost-basis is achieved.
The Results Versus Aloisi High/Low Investor Purchases
With the Aloisi study, the climax and stock-bottom prices were used for Realty Income. While only a small percentage of investors bought shares at those prices last year, it does showcase that the risk is very high in volatile stocks and that in such cases, dollar-cost averaging is an easy, low-risk solution to purchasing a long-term investment in a potentially volatile name and/or market.
Realty Income DCA Results
 
Investor A
Investor B
Aloisi High
Aloisi Low
Risk Level
Low
Medium-Low
High
High
Shares Owned
1,411.839
1,342.582
1,193.852
1,639.886
Cumulative Cost Basis
$42.42
$44.66
$50.25
$36.58
Total Return (2013 - 1/02/14)
-0.93%
-5.34%
-15.96%
12.46%
Total Return (2013 - 8/29/14)
11.34%
6.34%
-5.58%
26.72%
Total Trading Fees
$107.40
$35.80
$8.95
$8.95
Total Div./Month (current)
$258.37
$245.69
$218.47
$300.12
August 2014 Closing Share Price
$44.72
$44.72
$44.72
$44.72
Stock Only Return
5.42%
0.13%
-11.00%
22.25%
Realty Income: Current Valuation
Investors looking to purchase Realty Income Corporation must note that the lowest-risk scenario here is monthly dollar-cost averaging, however the current valuation is important for several reasons.
First, some investors may not have $60k or more to deploy into this name. With only $5k, dollar-cost averaging may only make sense with two purchases. Also, there are investors who want to make a tidy sum of their astute investment decisions.
In looking at the August closing value of Realty Income, these investors must question the $44.72 price and ask themselves, "Is this price a semi-fair valuation, as Aloisi suggests?"
Whether $44.72 is close to fair value or not, it is important to note that Realty Income is a solid, well-managed REIT and a leading landlord in the domestic net-lease retail space.
Investors looking to get into this reputable dividend leader for solid, long-term income growth, dollar-cost averaging can help take the guess out of the valuation and the risk out of the current share price.
Spreadsheets For Reference Only
While the math is easy for the Alosi high/low purchase scenarios, it is much more complicated to determine total returns when it comes to averaging-in as dividend income varies. With Realty Income, dividends are distributed monthly.
The returns in the spreadsheets below for both Investor A and Investor B make the following assumptions:
1) Purchase price is the closing value of the stock (as stated above).
2) Dividend income is rounded to the nearest tenth of a cent, such that $0.1827917 equals $0.183 and $0.1824792 equals $0.182.
3) Dividends to be received during month adjusted to reflect the dividend gain on the first trading day of the month (which is assumed to be each month's ex-dividend date).
Also for those interested, the total return column is based on the cumulative investment and as such, it does not include sideline cash.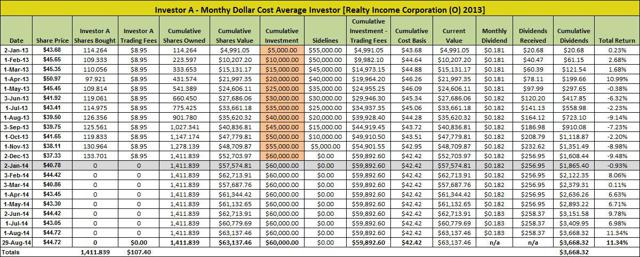 Click to enlarge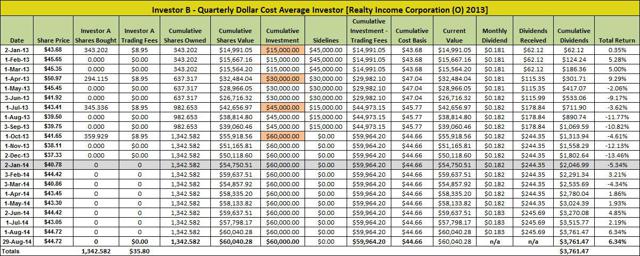 Click to enlarge
Disclosure: The author has no positions in any stocks mentioned, and no plans to initiate any positions within the next 72 hours.
The author wrote this article themselves, and it expresses their own opinions. The author is not receiving compensation for it (other than from Seeking Alpha). The author has no business relationship with any company whose stock is mentioned in this article.