This is my second article in a series called "The Sucker Yield REITs" and I'll cut to the chase on this one: Annaly Capital Management (NYSE:NLY) is, in my opinion, a sucker-yield REIT.
As I explained in a previous article, Josh Peters, author of The Ultimate Dividend Playbook defines a "sucker yield stock" as "a ridiculous yield combined with an inherently vulnerable business model that sends ominous signals of doom".
My goal in writing the "sucker yield" articles is not to make the companies look bad, but instead to remind investors that chasing yield is dangerous and by examining the good, bad, and ugly, investors can form a clear opinion without being distracted with a tempting high-paying dividend yield. As I explained in my previous "sucker-yield" article:
As a true measure of protection, it's critical that investors don't look at the yield until analyzing the safety of the dividend, the ability for the dividend to grow, and the overall merit of the stock. As (Josh) Peters explained, "the dependability of dividends is a big reason that investors purchase REIT shares and the power of repeatability is measured best based on quality, not quantity.
Lest I be called an alarmist, it's important to realize that an ominous signal of doom does not have to mean an investor will lose all of his or her money, rather it can mean that for an income investor, the dividend stream may not be dependable and unable to grow.
Today we will be focusing on determining whether Annaly Capital Management is a dividend treat of the "sucker yield" or "everlasting gobstopper" variety.
Annaly owns, manages, and finances a portfolio of real estate related investments, including mortgage pass-through certificates, collateralized mortgage obligations (CMOs), Agency callable debentures, and other securities representing interests in or obligations backed by pools of mortgage loans.
Let me start out with the following 30,000 foot view of this mortgage REIT. Like all mortgage REITs, the company borrows money and raises equity and invests in mortgage related securities. The profit is the spread between their cost of funds and the yield on the investments they purchase. In order to maximize their profit, they borrow a multiple of their equity and use this leverage to buy more assets and earn their spread on a larger asset base.
Profit, and therefore the ability to pay dividends, is a function of the asset performance, the cost of funds, the ability to raise capital and, ultimately, execution. Let's look at these factors and try to determine whether each is a "sucker" or a "gobstopper".
Asset performance:
There are not many investors expecting lower rates these days, to the contrary, higher rates are expected (when, not if). How will Annaly perform if rates rise? The company has provided us with the answer (source HERE):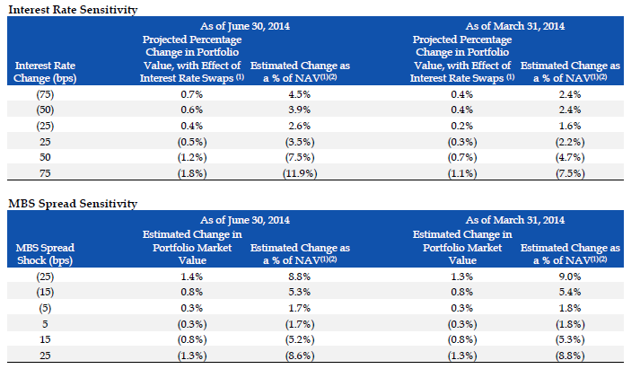 Annaly does well in a falling rate environment, but not so well in a rising rate environment. They have reduced their hedging from a year ago (look at the difference in portfolio changes with the effect of interest rate swaps), which has increased the portfolio's net exposure to changes in rates. With the current strategy in place, when rates rise, the value of Annaly's portfolio (and therefore book value and ability to sell investments at a gain) decreases.
The yield on mortgages (and therefore the income) is also affected by prepayments. As mortgages are prepaid by homeowners, the premium (discount) that an investor pays on the mortgage has to be amortized (accreted) quicker, changing the yield on the investment - and therefore the realized spread (and income).
As the following chart illustrates, Annaly is buying premium coupon mortgages and the prepayment rate has subsequently slowed (as one might expect). When rates rise, the premium amortization will "speed up" (higher CPR) and reduce realized funds available for distribution.
iREIT Wonka rating: Sucker. The consistency of funds available for distribution (and therefore dividends) will be adversely affected by the expected move in rates.
Ability to raise capital:
The largest source of funds for Annaly is repurchase agreements ("repo"). As noted in their most recent 10-Q, the company had $70.4 billion of repurchase agreements outstanding as of June 30, 2014. A summary of their repurchase agreements by maturity and rate is as follows:

The repo market is vital to the sector and to Annaly. This market is where the majority of the firm's funding comes from. As with all companies, reliance on short-term funding can be dangerous and, when focused on a single sector, it can be downright lethal (as evidenced by the market lock-up in 2008). Annaly has done a decent job extending their repo maturities to manage their risk rollover risk:

The problem now, however, is the changes afoot in the repo market itself. As stated in a recent WSJ article:
Big banks, which act as middlemen between borrowers and lenders, have been pulling back. In recent weeks, senior bankers have said they are reluctant to participate in the market because of regulatory requirements that make repo trading more expensive.
Goldman Sachs Group Inc. reduced its repo activity by about $42 billion in the first six months of this year, citing capital requirements. Barclays PLC cut back lending through repos and similar agreements by roughly $25 billion, to $289 billion in the first half of the year. Bank of America Corp. and Citigroup Inc. made first-half reductions in repo lending of about $11.4 billion and about $8 billion, respectively. J.P. Morgan Chase & Co.'s repo lending stayed roughly flat.
The regulation the WSJ article refers to is BASEL III and specifically, the leverage ratio. As repo increases the size of the balance sheet, additional capital will have to be held against it, making it more "expensive". Banks have been withdrawing from the repo market as the return on capital from repo is not significant and therefore that capital should be allocated elsewhere. As the market shrinks, mortgage REIT funding could become more expensive and the availability of credit could be reduced - both factors serve to compress the net interest spread and therefore the funds available for distribution.
As many are aware, Annaly also has the ability to borrow from the Federal Home Loan Bank (Des Moines), a great source of longer dated and modestly priced funding. As with a number of mortgage REITs, this was meant to reduce risks by diversifying (and lengthening) funding. Unfortunately, on September 2nd the Federal Housing Finance Authority proposed new rules that would limit (and eventually end) the availability of FHLB advances to mortgage REITs.
iREIT Wonka rating: Sucker. Annaly relies heavily on borrowing in a market that is under pressure and future changes appear negative.
The Most Important Thing:
I'll admit Annaly has been transitioning to a more stable, reliable income profile (including investing in net lease assets); however, I would NEVER advocate this security as a retirement stock since this mREIT remains an extremely volatile business model.
It's important to recognize that because Annaly doesn't enjoy a highly predictable dividend history, the successful investor must advocate time and resources on understanding the more complex hedging strategies (as referenced above). Trading gains and losses add volatility to Annaly's results, making the predictability - and repeatability - of earnings and dividends difficult at best. Here's a snapshot of dividends paid: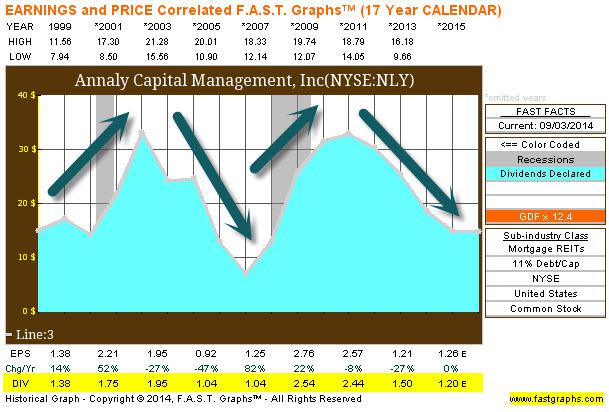 Here's a snapshot of Annaly's 10-year dividend yield history. As you can see the dividend yield is almost the same today as it was 10 years ago - but consider the roller coaster ride along the way: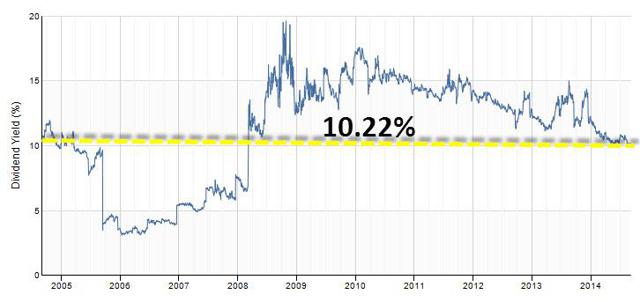 Remember, there are two ways that investors get paid - capital gains and dividends - and it's easy to get lured into the dividend mystic with Annaly's double-digit dividend promise. But also remember: capital gains (or share price appreciation) is significantly influenced by how the dividend performs. It's simply ignorant to believe that the overall performance (total return) of your portfolio will outperform by owning companies with a history of dividend volatility.
Take a look at the chart below (this is on a logarithmic scale). The upper line is total return for mREITs, which has averaged +5.32% per year since data started being collected at the beginning of 1972 (source: NAREIT). The lower line is mREIT price return, which has averaged -6.32% per year over the same period. The difference between them is income return, which has averaged close to 12% per year. What does that mean? It's simple, mREIT shares go down more than they go up and the reason is because of the volatility of the dividend payouts.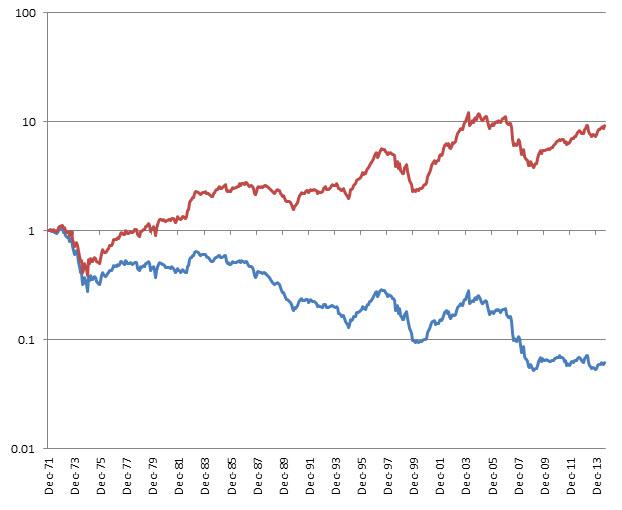 Annaly is trading at $11.74 per shares and since going public (on October 8, 1997) the share price has declined by -7.01%.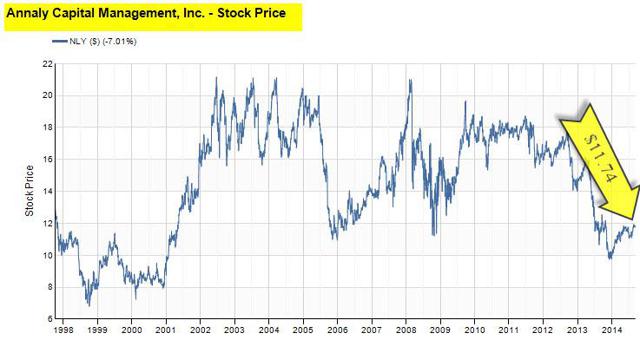 Annaly's Total Return during the same period (as above - since October 8, 1997) is 557.7%.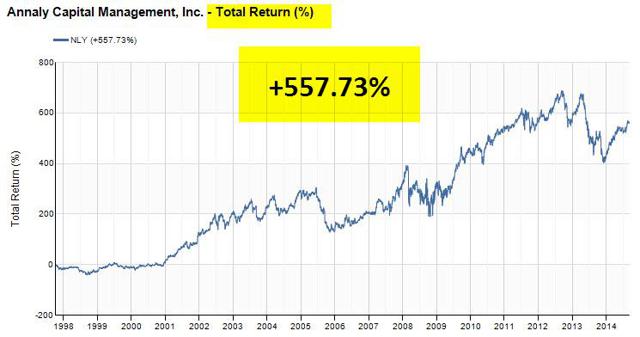 What this tells us is that Annaly is an income stock, plain and simple. You are not buying this mREIT for capital appreciation and if that is why you are buying it (or own it now for that reason), RUN. Then you must ask yourself, if I'm buying Annaly purely for income, how safe is it?
Safety is measured by risk tolerance so I can't tell you how safe Annaly is unless I'm in your shoes. But since I'm in my shoes, I'll tell you how I feel about the dividend safety.
There is absolutely no margin of safety that I would accept to invest in a business model that has no relevant method of producing consistent earnings over time. However large the dividend yield, I would never invest in a stock in which I have to predict short-term market direction (when history tells me that share prices in mREITs have been declining for decades).
As I have learned, it's simply better to be in the market, invested in value stocks that offer the highest potential return than to play the timing game. As I said at the outset, I'm looking for everlasting gobstoppers, not instant gratification.
iREIT Wonka rating: Sucker
I'll stay focused on buying sound securities where I know my principal is safe and I will be getting a fair income return on my capital. As Frank J Williams addressed high risk alternatives in the timeless book, If You Must Speculate, Learn The Rules:
If you are intelligent, the market will teach you caution and fortitude, sharpen your wits, and reduce your pride. If you are foolish, and refuse to learn a lesson, it will ridicule you, laugh you to scorn, break you, and toss you to the rubbish-heap.
Sucker-yields can be dangerous so always keep your eyes on the prize: repeatable sources of income that provide steady and reliable dividends. The most durable companies provide the strongest sources of differentiation and a higher degree of predictability. The secret ingredients - consistency and durability - are attributes for competitive advantage and are easiest way to win the golden ticket.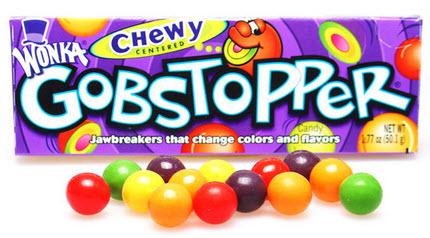 To learn about the "everlasting REIT gobstoppers" check out my newsletter HERE.
Source: FAST Graphs and Annaly filings.
Disclaimer: This article is intended to provide information to interested parties. As I have no knowledge of individual investor circumstances, goals, and/or portfolio concentration or diversification, readers are expected to complete their own due diligence before purchasing any stocks mentioned or recommended.
Disclosure: The author is long O, DLR, VTR, HTA, STAG, CSG, GPT, ARCP, ROIC, HCN, OHI, LXP, KIM, WPC, DOC, UDF, EXR, MYCC.
The author wrote this article themselves, and it expresses their own opinions. The author is not receiving compensation for it (other than from Seeking Alpha). The author has no business relationship with any company whose stock is mentioned in this article.