The solar industry is a really great idea. The sun isn't going to burn out for a very, very long time, and if we can efficiently capture its glow then we'll have our energy needs covered. In fact, it's such a great idea that it is truly worth trying to find a good solar company to invest in.
It's a lot easier said than done. The average net margin in the solar industry is 0.1%. It is also difficult because it is a relatively new industry. This makes it much more harder to find proven names. I was biased against Chinese companies before I read this article in BusinessWeek on fraud in Chinese small caps. The SEC simply can't enforce accounting standards across the seas in a (nominally) communist country. Costs in the solar industry have been falling continually since its inception. It is a technology driven industry, and thus requires some scientific learning to understand.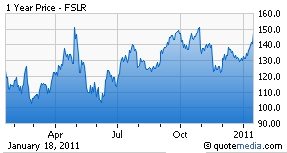 One clear leader emerges in this search for the best solar company: First Solar (NASDAQ:FSLR). It is a U.S. company, based in Arizona. It is over six times larger than its closest competitor Trina Solar (NYSE:TSL). This is because First Solar got an early start and is the cost leader in the industry. First Solar's cost of production of one watt is 28% lower than Trina Solar's. This is because First Solar has a technology that is basically all its own: Cadmium Telluride panels.
These panels are both Achilles and his heel for First Solar. They have led to First Solar's preeminence in the solar industry. No other producer using silicon panels can compete. Cadmium Telluride patents have turned First Solar into Achilles, but they will also be his heel.
Cadmium is highly toxic, and is illegal in the European Union. The European Union accounts for over 85% of net sales for First Solar. The cadmium used in First Solar's panels is encased within layers of glass, but it is still illegal under current regulations. First Solar has instituted a recycling program to largely mitigate the negative effects that dumping into landfills would have. Currently, these laws are coming under scrutiny and the E.U. is looking into First Solar's panels. It should report sometime this year. In the meantime, this is an unlikely but potentially devastating threat.
The problems don't stop at Cadmium. Tellurium is one of the most common heavy elements in the universe. Too bad that most of it is found in outer space and beneath the sea floor. The abundance of tellurium in the earth's crust is roughly equivalent to that of platinum. Less than 1000 tons of it are mined annually. The amount mined is only half of the concern: almost all tellurium mined is generated as a byproduct of copper, gold, and lead mining. To give a sense of the rarity: refining 500 tons of copper generates roughly .45kg of tellurium. The net effect of this is that the supply and the demand of tellurium are not tied together very well. This is a major problem, as a drop in copper mining could lead to a spike in tellurium prices that would give First Solar problems.
In contrast is silicon. Nearly all other solar panel manufacturers use silicon in their panels instead of cadmium telluride. Silicon is the second most abundant element in the earth's crust. Its supply and demand are directly correlated. Since the supply is huge, the price is much more stable than tellurium's is.
It is hard to determine when First Solar's revenue growth will start coming down to sub-100 levels. It is currently trading at a measly 20 times the last twelve months earnings and is growing earnings by 375% per year. The technical picture is equally confusing. It seems that First Solar has done a whole lot of nothing for about a year now, despite earnings doubling. It is currently trading at the upper end of the $100 to $150 range. This would suggest a buy at either a break above $150 (with a stop slightly below) or on a drop to $100.
Insider ownership is up a whopping 29% over the last twelve months. 75% of shares are owned by institutions. Despite this, both management and institutions have been selling in the last few quarters.
The ownership picture says it all. The people who (supposedly) know what's what own a lot of First Solar. Despite this, there is a lot of uncertainty longer-term. Take the cost projections right now. First Solar reduced costs per watt by 9% last year to $0.77 per watt. Trina Solar, the next lowest-cost producer, brought costs down 25% to $1.08 per watt. This is still a huge gap between First Solar and the competition, but it isn't insurmountable. If these cost-cutting rates continue, Trina Solar will take the number one spot as soon as 2013. Maybe First Solar's stellar management team will overcome these hurdles, but it sure won't be easy.
Disclosure: I have no positions in any stocks mentioned, and no plans to initiate any positions within the next 72 hours.