By Todd Shriber & Tom Lydon
To put it delicately, 2014 has been an action-packed year for the iShares MSCI Turkey ETF (NYSEArca: TUR).
Amid violent political protests that send the lira tumbling to start the year, TUR stumbled by nearly 13% through the first six weeks of the year, becoming the poster child for the sell-off in emerging markets ETFs at the time. So precipitous was the lira's decline that in January, the Turkish central bank raised its overnight lending rate to 12% from 7.75% and more than doubled the overnight borrowing rate to 8% to 3.5% in one of the boldest moves by any central bank in recent memory to defend a flailing currency.
It is hard to argue with the results as TUR, the lone Turkey-specific ETF, has surged nearly 34%. However, as is often the case with TUR, risks remain that could hamper the ETF over the near-to-medium term.
"However, national politics and domestic policymaking might be headed in a direction that could compromise the hard-fought reputation the AKP-led government has earned from the financial community for having redressed the country's deteriorating fiscal and external accounts and restored the macro-economy to a path of sustainable, non-inflationary growth," said S&P Capital IQ in a recent research note.
Although S&P Capital IQ rates TUR overweight, the research firm notes Turkey's application for European Union membership continues to be stymied by EU heavyweights Germany and France.
Turkey, once the envy of emerging Europe economies, now faces the specter of declining fundamentals, which could come to pressure the $515.3 million TUR.
"The steeply declining trend in the nation's purchasing managers' index during the last eight months, on top of 3.7% appreciation of the Turkish lira against the euro since end-2013, is particularly worrying for the domestic economy. Having leveled off fractionally in excess of 4%, real GDP growth is not expected to regain much upward momentum through the first quarter of 2015 despite anticipated further easing by the central bank. Re-accelerating price pressures will continue to dampen real wage growth and, as a result, consumer spending, while fixed capital formation will remain in decline irrespective of the efforts of the monetary authorities to induce an expansion in capital spending through a steady reduction in borrowing costs," according to S&P Capital IQ.
There is also speculation Turkey is vulnerable to a sovereign ratings downgrade that could take its credit rating into junk territory barely more than a year after it was promoted to investment-grade status.
Turkey has a Baa3 rating from Moody's Investors Service and a BBB- rating from Fitch, near the lowest investment-grade ratings those firms use. Standard & Poor's rates Turkey's sovereign debt BB+. "There is significant downside risk to the growth forecast as the impact of the U.S. Fed tapering and the country's political developments continue to unfold, potentially triggering further liquidity tightening and weakening of domestic demand," Moody's Investors Service said earlier this year.
An array of emerging markets bond ETFs, including the ProShares Short Term USD Emerging Market Bond ETF (BATS: EMSH), iShares Emerging Markets High Yield Bond ETF (NYSEArca: EMHY) and the iShares J.P. Morgan USD Emerging Markets Bond ETF (NYSEArca: EMB), the largest U.S.-listed emerging markets bond ETF, could be adversely affected by a downgrade to Turkey.
Additionally, Turkish equities must contend with valuations that are frothy compared to much of the developing world.
"Absolute and relative valuations of Turkey's equity market appear expensive by comparison with many of its Eastern European, Middle Eastern and African (EEMEA) peers, except for South Africa (15.8x), Poland (14.3x) and the Czech Republic (13.2x). Trading at a 1.6 point premium to its EEMEA benchmark and a hefty 5.2 point premium to its Eastern European bellwether, Turkey's positive-adjusted, one-year forward price-earnings multiple (p/e) of 11.3x may be well below its record high (25.8x), but exceeds its all-time low by 10.4 points and is a full 2 points above its historical average (9.3x). While some analysts have made a case for p/e multiple expansion, inauspicious economic forecasts would appear to rule out such a possibility," said S&P Capital IQ.
iShares MSCI Turkey ETF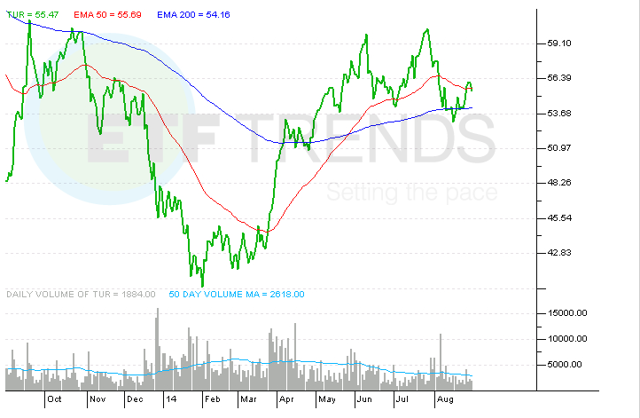 Tom Lydon's clients own shares of EMB.
Disclosure: The author has no positions in any stocks mentioned, and no plans to initiate any positions within the next 72 hours.
The author wrote this article themselves, and it expresses their own opinions. The author is not receiving compensation for it. The author has no business relationship with any company whose stock is mentioned in this article.