More than four years ago I wrote a story about Coffee Holding (NASDAQ:JVA), titled:
What's Good For You, And Good For Coffee Holding
The stock had a parabolic move in 2011, but a lackluster performance ever since. The main question investors and speculators ask themselves now: Could the stock surge again?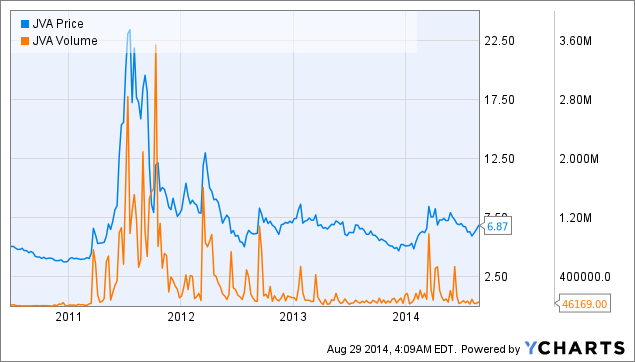 First, let me explain a parabolic uptrend.
During a parabolic uptrend, there are almost no sellers in the market. This phenomenon creates a vacuum of buying and occurs only in momentum stocks, such as Coffee Holding. Regardless of the stock price, traders rush to get it in because they fear of being left behind.
Parabolic moves can make large price swings in a very short time frame.
Why it could happen?
The coffee market is on the rise again.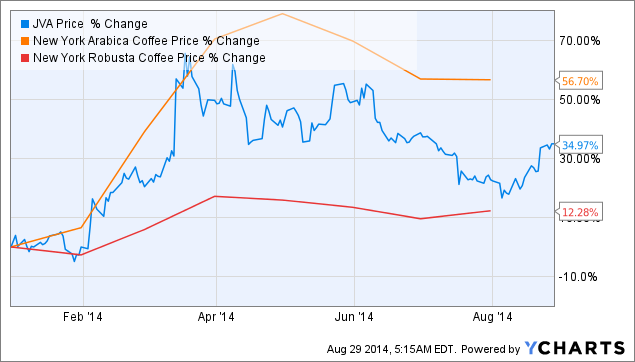 This year, the price of robusta coffee, has increased more than 12%.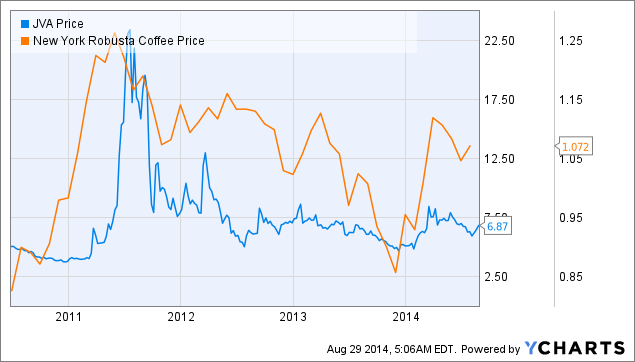 The pricier arabica beans have surged by more than 50% this year, still under the highs of 2011 when it soared well over $2.75. Bad weather hit crops in Brasil, so there are major concerns about tight supplies from the Brazilian drought.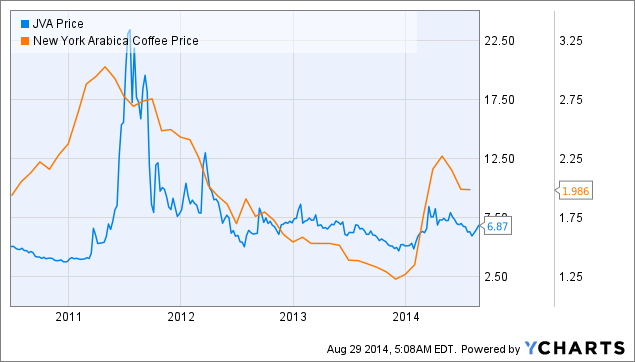 Another catalyst for the stock could be the fact that India's powerhouse Tata Global Beverages (OTC:TTAEY) is acquiring aggressively to become a major player in tea, coffee and bottled water. Tata aims to achieve revenues of $5 billion by 2015. This is achievable if it sustains its rapid expansion. While the company is already a leading player in tea globally, it would take many years to replicate that position in coffee if relying solely on organic growth over the medium term. Its recent acquisition of Australian company Earth Rules is a positive move in this direction.
Tata's coffee business is relatively underdeveloped, but its goal is clear: it wants to become also a global major player in the coffee business. Tata is still a secondary player in coffee globally, ranking 20th in 2013 with retail sales of just $363 million. The company's two major brands are Eight O'Clock Coffee, which offers standard fresh ground coffee and fresh coffee beans, and Grand, an instant coffee brand. TGBL also has a presence in coffee pods thanks to a licensing agreement with Green Mountain Coffee Roasters (NASDAQ:GMCR), the global leader in the category.
Tata, but also Green Mountain, could be interested in acquiring Coffee Holding. Green Mountain is one of Coffee's biggest clients.
Final Note
The speculation that consumption will outstrip supply in 2014-2015, will be beneficial for the coffee price. The recent uptick in coffee prices will also lead to increased profits for Coffee Holding. The first two quarters they raked in $0.40. If they can achieve earnings per share of $0.80 this year, you are looking to a company that is trading below 10x earnings.
The recent interest in coffee related investments could lead to renewed interest in this small cap company.
Sources:
- Euromonitor's article: Tata's State of Play in Global Coffee and Earth Rules Acquisition
Disclosure: The author is long JVA.
The author wrote this article themselves, and it expresses their own opinions. The author is not receiving compensation for it (other than from Seeking Alpha). The author has no business relationship with any company whose stock is mentioned in this article.
Editor's Note: This article covers one or more stocks trading at less than $1 per share and/or with less than a $100 million market cap. Please be aware of the risks associated with these stocks.