Sabra Health Care REIT Inc. (NASDAQ:SBRA) is a self-managed REIT that owns and invests in real estate serving the health care industry. It primarily generates revenues by leasing its properties to tenants and operators throughout the US. These are usually triple-net lease agreements. For those who don't know, this means the tenant is responsible for the real estate taxes, the building insurance, and the maintenance of the common area in addition to paying the rent. Sabra has 102 skilled nursing/post-acute facilities, 26 senior housing facilities, and 2 acute care hospitals. It also has 12 different debt investments. The real estate properties are located in 28 states; and they include 13,550 licensed beds/units.
Sabra had a good to great Q2 2014. It increased normalized FFO (+$0.57) per common share by 39% year over year and normalized AFFO (+$0.53) by 29%. Net income was $0.28 per common share compared to a loss of (-$0.09) per common share. Revenues increased 33% year over year to $43.0 million. Sabra generated $27.7 million of cash from operating activities compared to $2.4 million in the year earlier quarter. EBITDARM Coverage and EBITDAR Coverage for Sabra's portfolio were 1.63x and 1.24x respectively for the trailing twelve months ended June 30, 2014. The company declared a $0.38 per common share cash dividend that was paid on August 29, 2014 to shareholders of record on August 15, 2014. The above were all good to great statistics.
To put Sabra's current situation in perspective, it was incorporated May 10, 2010 as a wholly owned subsidiary of Sun Healthcare Group, Inc., which is a subsidiary of Genesis HealthCare. Genesis HealthCare is currently in the process of combining with the Skilled HealthCare Group Inc. SBRA completed a Separation and REIT Conversion Merger on November 15, 2010. The pie charts below describe what has happened since that time.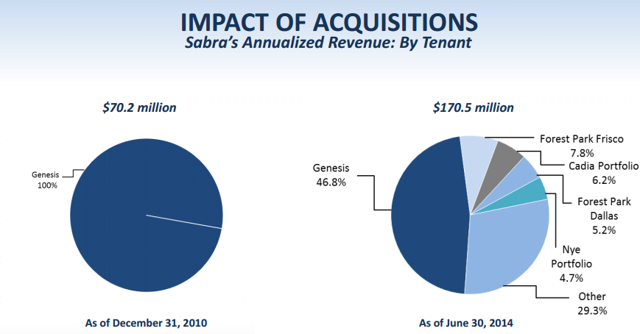 As investors can see 100% of SBRA's tenants were Genesis at the time of the Separation. Since that time SBRA has diversified to have many different tenants. This is normally thought to be healthier for a company (not to be dependent on the wellbeing of one customer).
SBRA has not only diversified in terms of tenants; it has diversified the amount and types of the businesses it is in. The pie charts below show the changes to the business since the Separation.

The company has gone from almost 95% revenues from skilled nursing facilities / post acute care to 68.6% from the skilled nursing facilities, 13.4% from senior housing, and 18.0% from Acute Care Hospitals. Again this is probably a good move for the company. The expansion in senior housing is probably propitious. This area is expected to expand greatly as the baby boomer population in the US ages. Logically it makes sense to expand in this likely highly profitable area. It is another example of good management by SBRA, which should make investors happy.
SBRA has also diversified in terms of customer base since the Separation. The pie charts below describe this.

The private pay amount has gone up from 23.7% to 41.6% from December 10, 2014 to June 30, 2014. The "private pay" business is generally more lucrative than the government pay business. This too should help SBRA's profits.
Now some may wonder if SBRA can continue its great progress. There is no way of accurately predicting the future; but the charts below show the steady growth of the normalized FFO and normalized AFFO per share and dividend per share over the last few years.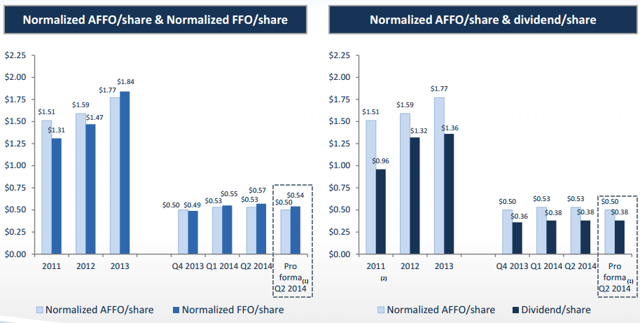 One point to note is that in 2011, SBRA only paid three quarters of a $0.32 per common share dividend. That is why that year's dividend is so much lower. Otherwise what investors can see is good steady growth of the most important metrics for them, including the dividend.
The average occupancy has also been relatively steady. It was 89.0% in FY2011 and it was 88.8% in FY2013. Thus far for 2014 it has been 88.2%, which is a bit lower. However, the year is not over yet. Also one might normally expect that the move to a higher percentage of private pay customers would translate into a slightly lower occupancy rate. In any case the occupancy rate seems very steady. This is good for SBRA and for investors.
Another way of looking at the value of SBRA (a $2B enterprise value) is by comparing it to a much bigger Health Care REIT Inc. (NYSE:HCN) which has a $31B enterprise value. SBRA's Price to Book is 2.07; and its PEG ratio (5 year expected) is 1.37. HCN's Price to Book is a comparable 1.86; but its PEG ratio is a much more slowly growing 3.0. In other words SBRA is in the same relative "value" range; but it is growing at a much faster rate. Investors have to like this.
Another measure of SBRA's financial strength is the last twelve months' Debt to EBITA ratio and the Interest Coverage (see charts below).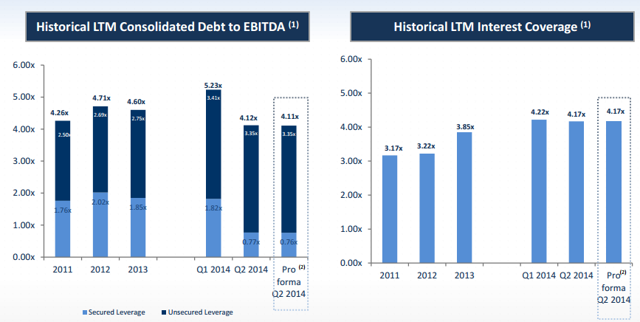 Investors can see that SBRA is managing its Debt to EBITDA ratio decently. It is doing an appropriate amount of stock sales to keep the ratio in a safe range. SBRA is also managing its Interest Coverage (ability to pay its debts) well. All in all SBRA appears to be a stable, well-managed company that is growing at a faster rate than many other companies in its area. It also pays a comparable dividend.
Q2 2014 was no exception to SBRA's growth theme. Important moves for Q2 2014 include:
It purchased an assisted living facility with a total of 140 beds/units for a total of $23.8 million.
It funded 3 preferred equity investments for a total of $6.4 million. These are for the development and completion of facilities amounting to 267 beds/units.
It repaid $29.8 million of existing variable rate indebtedness which had a 5.0% interest rate (to help achieve lower interest rates).
It completed a common stock public offering of 8.1 million new shares at $28.25 per share. This provided net proceeds of $219.1 million before expenses.
It received commitments for $500 million of an unsecured revolving credit facility at an interest rate improvement of 90 basis points over the previous rate.
The full list for Q2 2014 is much more extensive; but investors should get the idea that SBRA is growing. It intends to keep growing at a good rate, while maintaining good financial discipline.
Finally SBRA operates with partners. These relationships allow it to do more and better deals (see table below).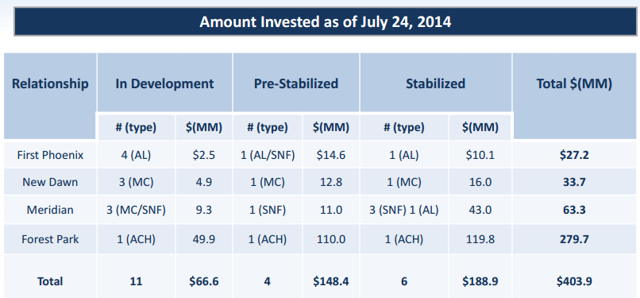 It is a lot easier to grow quickly when you have relatively trusted relationship "partners" feeding you good deals. Being good at relationships is just another achievement of SBRA.
In sum SBRA is making a lot of sensible moves that should make it more stable, more diverse, and more profitable. They should also make it easier for the company to grow, especially since the senior housing business is expected to grow dramatically as the baby boomers age. The average analyst sees 16.80% EPS growth for this year, 9.80% EPS growth in FY2015, and overall 9.70% next five years' EPS growth per annum. These are good to great numbers for a company like SBRA. When you look at the Q2 2014 growth in the normalized FFO and AFFO numbers above, you really like the progress SBRA is making. SBRA is a buy on strategy, management, and results. The approximately 5.30% annual dividend is another good reason to buy SBRA.
The two year chart of SBRA provides some technical direction for this trade.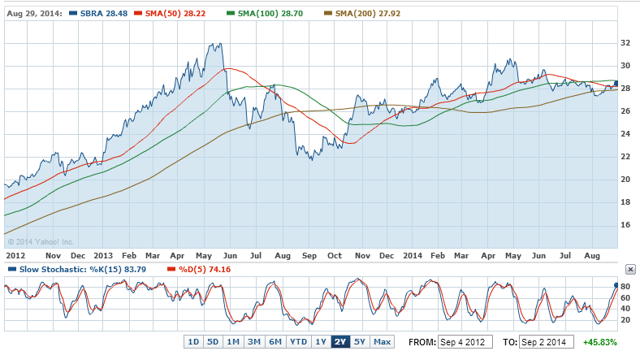 The slow stochastic sub chart shows that SBRA is near overbought levels. The main chart shows that SBRA has been in a sideways consolidation pattern for the last approximately nine months. The company has been in a minor uptrend since the July 30, 2014 earnings report. This seems reasonable given the Q2 2014 results, which were a beat. SBRA gives every appearance of being a growing, stable, good dividend payer. It is a buy. The average analysts' recommendation of 2.2 (a buy) agrees with this call. The good fundamental results indicate that the stock price direction should be upward (if slowly).
Given the technicals, SBRA easily has upside to $32 in the near term based on its fundamental performance (more than 10% stock price upside). After it gets there, it could break out if the Q3 results are good to great. However, investors should remember that the overall market may affect near term performance. SBRA has a Beta of 1.67. This tells investors that it will be significantly affected by movements in the overall market. If you think the overall market is due to fall soon, you may wish to average in; or you may wish to hold off buying entirely until you see at least a dip in the overall market. Otherwise SBRA is a buy. With the recent consolidation phase, SBRA should have good upside near term on a fundamental and technical basis. The only real worry is the direction of the overall market. I will leave it up to readers to determine the risks this represents. SBRA should be a good, income yielding, longer term holding.
Disclosure: The author has no positions in any stocks mentioned, and no plans to initiate any positions within the next 72 hours.
The author wrote this article themselves, and it expresses their own opinions. The author is not receiving compensation for it (other than from Seeking Alpha). The author has no business relationship with any company whose stock is mentioned in this article.