Cree (NASDAQ:CREE), the highly volatile LED company, reported earnings [see call transcript] below an even cautious estimate of 58 cents after other companies in the space gave less than optimistic guidance. Coming in at $256 Million or 55 cents a share sent share prices down over 16% in after hours trading. Helping to fuel the selling pressure was lower forward guidance of $245 to $265 million.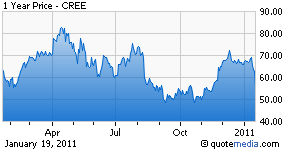 After three down days in a row while the S&P has moved higher makes the sell off with CREE appear to be overdone. A market cap of just under seven billion dollars and over one billion in cash give this stock a per share cash amount of over $10. CREE doesn't have any debt to service and while the PE is pricing in some growth, forward guidance is at least in line with current revenue numbers.
Using Edgar Online to be able to get a solid look at the numbers, we can see that CREE has indeed performed very well in the past four years. At just under $400 million in sales in 2007, CREE has been able to increase revenue by at least 10% per year. With current margins being squeezed, many investors saw little reason to hang on to find out how the next quarter will turn out. I think perhaps they jumped ship a little early.
Rarely is it good to run for the exits unless you can get out within the first 60-120 seconds. Looking at the after-market charts, this belief was once again confirmed as the price dropped hard after the first few minutes and then found support in the $53 price range. Those that hung on that long might as well hang on for a retracement as they already suffered almost all the pain that was dished out today. With two lows put in above $47 a share during September as well as October last year it appears that CREE finds major support in this area. While the 200 day moving average was breached to the downside on Thursday it did close slightly above it. On Friday it closed below and today by the end of the after hours trading is significantly below it.
While this is bearish, CREE also moved in one fell swoop the 60 as well as the 90 day moving averages. I think it is reasonable based on the current revenue and earnings guidance that the price should retrace back up into and test the 90 day moving average of $58.79 as early as this week. Today's sell off was overdone in my opinion and I will be looking for a long entry during the pre-market trading and/or the opening tomorrow in an attempt to capture a move off the lows. Looking beyond a test of the 90 day moving average based on price action and earnings, it appears to me that (after this sell off is fully discounted) the price will trend higher to meet the 200 day moving average as it generally does. I like buying what I consider overreactions, like I successfully have recently with Visa (NYSE:V) and Corinthian Colleges (NASDAQ:COCO), and CREE could be another stock that provides a very nice gain to those willing to be brave while others run for cover.

Disclosure: I have no positions in any stocks mentioned, but may initiate a long position in CREE over the next 72 hours.