Just one week after China MediaExpress (OTCPK:CCME) was named China's #1 small-to-mid sized company with the greatest potential in 2011 by Forbes China, the company received the highest ranking by Investor Business Daily's (IBD) of any China stock in their "Top 15 World Stocks" list in the January 18th edition: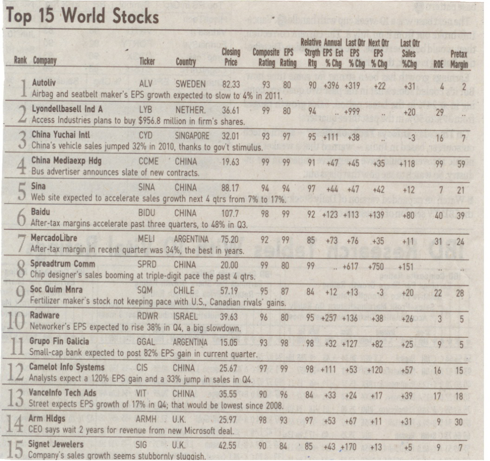 click to enlarge above image
CCME, China's largest television advertising operator on inter-city and airport express buses, also received the highest composite and EPS ranking (99 for both) of any world stock on the entire list.
The China stocks fall in this order with their position in the top IBD Top 15 World Stocks list in parenthesis:
While CCME's recent top rankings by two of the most respected financial publications (Forbes, IBD) is impressive, CCME has lagged its Chinese IBD Top 15 World Stocks list brethren in two key metrics - forward PE and institutional ownership.
First, CCME currently has the lowest forward PE (2011) of any stock on IBD's Top 15 World Stocks list at a 6 PE to 2011 consensus EPS estimate of $2.98. The average forward PE is 28 for this list. If CCME was priced at only half of this average with a PE of 14, you would get a share price of $41, or a double from today's $19.63 price.
Second, CCME has the lowest institutional ownership of any China stock on the IBD list with 10.9% of outstanding shares owned by institutions. This compares to a 42% average for all China stocks on the IBD Top 15 World Stocks list.
As a CCME shareholder, the most exciting thing about owning shares right now at today's price is that these two low numbers (forward PE and institutional ownership) have a strong likelihood of expanding soon due to a strong catalyst right around the corner.
The key, upcoming catalyst is the Deloitte Touche audited 10K report. If Deloitte confirms what Forbes China and IBD rankings are already telling us, institutional interest will rise and the forward PE multiple will expand.
Disclosure: I am long OTCPK:CCME.