In 2013, gold fell by 28% and made back only 7% in 2014. This, however, did not stop Royal Gold (NASDAQ:RGLD) from increasing by 67% in 2014. The big reason for this discrepancy is due to the company's differentiation from traditional gold miners. Royal Gold is rather an interesting investor in precious metals. The company provides capital to mining companies in exchange for the percentage of production below spot prices. The benefit is also that most contracts with Royal Gold are signed for the long term, which stops any concern about future cash-flow shrinkage. Furthermore, the company is not responsible for the day to day operations of mining companies.
Mt. Milligan becomes profitable
The company's growth is largely pushed by its profitability in the long-term deals. One of those deals is the Mt. Milligan copper and gold mine. In 2011 and 2012, Royal Gold worked out the financing deals to achieve a 52.25% share in Mt. Milligan, in exchange for $470 million. It will also receive $435 per ounce in gold production, which will allow it to achieve pure profit due to the current gold price equating to $855 per ounce. Furthermore, Mt. Milligan had achieved commercial production in February, which has led to an increase in gold output during three successive quarters. Royal Gold managed to secure $27.2 million in total revenue from Mt. Milligan in fiscal 2014.
New and existing mines improve production
Royal Gold saw a number of existing mines considerably improve their production levels. Goldcorp Penasquito mine produced 534,200 ounces of gold in 2014, compared to 371,100 ounces in a prior year. Even with lower metal price, Royal Gold received a considerable boost in revenue. Furthermore, a number of other mines grew by double digit percentages; mines such as Yamana Gold, Agnico Eagle Mines, Cortez and Barrick Gold.
In February, Royal Gold had agreed to a $75 million deal with Rubicon Minerals (RBY) to assist in development costs for the project in Ontario, Canada. The deal allowed Royal Gold to collect 6.3% of all gold production with the limit of 135,000 ounces, after which 3.15% of gold production is received. Furthermore, a great benefit to the company is that it only has to pay a one quarter of the current spot price of gold.
Earnings Announcement
In its fourth quarter earnings, Royal Gold demonstrated rapid growth. Revenues rose by 22% reaching $70 million. The company also saw a 34% increase in gold production over the year. The annual earnings per share did decline by 12%; however, its current earnings per share increased by 9%. Due to high profit margins, EBITDA was 85% of revenue. Outstanding earnings demonstrate a likely further increase in the share price.
Technical Analysis
It can easily be seen that the share price is in a clear uptrend. The 20, 50 and 100 moving averages are clearly showing further uptrend. Furthermore, MACD indicator is also showing an upward direction. Some might say that it is too late to enter; however, that is what brings me to the most important aspect of price action analysis, the breakout. It can be seen that the price is close to breaking the $80 mark, which, if happens, could signal a continuation to at least the $100 mark and possibly further. This provides us with the perfect opportunity to enter long.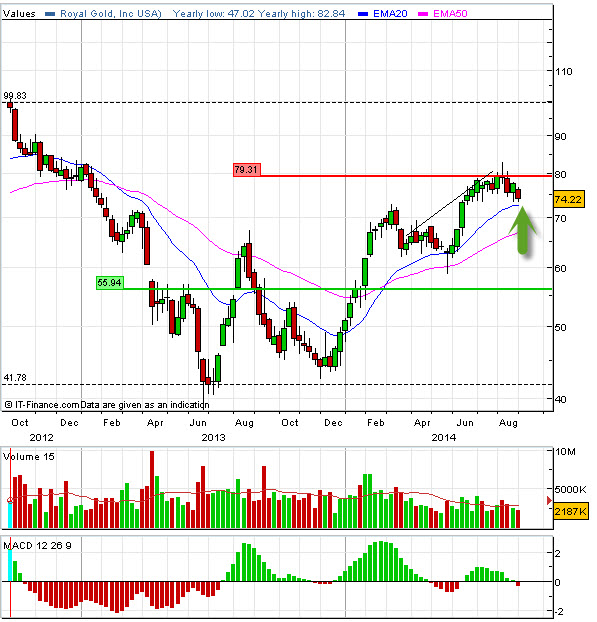 Risk Analysis
The most important risk carried by Royal Gold is the possibility of the lower production by the mines it owns. Although the company is not responsible for the mine costs, higher costs can hurt the mine owners themselves which could result in lower production. This is particularly dangerous due to the lower gold price. So far, lower prices did not directly affect the company; however, it is unknown what the future will hold.
Royal Gold shares should be on the watch list of both active and passive growth-orientated investors. The active investors will be looking to profit on the $20 price rise from $80 to $100, due to required risk management. The passive growth investor could profit from the price reaching $150 in the next couple of years.
Final Thoughts
Royal Gold has showed outstanding performance over the last years. The fundamental data has supported growth and a positive earnings announcement signals further uptrend. Both new and existing mines have improved production and promise long profitability for the company. The technical analysis further supports the upside; showing that now could potentially be the best time to enter. The risk is of course present; however, it is mostly overshadowed by company's outstanding performance. Royal Gold still has plenty in store for those that are interesting in getting on the gold ride.
Disclosure: The author has no positions in any stocks mentioned, and no plans to initiate any positions within the next 72 hours.
The author wrote this article themselves, and it expresses their own opinions. The author is not receiving compensation for it (other than from Seeking Alpha). The author has no business relationship with any company whose stock is mentioned in this article.